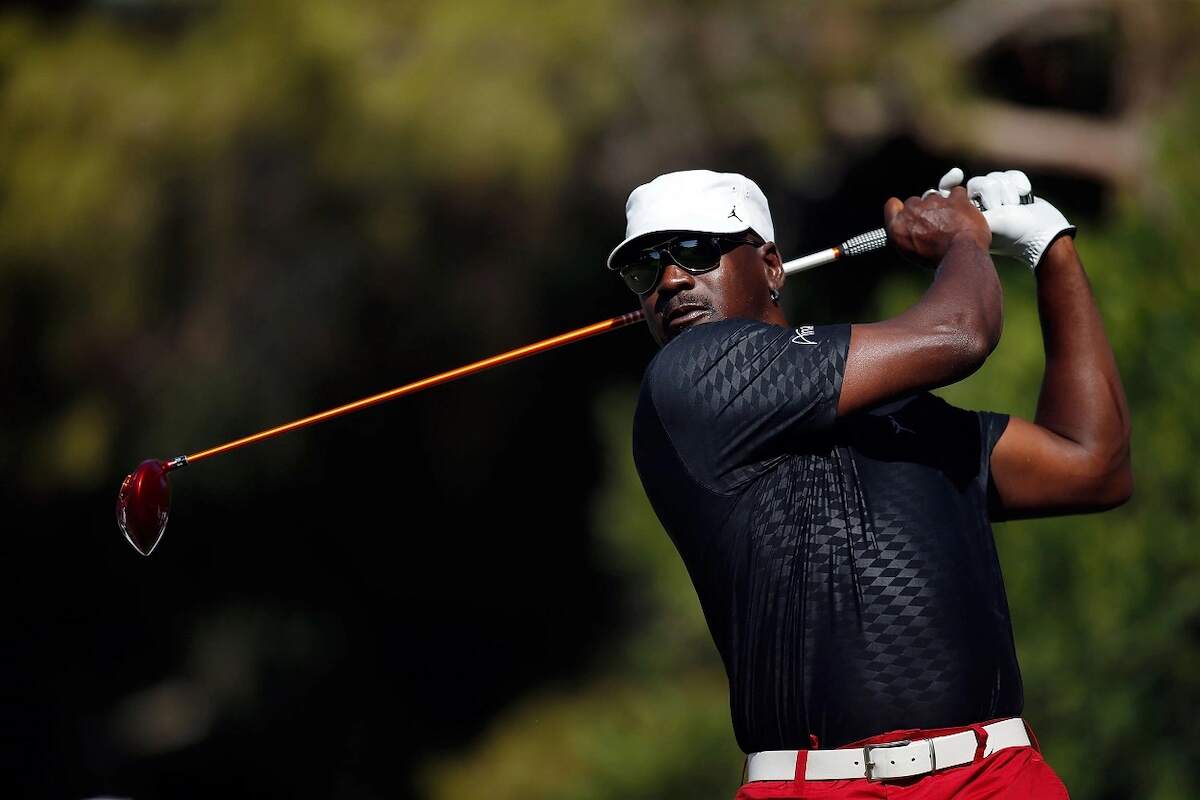 Michael Jordan's Love Affair With Golf Began by Hitting Balls With a Future PGA Championship Winner in His Final Year at North Carolina
Michael Jordan's love of golf began during his final year at North Carolina and the first time he hit balls was with a future major champion.
It's no secret that Michael Jordan loves his golf. The six-time NBA champion has been playing the game for decades. Some of the best MJ stories have come from his days on the links.
So it shouldn't come as a surprise that the story of how Jordan got hooked on golf at the end of his final year at the University of North Carolina is an amazing tale in itself, a tale that involves his current assistant general manager for the Charlotte Hornets, Buzz Peterson, as well as 21-time PGA Tour winner, Davis Love III.
Michael Jordan's final season at North Carolina ended prematurely
The 1983-1984 North Carolina Tar Heels were a phenomenal team filled with future NBA All-Stars and champions. Michael Jordan, who earned Consensus All-American honors that season by averaging 19.6 points and 5.3 rebounds per game, led North Carolina to a 26-1 record in the regular season and an undefeated 14-0 mark in the ACC.
However, the Tar Heels were upset by rival Duke in the second round of the ACC Tournament but still earned a No. 1 seed in the NCAA Tournament. Playing in the East Regional, UNC had a first-round bye in the 53-team field and easily got by eighth-seeded Temple in the round of 32, 77-66.
Unfortunately for the Tar Heels, their national title hopes were derailed in the Sweet 16 by Bobby Knight's fourth-seeded Indiana Hoosiers, who took advantage of a lackluster performance from Jordan, who scored just 13 points before fouling out and came away with a 72-68 victory.
MJ invited himself along to hit golf balls with Buzz Peterson and Davis Love III
Not long after the Tar Heels were eliminated from the NCAA Tournament, Michael Jordan was sitting in his room at Granville Towers on the UNC campus when his best friend and roommate, Buzz Peterson, who now serves as Jordan's assistant GM with the Hornets, walked in. But he wasn't alone.
Peterson had made a new friend in psychology class, a sophomore on the golf team named Davis Love III, and the two were heading out to hit a few balls. Jordan, who apparently didn't have anything to do at that particular moment and obviously no game to prepare for, politely asked if he could tag along.
Neither Jordan nor Peterson had played golf before, but Love accompanied them to the UNC golf course that afternoon, and MJ's love affair with the game began.
Michael Jordan played his first-ever round of golf with Davis Love III and made one par
As Michael Jordan continued to show more and more interest in the game, Davis Love III found some old golf balls and clubs and put together MJ's first set for him. The future PGA Championship winner even joined Jordan for his first-ever round, including former UNC basketball star Al Wood and Love's teammate at the time, John Simpkins.
As one would expect, Jordan didn't have a particularly great day on the course his first time out just as nobody in the history of forever has…you know, because golf is really hard. His Airness recorded bogey or worse on 17 of the 18 holes he played that day but was able to sneak in one par.
And as Michael Jordan once told PGATour.com, he's "been hooked ever since."
Stats courtesy of Sports Reference