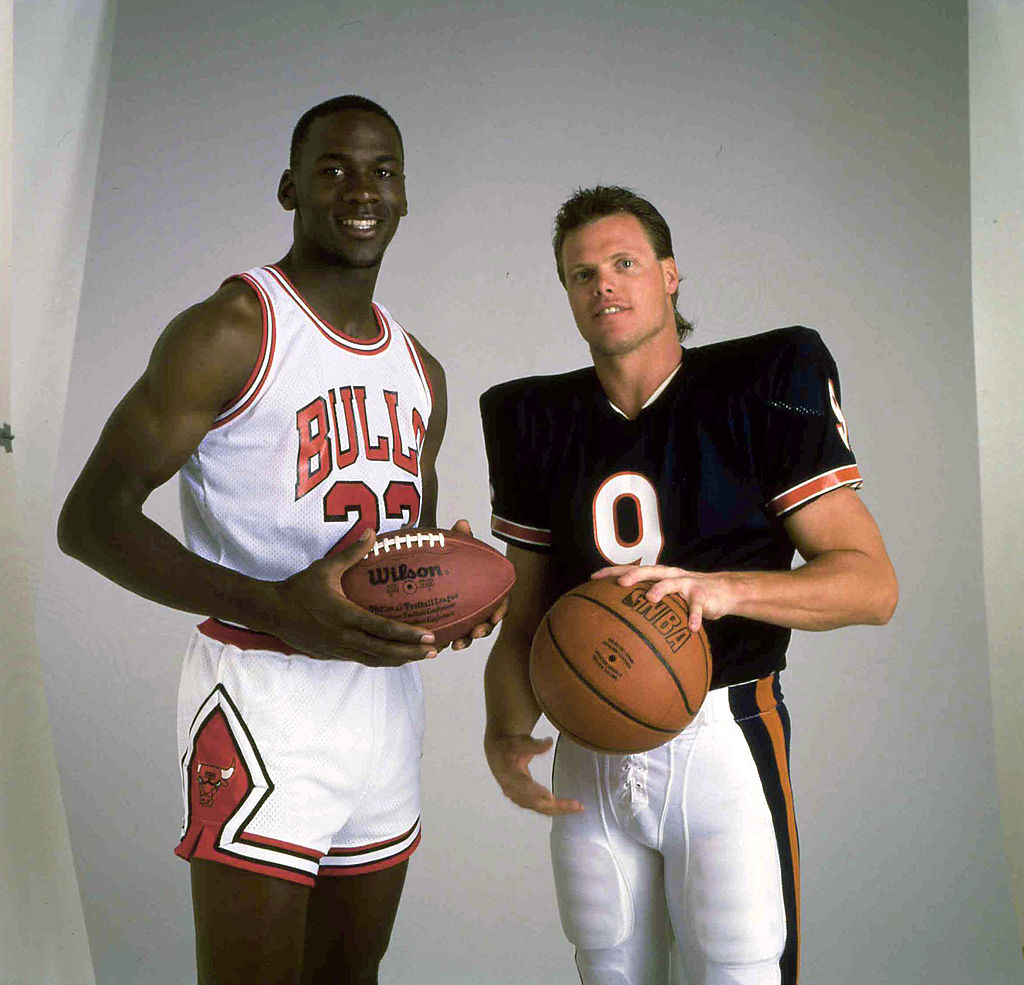 Jim McMahon Says That Michael Jordan Once Wanted to Put Seven Figures on Nine Holes of Golf
Former Chicago Bears quarterback Jim McMahon says that Michael Jordan once wanted to place one million dollars on nine holes of golf.
Michael Jordan is undoubtedly the biggest star in the history of Chicago sports. Honestly, the six-time NBA champion might just be the biggest sports star in the history of the world. At one time, however, former Chicago Bears quarterback Jim McMahon might have been the bigger deal. Either way, the two were once golfing buddies, and, as you can imagine, a great story came out of one of their rounds together.
Michael Jordan and Jim McMahon were two of the biggest sports stars in Chicago
Michael Jordan came to Chicago in 1984 after being drafted by the Bulls. At the same time, the Bears, led by McMahon and Hall of Fame running back Walter Payton, were becoming one of the best teams in the NFL. The Bears had a 10-6 record in 1984 and made it all the way to the NFC Championship but were shut out, 23-0, by the eventual champion San Francisco 49ers. The following year, the Bears put together one of the greatest seasons in history, going 15-1 en route to winning Super Bowl XX over the New England Patriots.
Jim McMahon was the NFL's resident rock star. Nicknamed the "Punky QB,", McMahon was constantly defying authority and was fined on numerous occasions for his antics on and off the field. But Chicago loved him, as they would come to love Michael Jordan, who would later lead the Bulls to six NBA titles. Naturally, two of the Windy City's biggest sports stars would become friends and golfing buddies and it led to yet another great Michael Jordan gambling story.
MJ golfing stories are legendary
I don't know if every Michael Jordan golf gambling story will ever be known but we do know that there have been some beauties.
One involves another Chicago sports legend, former Blackhawks star Jeremy Roenick. Apparently, the two were drinking beers and gambling over the course of 36 holes on a day where Jordan had a game later in the night against the Cleveland Cavaliers.
Another epic tale involves Michael Jordan gambling in Hilton Head with a drug dealer while his Bulls teammates were at the White House celebrating their first NBA title. The list goes on and on and on. However, Jim McMahon recently told a new story that involves MJ wanting to put seven figures on nine holes.
Jim McMahon says that Michael Jordan once wanted to bet one million dollars on nine holes
As previously mentioned, Michael Jordan and Jim McMahon became buddies when MJ came to the Windy City in 1984 and the two would often tee it up together. McMahon said on the "McNeil and Parkins Show" on Chicago's 670 The Score that the two would normally just play Nassau on the course, a common wager in golf in which money is bet on each hole on the front, each hole on the back, and the total over 18 holes. But McMahon says that Jordan upped the ante one afternoon that he wasn't ready to handle.
"It was usually $100 Nassau. That's about all I could afford at the time. Playing for the Bears, I didn't make a hell of a lot. I had to supplement my income somehow.

"I won some (against Jordan). I lost some. I remember one time we were playing … we had our $100 Nassau going and I've got him down maybe three bets, maybe four bets on the front side. I was playing pretty good that day. I tee my ball up on 10, and before I take a swing, he says, 'All right, I'll play you on this side for a million.' And he was dead serious.

"I said, 'You know, I'd love to because of the way I'm playing right now, but somehow, you'd pull it out and then my kids don't go to college. So no.' I said, 'You want to keep up with $100 (per hole), that's fine.' I said, 'I don't even have a million dollars.'"

Jim McMahon on Michael Jordan wanting to bet one million dollars on nine holes of golf
Yep, that sounds like a typical Michael Jordan golf story.