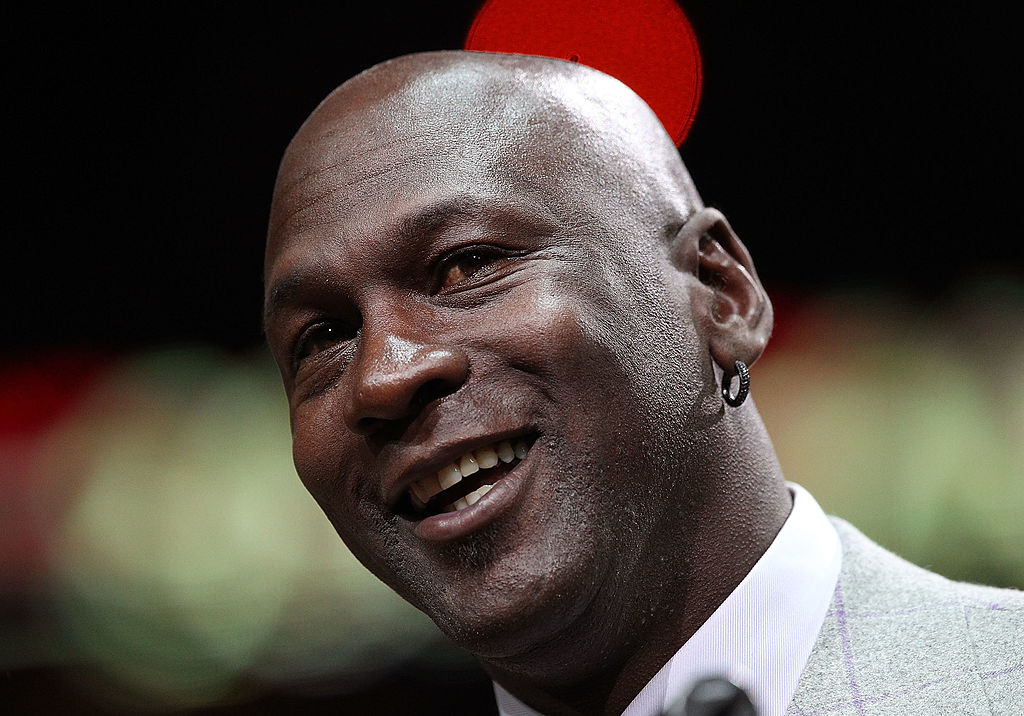 Michael Jordan Once Had a Monster Game After Playing 36 Holes and Crushing Beers With Jeremy Roenick
Jeremy Roenick told a story about playing 36 holes and drinking beers with Michael Jordan, after which MJ went out and had a big game for the Bulls.
Michael Jordan stories are just the best, aren't they? We're getting more and more every Sunday on ESPN as "The Last Dance" documentary rolls along but people have been sharing them for years. Stories of his competitiveness and desire to win at everything he does are a popular topic, as are the legendary tales of his gambling. This particular story from former Chicago Blackhawks legend Jeremy Roenick just happens to include all of the above.
Michael Jordan often played 36 holes on game days with the Dream Team
When Michael Jordan and the Dream Team were in Barcelona, Spain for the Summer Olympics in 1992, it wasn't an uncommon occurrence for MJ to hit the golf course on game days. Outside of Toni Kukoc and the Croatian national team, there wasn't much competition for Team USA, as evidenced by all of the blowout victories the star-studded team had that summer. And, truthfully, Michael Jordan didn't have to be Michael Jordan on that team as he had plenty of help on that roster.
So Jordan often hit the links for 36 holes in the morning and early afternoon before games in the evening and he still had the second-highest scoring average on the team with 14.9 points per game. But just a few months before winning the gold with the Dream Team, Jordan played 36 holes with fellow Chicago superstar, Jeremy Roenick, which led to yet another amazing MJ story.
Michael Jordan played 36 holes and drank beer with Jeremy Roenick the day of a game with the Chicago Bulls
The weather was surprisingly warm in Chicago in the early part of spring in 1992. So Michael Jordan decided to invite Jeremy Roenick to Sunset Ridge Country Club, which is located just outside the Chicago city limits in Northridge. Jordan and Roenick were pals and two of the biggest stars in the Windy City at the time, MJ with the Bulls and Roenick with the Blackhawks.
Naturally, Jordan wanted to put some money on the round and Roenick apparently took him for a nice chunk of change. Roenick figured the day was over as the Bulls had a game with the Cleveland Cavaliers that evening. But as he told the "McNeil & Parkins Show" on Chicago sports radio, it was just getting started.
"We played a round, I beat him for a couple thousand and got ready to leave. Now, the Bulls are playing that night. They played Cleveland that night. I'm thinking he's leaving, it's 10 o'clock. He goes, 'No, let's go play again.'"

Jeremy Roenick on Michael Jordan
There's that classic Michael Jordan competitiveness.
"So we go and fill up a bag full of ice and Coors Light and walk again. We roll around another 18 and I take him for another couple [thousand dollars]. Now we've been drinking all afternoon and he's going from Sunset Ridge to the stadium, to play a game. I'm messing around. I'm like, "I'm gonna call my bookie. All the money you just lost to me, I'm putting on Cleveland.'"

Jeremy Roenick on Michael Jordan
If the story would have ended right there, it would still be great. But what happened next is what makes it legendary.
MJ made another bet and then went out and won it with a monster night
So Jeremy Roenick makes his joke about calling his bookie and putting a bet on the Cleveland Cavaliers for the night as he knows that Michael Jordan has just played 36 holes, which is taxing enough on the body, and has been drinking beer all afternoon. But a guy like Jordan isn't going to let a comment like that simply stay a joke. So Roenick says he turned it into another bet.
"He goes, 'I'll tell you what. I'll bet you that we'll win by 20 points and I have more than 40 [points].' I'm like, 'Done.' Son of a gun goes out and scores 52 and they win by 26 points or something."

Jeremy Roenick on Michael Jordan
Roenick says that this happened near the end of the season in 1992 so he likely has to be talking about Saturday, March 28. The Chicago Bulls did indeed host the Cleveland Cavaliers at Chicago Stadium that night and won the game, 126-102. So there's the win by 20 or more.
But Roenick was wrong on the number of points Jordan scored. It wasn't 52. It was only 44. Jordan played 37 minutes that night, shot 21-for-32 (65.6%), and kept his promise of scoring at least 40. It was an incredible performance and Roenick knew that all of the money he'd made earlier in the day was gone.
"The man, Michael Jordan, to me, is probably the best athlete that I've ever seen, that I've ever been around and watched play. The way he presented himself and played the game, just amazing.

"After the first half, I didn't even – my money was gone. It was just gone. Done. So much for 36 holes of hard grinding."

Jeremy Roenick on Michael Jordan
Put another checkmark in the "epic" column of Michael Jordan stories.