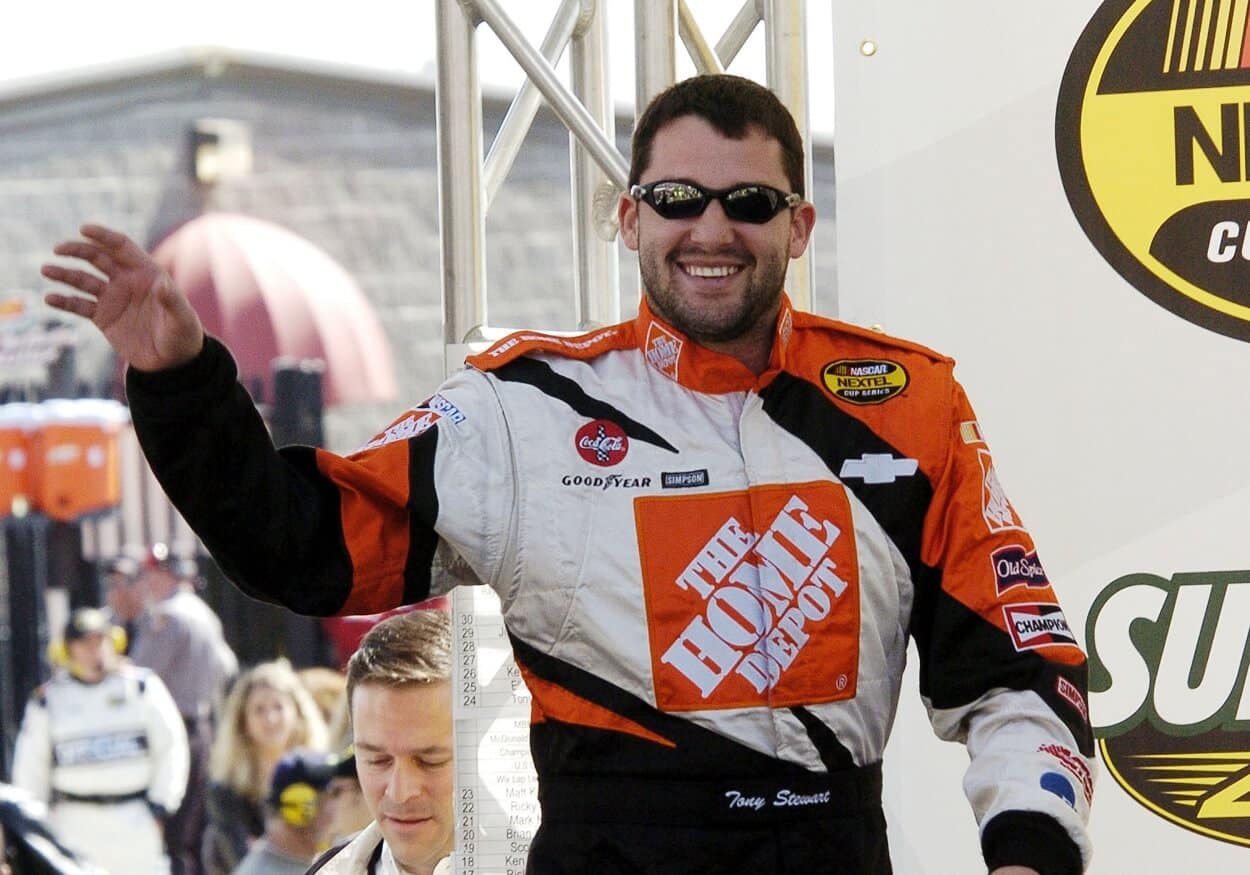 A Single Slap at Sonoma Raceway Cost Tony Stewart $50,000
A look back on the numerous incidents between NASCAR Cup Series drivers Tony Stewart and Brian Vickers, including one that cost Stewart $50,000.
Three-time NASCAR Cup Series champion Tony Stewart certainly had his fair share of altercations with fellow drivers (not to mention fans and reporters) over the course of his Hall of Fame career, resulting in more than $200,000 in fines.
Of course, that might not mean much to someone who won more than $122 million during his 18-year Cup Series career, but 200 grand is still 200 grand.
One of the most significant fines of Stewart's career was handed down following an incident at the 2004 Dodge/Save Mart 350 at Sonoma Raceway in which he slapped Brian Vickers so hard it knocked the wind out of him, a slap that wound up costing NASCAR's "bad boy" a cool $50,000.
Tony Stewart was fined $50,000 for slapping Brian Vickers at the 2004 Dodge/Save Mart 350 at Sonoma Raceway
Stewart and Vickers began the 2004 Dodge/Save Mart 350 at Sonoma Raceway reasonably close to one another, starting in 20th and 25th, respectively.
According to Vickers, Stewart ran into him early in the race and again on lap 85, which knocked him off the then-11-turn road course. Both finished the 110-lap race, with Stewart finishing 15th and Vickers seven spots back in 22nd.
Once the race was over, Vickers, then just a 20-year-old rookie, claimed Stewart confronted him while he was still in his car, at which point Vickers attempted to laugh off the collision. But Stewart wasn't in a laughing mood, as Vickers later told reporters (h/t ESPN).
"I was still strapped in my car with my helmet off. He reached for me and knocked the breath out of me … He hit the armrest and he reached in the car and he grabbed me in the chest and when he did hit me, it was kind of open palm.

"My team grabbed him and pulled him off of me."

Brian Vickers on Tony Stewart
Vickers went on to say he didn't want to make a big deal out of the incident and would let NASCAR handle it, which they did as Stewart was slapped with a $50,000 fine. In addition, he was placed on probation for the remainder of the season and penalized 25 points, dropping him from fifth to sixth in the Cup Series standings, where he would ultimately finish the season.
But this incident was just one of many between the two over the years.
Stewart was fined another $5,000 for hitting Vickers after a Busch Series race at Watkins Glen in 2005
The 2005 NASCAR Cup Series season was one of the most successful of Stewart's career as he recorded five victories, one of which came at Sonoma, 17 top-fives, and 25 top-10s on the way to winning his second points title.
He also ran a dozen races on the Busch Series (now the Xfinity Series) that year. His rivalry with Vickers continued at the Zippo 200 at Watkins Glen. Stewart began the day on the pole, and both he and Vickers were in contention coming down the stretch. But Ryan Newman took the checkered flag that day, while Vickers finished third and Stewart one spot behind in fourth.
However, just because the race had ended didn't mean things were done for Stewart. He drove up alongside Vickers once they'd crossed the finish line and slammed into the side of his No. 5 car, a stunt that cost him another $5,000 and again got him on probation for the remainder of the year.
The two went at it again at the 2011 Toyota/Save Mart 350 at Sonoma Raceway
In 2011, Sonoma Raceway again served as the setting for an altercation between Stewart and Vickers.
Thirty-nine laps into the Toyota/Save Mart 350, Stewart rear-ended Vickers, resulting in a multi-car accident that forced Vickers to leave the race. However, after getting his car repaired, he returned to the race, albeit several laps down, and was able to exact a little revenge.
With just over 20 laps remaining, Vickers clipped Stewart just enough to send him into the tire barrier ahead of turn 11, ending Stewart's day. Vickers finished 36th that afternoon. However, Stewart got the last laugh as he still went on to win his third Cup Series title.
Oddly enough, Stewart later hired Vickers as an interim driver for Stewart-Haas Racing when he could not compete early in the 2016 season following a dune buggy accident.