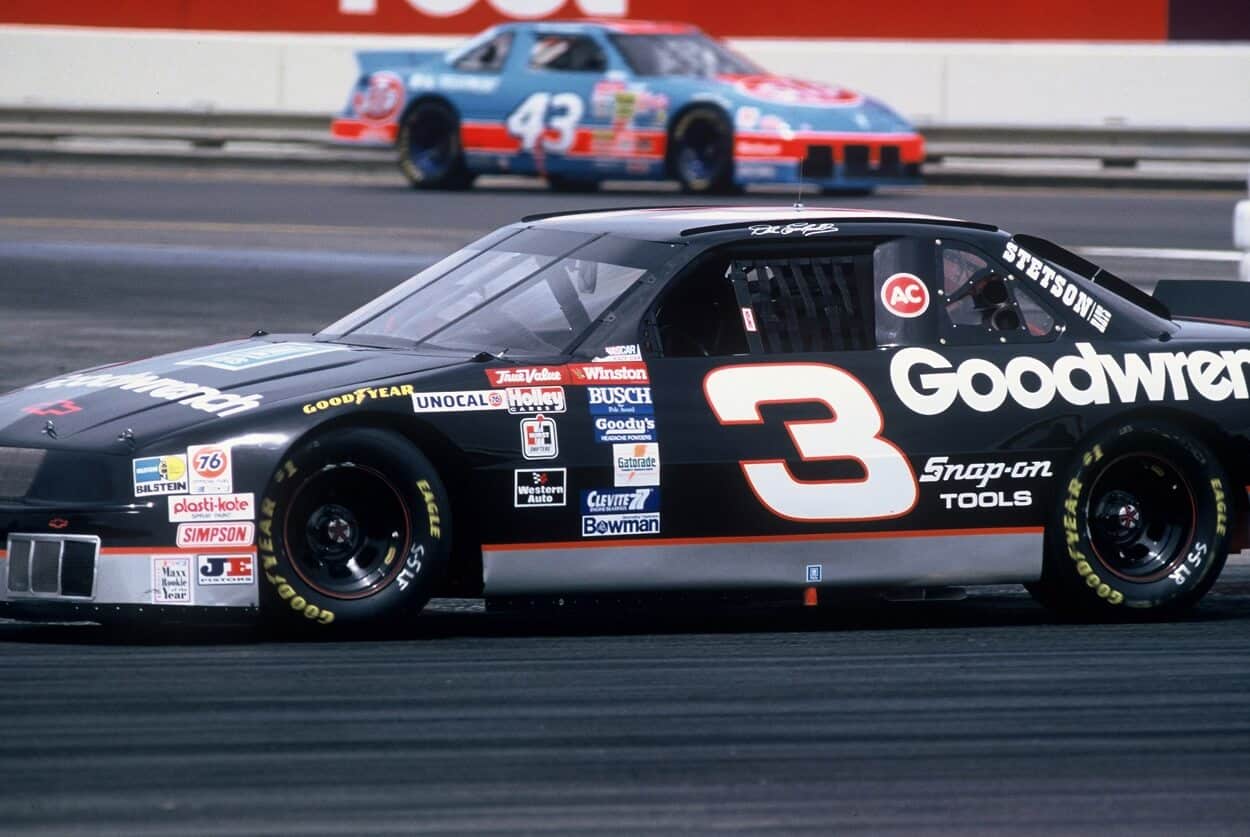 Dale Earnhardt Won the Only Road-Course Race of His Entire Cup Series Career in Dramatic Fashion at Sonoma
Dale Earnhardt Sr. won the only road-course race of his NASCAR Cup Series career at Sonoma Raceway.
Dale Earnhardt Sr. obviously had a lot of success during his legendary career in the NASCAR Cup Series.
Over the course of 27 years prior to his tragic death in 2001, the North Carolina native recorded 76 Cup Series victories, good for eighth on the all-time list, and won seven points titles, tied for the most in history.
However, much like his history at the Daytona 500 up until his emotional victory at The Great American Race in 1998, Earnhardt struggled to cross the finish line first when it came to road courses. In fact, of the 47 road-course races The Intimidator ran during his Cup Series career, he took just one checkered flag, that being the Save Mart Supermarkets 300 at the venue now known as Sonoma Raceway.
And as Dale Earnhardt did so many times, he earned that lone victory in dramatic fashion and took down a road-course ace in the process.
Dale Earnhardt Sr. won the lone road-course race of his NASCAR Cup Series career at Sonoma Raceway
Coming into the Save Mart Supermarkets 300 on May 7, 1995, at what was then known as Sears Point Raceway in Sonoma, California, Dale Earnhardt was coming off a crushing loss at the Winston Select 500 at Talladega.
While he led just three of the first 183 laps of the 188-lap affair, Earnhardt took the lead from Rusty Wallace with just five remaining and maintained with only two to go as he battled Mark Martin at the front with Jeff Gordon and Morgan Shepherd just behind.
On the penultimate lap, Martin faked a high pass before heading to the inside to take the lead. But exiting Turn 2 as the race neared the finish, Shepherd made contact with the No. 3's left rear and spun it out. Martin went on to take the checkered flag, while Earnhardt ultimately finished 21st.
One week later, Martin, as he often did on road courses, was dominating the race in Sonoma, leading 64 of the first 70 laps of the 74-lap affair.
Earnhardt had run some solid races at Sears Point since the track had begun hosting Cup Series races in 1989, finishing seventh or better in five of six starts. And while he was running well in the 1995 race, he hadn't led any of the first 70 laps.
But with two laps remaining, Earnhardt was right on Martin's heels as they entered the stretch known as the Carousel (Turns 5-6). And when Martin's No. 6 slipped on some oil, The Intimidator took advantage. He went to the inside, took the lead coming out of Turn 6, and never looked back, ultimately holding on for a .32-second victory.