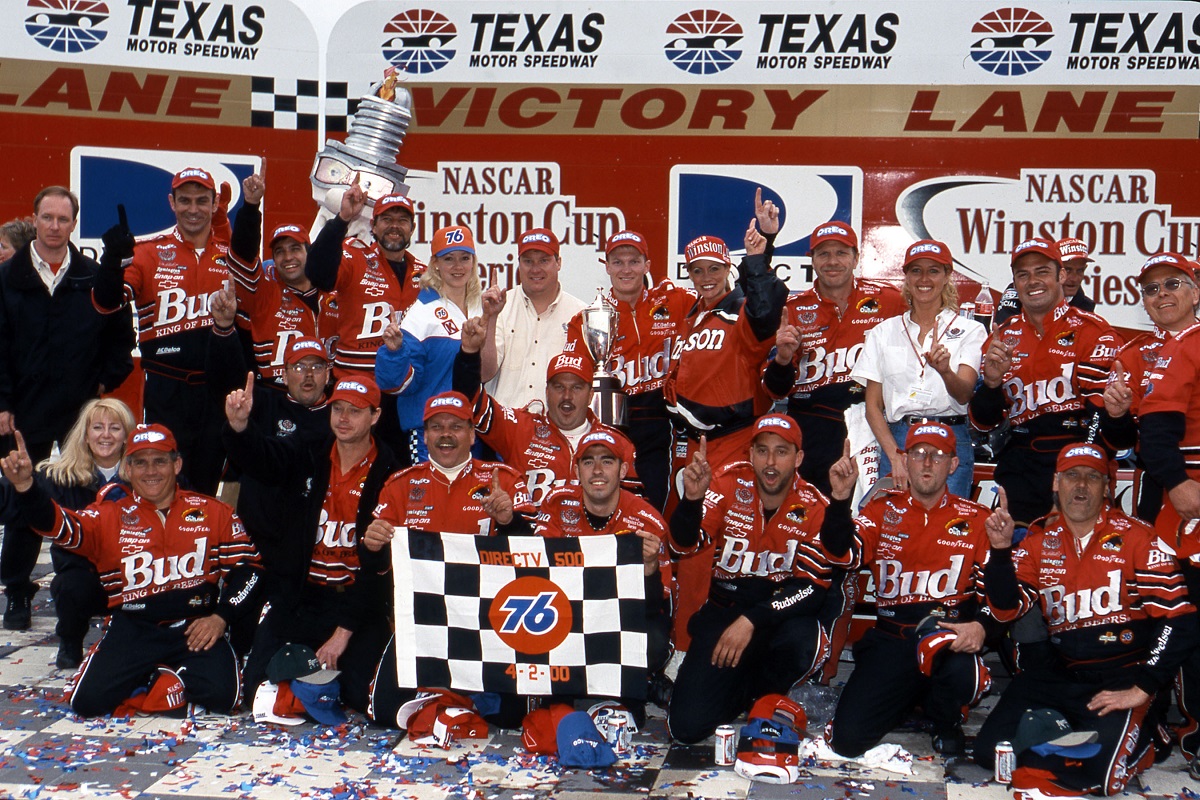 Dale Earnhardt Jr. Holds a Special Place in His Heart for Texas Motor Speedway and for Good Reason
Dale Earnhardt Jr. had two of the greatest moments of his Hall of Fame NASCAR career at Texas Motor Speedway.
Over the course of his Hall of Fame NASCAR career, Dale Earnhardt Jr. racked up 50 victories between what's now known as the Xfinity Series and the Cup Series and did so on 18 different tracks. Twenty percent of those wins came at Daytona International Speedway, where he recorded 10 wins, six in the Xfinity Series and four in the Cup Series, including two victories at the Daytona 500. But while Daytona may be the track on which Junior had his most victories, Texas Motor Speedway, where he won just twice, will always hold a special place in his heart due to the fact that his first victories in both series came on the 1.5-mile oval in Fort Worth.
Dale Earnhardt Jr. won his first NASCAR race at Texas Motor Speedway in 1998
1998 was Earnhardt Jr.'s first full season on what was then known as the NASCAR Busch Grand National Series. He'd started nine races over the previous two years as a part-timer, but had recorded just one top 10, a seventh-place finish at Bristol in August 1997. However, coming into the Coca-Cola 300 at Texas Motor Speedway on April 4, 1998, the seventh race of the '98 campaign, Junior had recorded four consecutive top-10 finishes, including runner-up finishes at Las Vegas and Bristol.
Earnhardt Jr. began the 200-lap race in 16th position, but ran a beautiful race to put himself in contention for his first checkered flag in NASCAR. There were numerous caution flags throughout the day as 11 different cars were eliminated from the race due to crashes, and Junior took advantage of the second-to-last one as he put on four new tires with just 15 laps remaining.
On lap 199, Earnhardt Jr., who led just six laps all day, pulled behind leader Joe Nemechek, slightly nudged his bumper, passed on the inside, and held on to capture his first victory in NASCAR. The moment was made that much more special as Dale Earnhardt Sr. was on the headset coaching his son to his first win. Earnhardt Jr. went on to win six more times on the Busch Series that season en route to the first of two consecutive points championships.
Earnhardt Jr. nabbed his first NASCAR Cup Series victory at Texas Motor Speedway in 2000
After winning back-to-back Busch Series titles, Earnhardt Jr. made the full-time jump to the NASCAR Cup Series in 2000 and got off to a decent-enough start, recording top-10 finishes in each of the season's first three races. But he then hit a bit of a rough patch, finishing 29th at Atlanta, 40th at Darlington, and 38th at Bristol leading into the DirecTV 500 at Texas Motor Speedway on April 2, 2000.
To make matters worse, Junior was battling the flu in the days prior to the race and still wasn't at 100 percent when the 2000 DirecTV 500 began. Nevertheless, Earnhardt Jr. began the day in fourth position and ran yet another beautiful race in Fort Worth. He led 106 of 334 laps and cruised to victory in what was just his 12th start in the Cup Series, setting a new record for fewest starts to first victory. And the previous record-holder? None other than Dale Earnhardt Sr., who won his first Cup Series race in his 16th start.
Junior's record has since been broken and is now shared by Trevor Bayne and Jamie McMurray, each of whom won in his second Cup Series start.
Junior was inducted into the Texas Motorsports Hall of Fame in 2017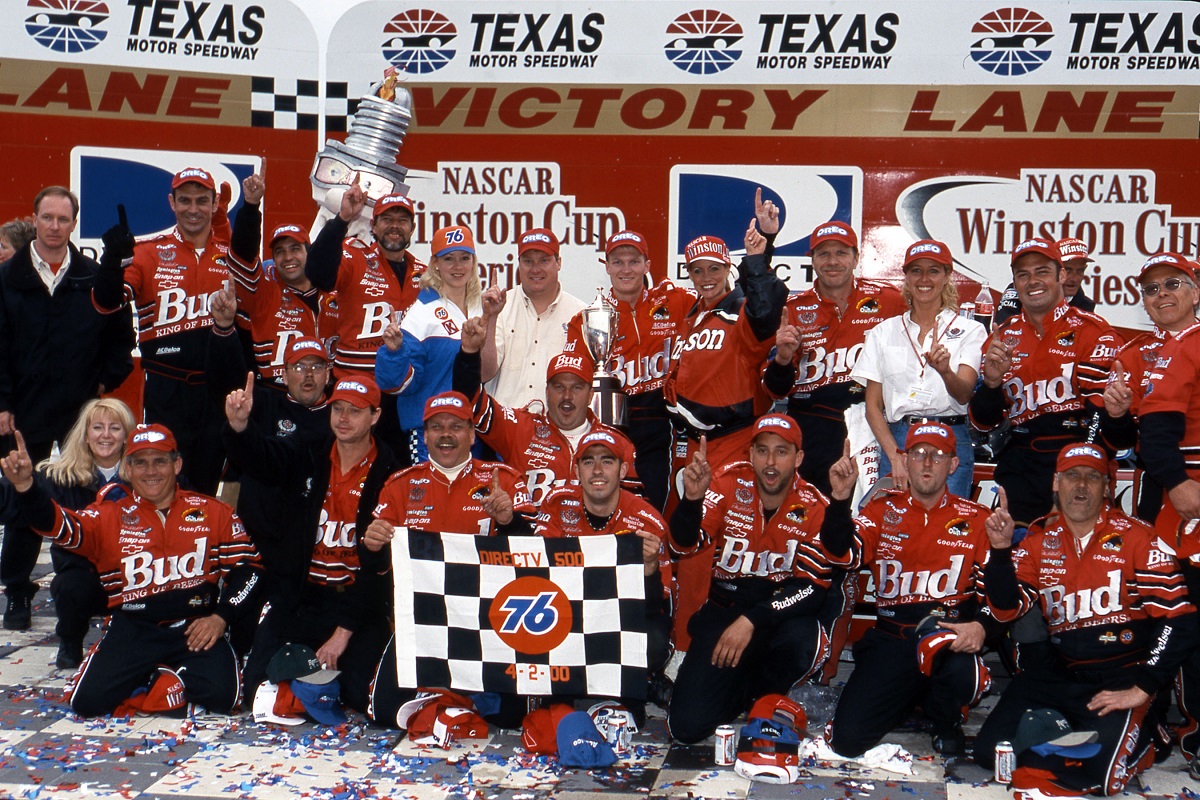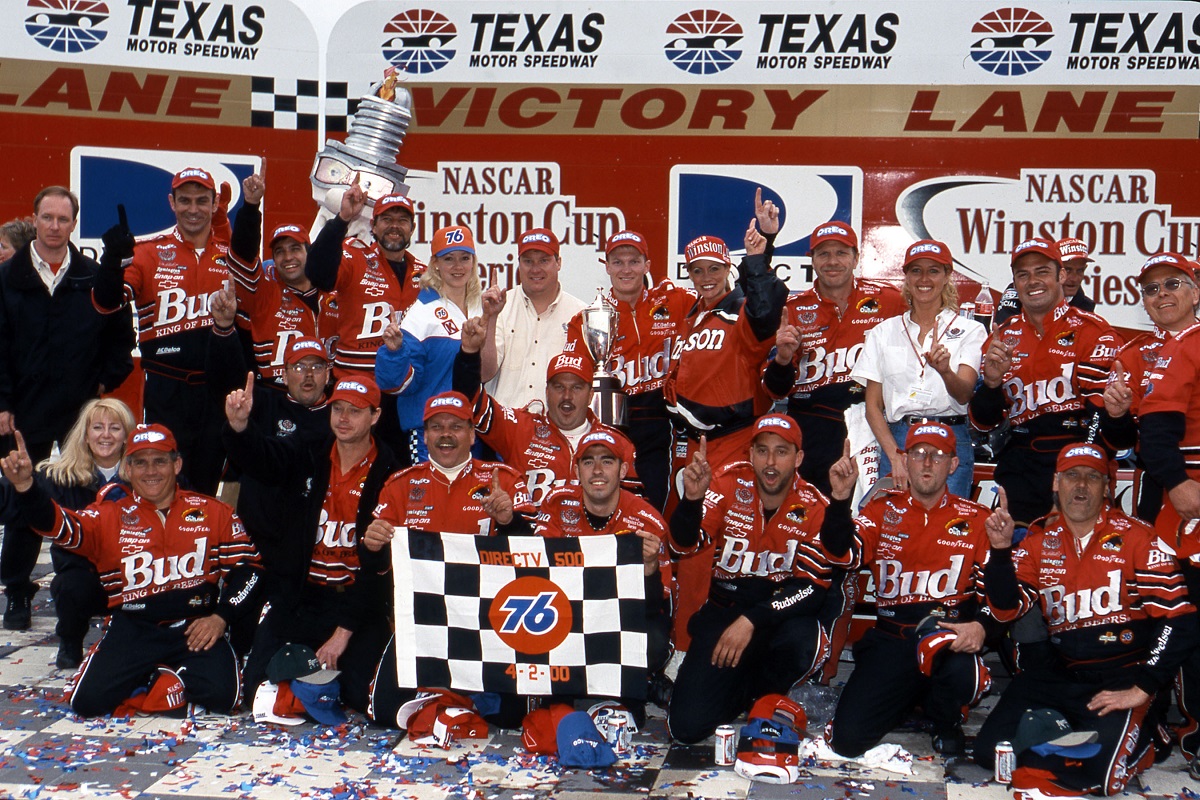 In late 2017, Earnhardt Jr. became just the 19th member of the Texas Motorsports Hall of Fame. Ahead of the ceremony, he reflected on those two special victories at Texas Motor Speedway and what they meant not just to himself, but to his fans as well (h/t Speedway Digest).
"This place definitely has always been one of my preferred stops because of the success we've had in the Xfinity and Cup Series in our first races here. You never forget where you won your first race and neither do your fans. I always look forward to coming here."

Dale Earnhardt Jr. on Texas Motor Speedway
The day after being inducted, Earnhardt Jr. ran his final NASCAR Cup Series race at Texas Motor Speedway, the Autotrader EchoPark Automotive 500, and finished 35th.
Stats courtesy of Racing Reference