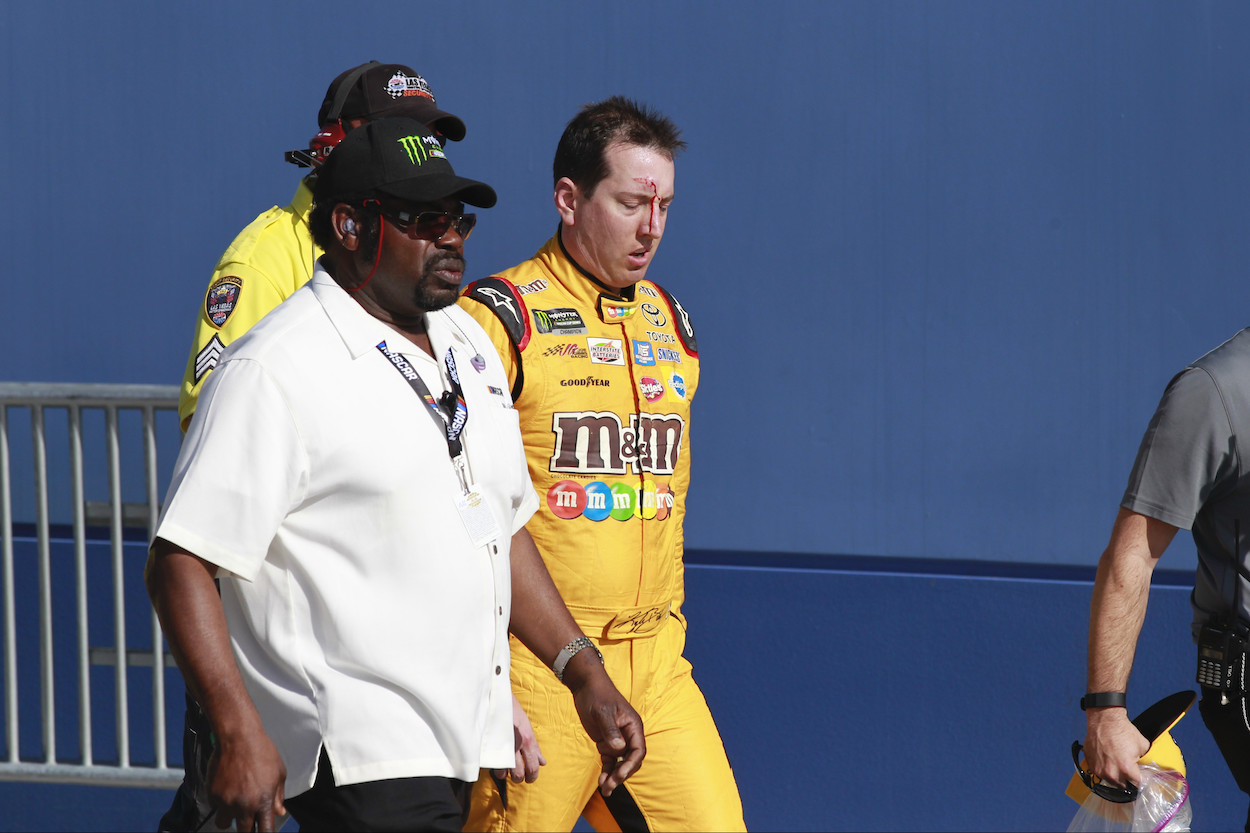 Kyle Busch Appears on Podcast and Admits: 'I'm an Ass****' and Joey Logano Is 'Two-Faced'
Kyle Busch admitted he's not liked by a lot of fans and also explained why he cannot stand Joey Logano.
Kyle Busch doesn't like Joey Logano. It started back in 2017 when Busch believes Logano deliberately wrecked him during a NASCAR Cup Series race at Las Vegas. Things turned ugly immediately after the race when Busch sucker punched Logano in the garage area.
On a recent episode of the I Am Athlete podcast, Busch offered his version of events in what happened during the race, the inspiration behind him throwing the punch, and how years later, his disdain for Logano hasn't subsided even a little.   
Kyle Busch gets wrecked by Joey Logano at Las Vegas
Kyle Busch wanted to win on his hometown track at Las Vegas in 2017. However, late in the race, any chances of victory had faded so he battled with Joey Logano for third position. With Busch on the outside of Logano, both cars easily passed on the inside of Brad Keselowski, whose car was having engine trouble. That's when things got interesting. 
As Busch surged ahead going into the corner, the No. 22 car slid up the track and hit Busch in the left side, sending the No. 18 car sideways and sliding down pit road. Jeff Gordon made the call on the broadcast:
"They go to the inside of the 2, a little bit of contact. The 22 gets to the white line. Oh, he gets loose, underneath him. I mean it certainly wasn't intentional, just aggressive driving going for the position."
Busch explains why he sucker-punched Logano
While Gordon suggested Logano "got loose," Busch said in the latest episode of I Am Athlete, it was much more sinister than that. 
"We both entered the corner just fine. Nothing was wrong," Busch described inside of Kyle Busch Motorsports headquarters, where the episode was filmed. "Joey's a little bit behind me and I left him room. I heard him throttle up in the middle of the corner back to wide-open throttle and just doored me, drilled me in the door and I spun all the way down pit lane…I knew he wrecked me so I was pissed."
Busch said his father-in-law inspired what happened next:
"He's seen the NASCAR fights are wimp fights. It's a little bit of (motions with soft punches). And then somebody gets in and pulls them apart. He's like, 'I'm tired of seeing that s***. I want to see someone just go up and clock a dude.' So I always remembered that."
The two-time Cup Series champion said he never mentioned anything on the radio to his team about what he was about to do:
"I got out of my car and marched my happy ass down pit road, and I turned right in to where he was. I just pulled it back and let it rip. Hit him right across the face. Of course, I got the one hit in because the whole rest of the fight was all these dudes pulling us apart."  
Still heated rivals today
After discussing the fight, Chad Johnson asked if Busch still had a beef with any current drivers. He surprised the IAA crew with his answer when he admitted Logano is still his No. 1 rival.
"The problem with Joey is he's two-faced," Busch said. "So people know I'm an ass****. So I might be an ass**** on the race track, which I'm really not, but Logano, he'll come in here and he's laughy and go lucky, go with the flow, like super-nice guy and all this stuff. Does great for charity and all the stuff like that. When you put him on the race track, he flips the switch on the back of his head. To me, I hate two-faced guys. That drives me absolutely nuts. Like if you're going to be a nice guy, be a nice guy on the race track as well. That fries me."
Busch has won two Cup Series titles — his last in 2019. Logano has one title and captured that in 2018. Each driver has one win in 2021. What happens this year and beyond no one knows but both drivers have years of racing remaining in their respective careers. And that means plenty more opportunities to nudge the other out of the way and continue a rivalry that race fans thoroughly enjoy watching every weekend.
Like Sportscasting on Facebook. Follow us on Twitter @sportscasting19.