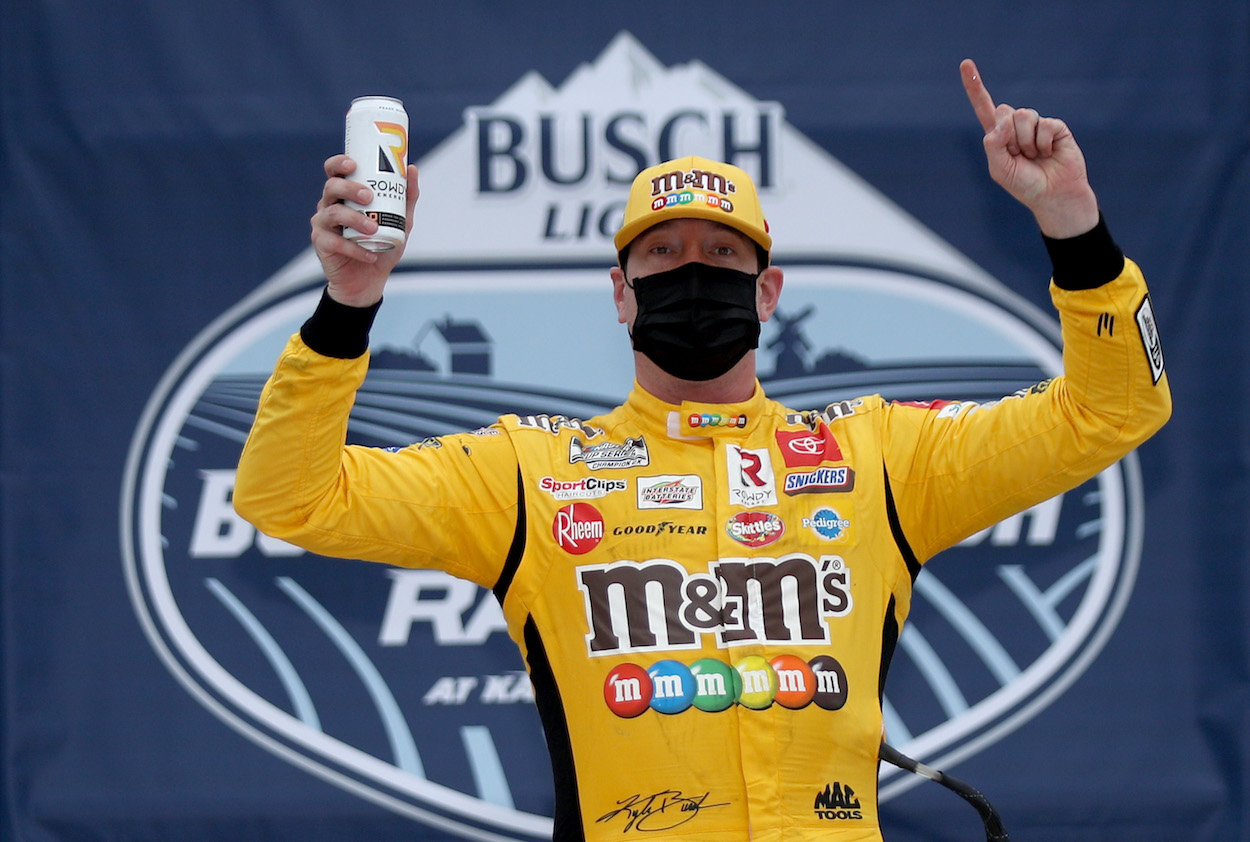 Kyle Busch Confronts and Mocks Booing Fans After Winning NASCAR Cup Series Race at Kansas
Kyle Busch provided a thoughtful postrace interview and talked about his personal life before he addressed booing fans in the most Kyle Busch way ever.
Kyle Busch was destined for victory on Sunday at the NASCAR Cup Series race in Kansas. After all, it was his 36th birthday, and he was battling for the title at the Buschy McBusch Race 400. If only he could have driven Kevin Harvick's Busch Light car. 
The M&Ms Toyota drove just fine for the birthday boy who won his first race of the 2021 season. After the race, the two-time Cup Series champion spoke with Fox's Jamie Little in the postrace interview, and a smattering of boos could be heard in the background coming from the stands. In typical Busch fashion, he addressed the situation. 
Kyle Busch reveals different side in postrace interview 
In addition to Busch's victory being the first of the year, it was the 58th win of his career and extended his consecutive season winning streak to 17. Following the race, a relieved Busch celebrated the win and struck a much different tone from what NASCAR fans have come to expect from "Rowdy." 
"You talk about ups and downs of racing. It's been a lot of downs of life for us," Busch emotionally offered. "I've got a great opportunity and a great job, no doubt. But struggling with infertility and stuff like that with Samantha. Hey to Samantha and Brexton back home," he said, waving to the camera. "Hopefully, he won. I don't know what the results are of Brexton's race today. Just a great day." 
A few moments later, Busch addressed what it's been like not making it to victory lane since Texas in October 2020. 
"Well, it's hard sometimes. When you go through the lulls, you go through the disappointment, the dejection, the understanding, or un-understanding of whether or not you can still do it. There's a sense of doubt there for sure. You just got to keep persevering, keep digging, and putting your focus forward and being able to come out here and win this thing."
Fox postrace show discusses Busch's changed demeanor
In the Fox postrace show, Shannon Spake started the conversation by talking about Busch's noticeable change in demeanor with "America's Crew Chief" Larry McReynolds and former driver Jamie McMurray. 
"It was a more likable Kyle Busch I feel like for a lot of us," McMurray admitted. "I kind of heard boos in the background while he was giving that interview. That's a different side of Kyle Busch that we typically don't see.
"When we interviewed him on the prerace show he was talking about they had to take baby steps and get top tens and then get top fives. And I kind of joked with him that you might be able to win today based on how that team, that organization is performing. And then he goes out and does that. Clearly all drivers have doubts. We haven't seen that a lot from Kyle Busch. But he kind of opened up about that today. Amazing job by him today." 
The real Kyle Busch returns
A few minutes later, when the Fox postrace show returned from a commercial break, the cameras revealed what happened with Busch following his postrace interview with Little and how he responded to the boos heard in the background. 
Busch stared into the crowd, then started moving his head side to side and rubbing his eyes, mimicking a crying baby. 
"That's the Kyle Busch we love," McReynolds said.
"He's back," Spake responded. "Love him or not. He is fun to watch, and he gives you exactly what you want. There were some boos, so he had to at least acknowledge. It's like replying to people on Twitter."
"I tried to sell it for you," McMurray said talking about his own comments about the winning driver just a few minutes earlier. "That you were becoming likable in that humbled interview, and then you did the crying thing. Noooo."
"His fans — they love it!" Spake wrapped up the conversation.
Busch fans do love him and his often irreverent behavior. They also love a winner and he proved on Sunday he's still very good at that. 
Like Sportscasting on Facebook. Follow us on Twitter @sportscasting19.