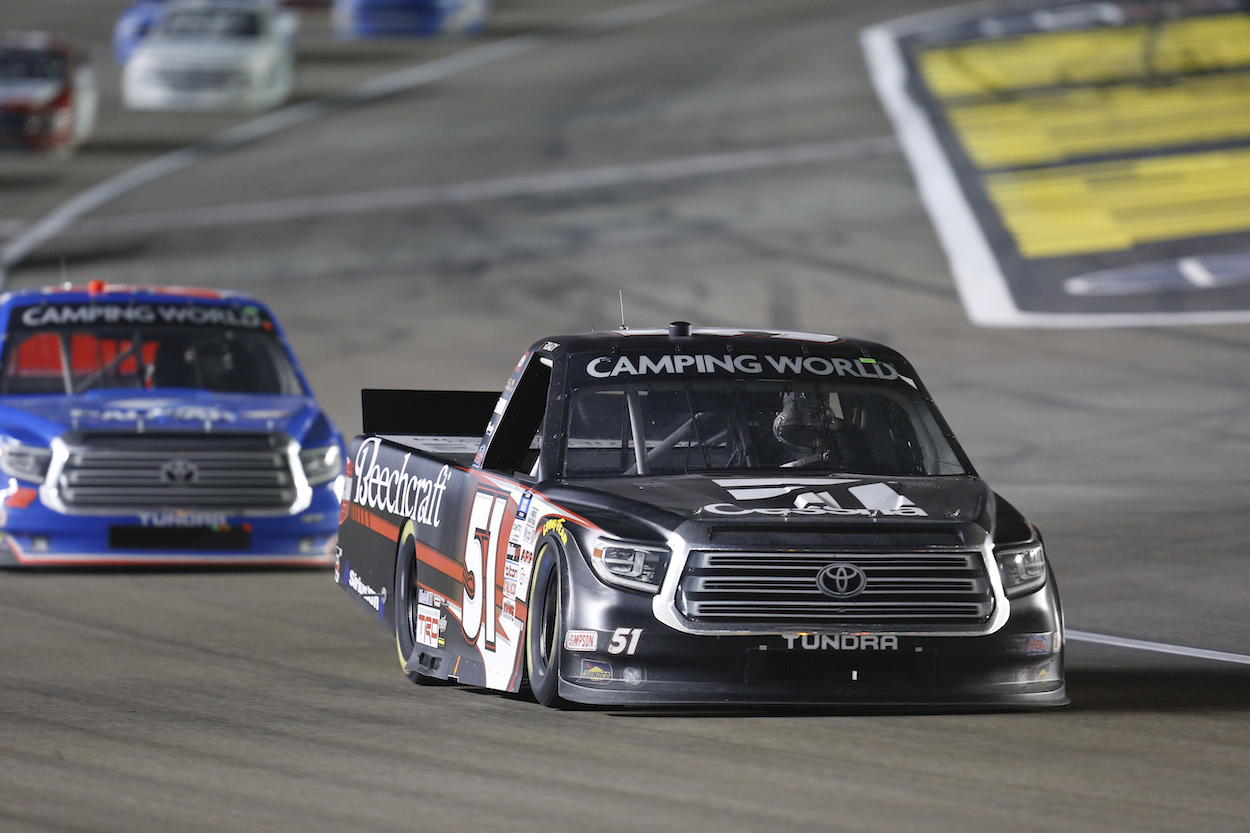 Kyle Busch Gets in Hostile Exchange With Reporter and Repeatedly Answers Question With Same Four-Letter Word
Kyle Busch's tough start to the 2021 NASCAR season took a nasty turn during a hostile exchange with a reporter where the driver repeatedly answered a question with the same four-letter word.
Kyle Busch has had a rough start to the 2021 NASCAR Cup Series season. For the first time in five years, the two-time Cup Series champion is without a top-5 finish three races into the season. On Friday night, Busch returned to familiar turf and his home raceway at Las Vegas for the Camping World Truck Series race, an event he has won the last two years. This time around, he managed to finish second behind John Hunter Nemechek, who drives for the Kyle Busch Motorsports team.
However, before his cars finished first and second, there was an incident earlier in the race where those watching questioned whether or not Busch deliberately spun out to draw a caution. Following the race, Kyle Busch was asked about the spin and it got hostile when he repeatedly answered the reporter's question with the same four-letter word. 
Kyle Busch finishes second after questionable race incident
Kyle Busch looked strong in the Bucked Up 200 at Las Vegas Motor Speedway on Friday night, leading 16 laps and winning stage two, just ahead of the eventual winner John Hunter Nemechek. 
In the third stage, Busch's No. 51 truck suffered a flat left-rear tire, which required him to make a veteran save and keep from crashing into the wall. Moments later, while pulling down pit road, Busch inexplicably spun out, which brought out the caution. 
As a result, Kyle Busch got the free pass and back on the lead lap. He then rallied from his 26th spot and navigated his way through the field for a second-place finish.   
Kyle Busch repeatedly answers reporter's question with four-letter word
Following the race, Kyle Busch talked about how happy he was for John Hunter Nemechek's win in the post-race interview. After that initial interview, he sat down on a call with NASCAR reporter Bob Pockrass of Fox Sports, who asked him if he could take him through what happened with the spin.
"Nope," Busch curtly replied.
"I'm sorry," Pockrass responded, confused by the initial answer.
"Nope," Busch repeated.
"You're not going to explain what happened?" the reporter asked again.
"Nope," Busch said for a third time.
Pockrass thanked Kyle Busch, and that was the end of it. 
NASCAR has spoken loudly before on such incidents
While anyone who saw the exchange between Kyle Busch and the reporter might chalk it all up to Busch being his petulant self when things don't go his way like the whole 2021 season has gone thus far, there's a much simpler explanation. Busch likes the money in his bank account.
There's not much doubt Busch deliberately spun out his car as a strategic move, which worked and improved his position, allowing him to move up through the field and finish second. Busch's flat-out refusal to answer the question can be traced back to November 2019 and a similar incident where Bubba Wallace intentionally spun out his car at Texas Motor Speedway. The only difference was Wallace admitted he did it on purpose.
NASCAR fined him $50,000 and docked him 50 points in the standings, but only after his admission. NASCAR didn't initially do anything, even after other drivers called on the organization to penalize him. 
It's safe to say Kyle Busch won't be coming out with any confessions in the near future. 
Like Sportscasting on Facebook. Follow us on Twitter @sportscasting19.