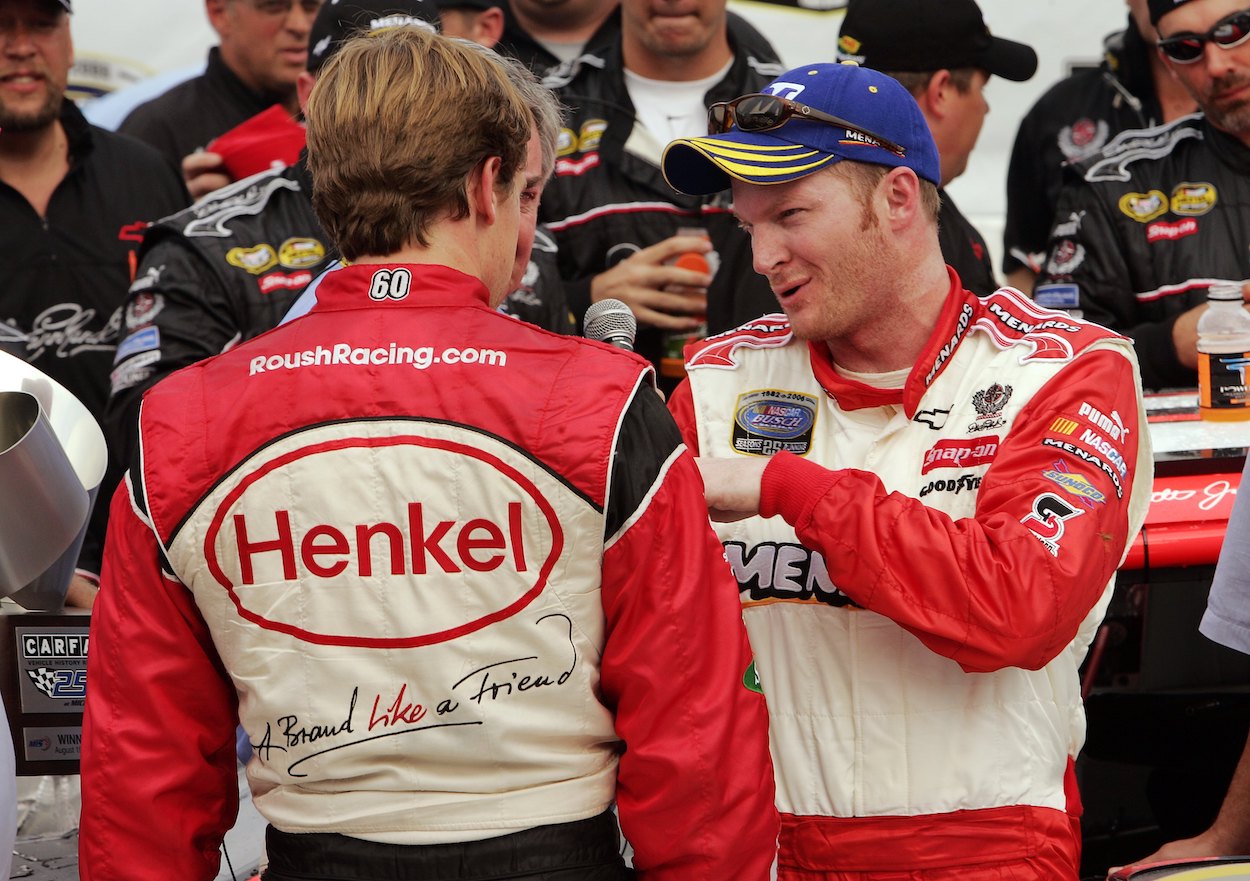 Dale Earnhardt Jr. Booed by Fans After Winning Race and Narrowly Escaping Catastrophic Hand Injury When Angry Carl Edwards Intentionally Slammed Into His Car
Dale Earnhardt Jr. won an Xfinity Series race but it was memorable because he almost lost his hand and was booed by fans.
Dale Earnhardt Jr. won NASCAR's Most Popular Driver award 15 years in a row while competing on the Cup Series. In 2006, Earnhardt had already earned the award three times when he encountered something very unfamiliar following a race at Michigan — he was booed.
While Earnhardt could have been bothered by the fan reaction, he instead counted his blessings. In particular, he was thankful to have his left hand, which he came perilously close to losing when he was letting it hang out the window following the race and an angry Carl Edwards intentionally slammed into the driver side of his car.
Dale Earnhardt feuds with other drivers
While Dale Earnhardt Jr. was consistently voted the most popular driver by the fans and was generally liked in the garage, that didn't mean he didn't have his share of run-ins with other drivers. It is an inherent part of racing.
One of the more notable disputes occurred at Bristol in 2002 at the Food City 500. That's when Earnhardt bumped Robby Gordon during the race, pushing him up the track, which allowed Earnhardt to make the pass. Earnhardt finished fourth while Gordon finished 20th. Immediately following the race on pit road, things got ugly.
With both cars entering pit road, Gordon rubbed up against Earnhardt's car, then slowed down, allowing him in front. Gordon then followed right on Earnhardt's bumper before spinning him out as he arrived in his pit stall. Both drivers had a few choice words for the other after the race. 
Dale Earnhardt Jr. upsets Carl Edwards and narrowly avoids serious injury
In 2006, Dale Earnhardt Jr. ran a full schedule on the NASCAR Cup Series while running a handful of Xfinity Series races that season. That summer at Michigan International Speedway during the Carfax 250, Earnhardt sat behind the wheel of the No. 8 car and stayed near the front much of the race. 
After a late caution, Earnhardt sat third behind Carl Edwards and Robby Gordon for a green-white-checkered restart. Similar to the incident several years earlier at Bristol with Gordon, Earnhardt got into the rear bumper of Edwards, whose car had gotten loose, and sent him sideways, across the nose of Gordon and down toward the infield. 
With Edwards wrecked, the caution came out again. After the field made its way around the track, Edwards timed his exit out of pit road and made a beeline straight for Earnhardt, where he put the right front of his car into the driver side door of Earnhardt, whose hand was hanging outside of the window. Video replay shows Earnhardt instinctively yanking his hand back inside the vehicle after the impact from Edwards. 
Admits move upset some fans and realizes how close he came to losing his hand
Despite Carl Edwards requesting NASCAR black flag Dale Earnhardt Jr. for the incident, Earnhardt was declared the winner. What happened next was a shocking reaction by fans, especially when you consider how Edwards had sideswiped the most popular driver in NASCAR and could have seriously injured his hand.
As Earnhardt exited the vehicle in Victory Lane, many of the more than 60,000 fans in attendance showered him with boos. Earnhardt couldn't help but hear it and addressed the situation of bumping Edwards in the post-race interview.
"You know we got a great core of fans, but that definitely is going to divide them right down the middle," Earnhardt admitted.
When asked about the scary incident where Edwards unexpectedly slammed into his car with his hand hanging out the window, Earnhardt wasn't happy.
"I had my hand out the window after the race and he could have took my hand off. Luckily, he didn't. Pretty stupid. I've seen him do it before. I should have known."   
The 2006 Xfinity Series race in Michigan was memorable for multiple reasons, and thankfully for Earnhardt, one wasn't a catastrophic hand injury that would have dramatically altered the course of his career.
Like Sportscasting on Facebook. Follow us on Twitter @sportscasting19.