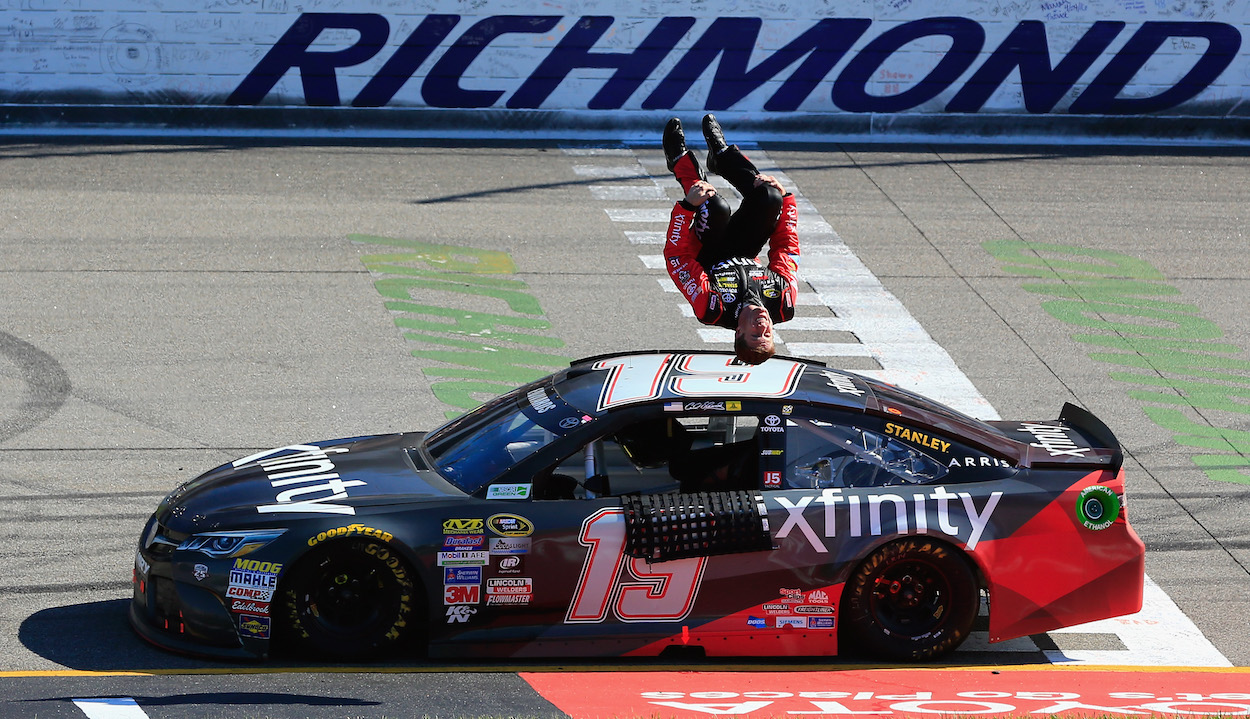 Carl Edwards Makes Surprising Announcement About Returning to NASCAR and 2021 Schedule Provides Perfect Chance for It to Happen
Carl Edwards admits he's looking to return to NASCAR for road course race.
Carl Edwards surprised the NASCAR world when he walked away from racing following the 2016 season after he had won three times and finished fourth in the final standings. Since his unexpected departure, there has been a great deal of speculation that a return to racing might be in the offing. 
During an interview this week on NASCAR Race Hub, Edwards put an end to the talk and confirmed he is eyeing a return to racing. And he hinted at just when fans might expect to see him back on the track, and based on the 2021 schedule, it could be much sooner rather than later. 
Carl Edwards' impressive NASCAR career
Carl Edwards drove to a high level of success in his relatively short NASCAR career. During his 10 Xfinity Series seasons, he won 38 times, including the 2007 championship. 
On the Cup Series in 12 full seasons, Edwards earned 220 top tens and performed 28 of his trademark victorious back flips. His two best seasons as far as the championship is concerned came in 2008 and 2011, where he finished second both years. Interestingly, he achieved the same end result but in very different ways.  
In 2008, Edwards won an impressive nine times, but it still wasn't enough, and he finished second behind Jimmie Johnson. Three years later, he won a single race but maintained a high level of consistency throughout the season, finishing with 19 top-5 finishes. 
During his final year in 2016, Edwards won three times and finished fourth in the final standings, which made it all the more surprising that he would walk away from racing after proving to be more than competitive. For his career achievements, he was a nominee for the NASCAR Hall of Fame 2021 class.
Carl Edwards wants to return to NASCAR road course
Since retiring, Carl Edwards has admittedly enjoyed life away from the track. In an interview on NASCAR Race Hub, he detailed some of his post-racing adventures have included farming and sailing across the Atlantic to Europe a couple of times. Surprisingly, he rarely watches NASCAR, but made an exception and watched a few minutes of practice for the dirt race at Bristol. 
Edwards said he really enjoyed watching the Cup Series cars slip and slide around the red clay track, and it was something he told his wife he might be interested in pursuing. Following that line of thought, Bobby Labonte asked if he had considered a return to racing and the possibility of a one-off, to which Edwards offered a surprising response.
"I have thought about it a little bit. I miss the driving part a lot. I miss the people. I don't miss the schedule, but something like that, a one-off, would be a lot of fun…Towards the end of my career I really enjoyed the road courses. So if I were going to do something, it would probably be on a road course." 
2021 NASCAR schedule sets up perfectly for return
Carl Edwards enjoyed racing on road courses later in his career and with good reason. He did well. From 2010-2016, he ran 14 races at Watkins Glen and Sonoma. He earned eight top-10 finishes, including a victory at Sonoma in 2014. 
If Edwards wants to get behind the wheel and race again at a road course, the 2021 NASCAR Cup Series schedule would be the year to do it. This season has five of the six road course races remaining on the schedule, including the next one in Austin, Texas at the much-anticipated Circuit of the Americas on May 23. 
Edwards' next opportunity would be just a couple of weeks later at a track he is already familiar with and the one where he had his lone road course victory, Sonoma. That race takes place on June 6. If he opts to pass on those first two, Edwards has three more chances at Road America (July 4), Watkins Glen (Aug. 8), or a week later on August 15 for the final road course race of the year at the Indianapolis Motor Speedway.
Carl Edwards fans have waited with anticipation for his return to NASCAR since he retired in 2016. It looks like that wait might be coming to an end soon. If that happens, the question then becomes — will the race result in a back flip?
Like Sportscasting on Facebook. Follow us on Twitter @sportscasting19.