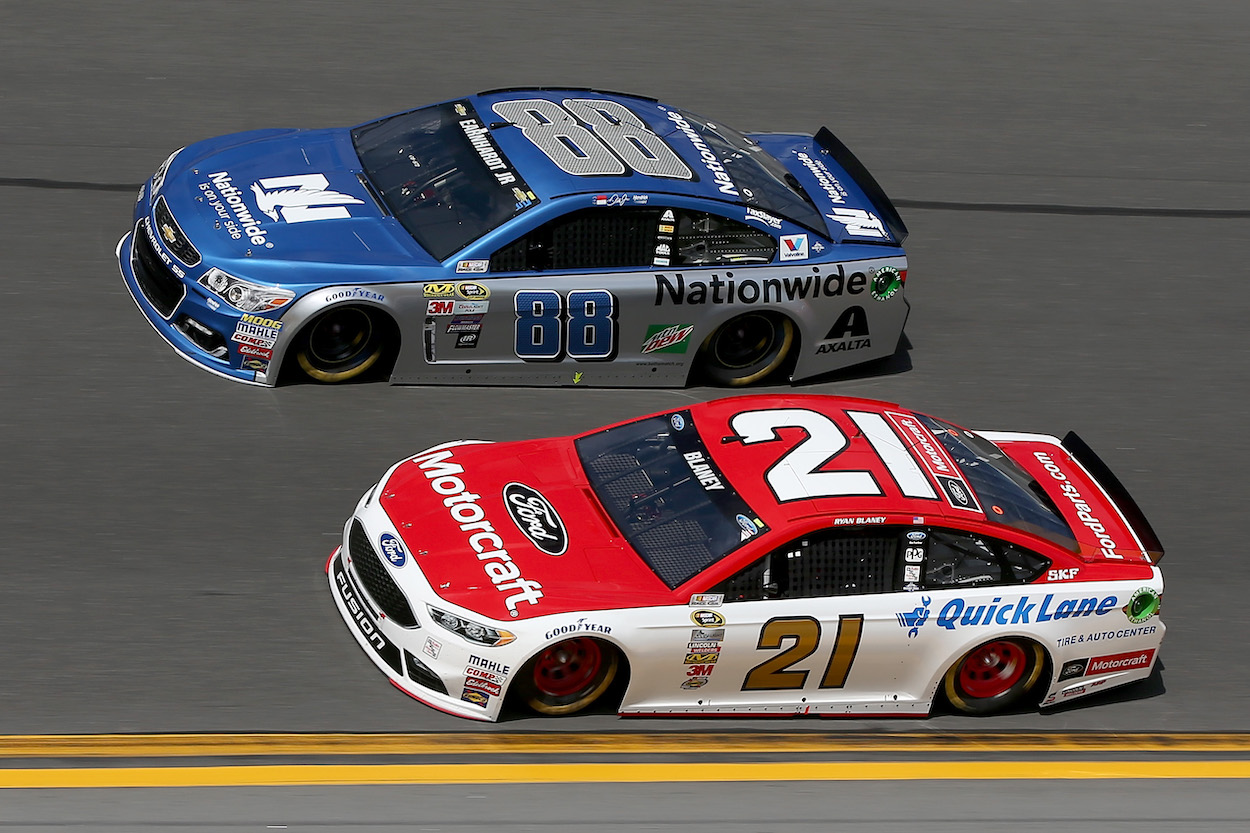 Hesitant Dale Earnhardt Jr. Uncomfortably Calls Out Ryan Blaney for His Anger Issues on the Track
Dale Earnhardt Jr. interviewed Ryan Blaney on his podcast and there was an uncomfortable moment when Jr. brought up Blaney's anger issues on the track.
During a recent episode of the Dale Jr. Download, Dale Earnhardt Jr. visited with Dave and Ryan Blaney, talking about both of their NASCAR careers. The conversation took an uncomfortable turn at one point when a hesitant Earnhardt addressed the younger Blaney and his anger issues on the race track and how he's watched him go from zero to 100 in a short period of time on more than a few occasions.  
Dale Earnhardt Jr. and Ryan Blaney are friends off the track 
Dale Earnhardt Jr. and Ryan Blaney have a unique relationship. Earnhardt is almost 20 years older than Blaney. However, that age gap evaporated each time they strapped into their race cars and rolled out on the track. 
Like many NASCAR drivers, they've developed a friendship off the track. For a time, they were neighbors. More specifically, Earnhardt owned the land Blaney lived on. Such close proximity would make for some entertaining times after races.
"Yeah, Ryan Blaney is my neighbor," Jr. said on his podcast several years ago. "He rents the house that (Brad) Keselowski used to live in that I sold to Brad and so, he comes over and he hangs out, we drink a little beer after a race or two. Not as often as we would like, but we do spend some time hanging out."
While it was a great opportunity for Blaney to be close and learn from a legend in the sport, it also created some awkward moments for the pair after races in which they had run-ins. 
Drivers have several incidents in 2017 
Early in the 2017 NASCAR season, Dale Earnhardt Jr.'s final full-time season with the Cup Series, he was racing Ryan Blaney hard in Phoenix. The younger Blaney didn't like how his neighbor was driving and took to his team radio to express his frustration.
"Fu**ing tires are gone, because the fu**ing 88 car is a d**k," Blaney said. He later apologized on Twitter for the outburst. Interestingly, that was the first of two incidents that season. 
In Martinsville, just a few weeks later, Blaney once again got frustrated with Earnhardt. Except this time, he didn't talk about it. He spun him out. 
"Who turned us around over there?" Earnhardt asked on his radio. After his spotter told him it was Blaney, the veteran driver had a funny response. "Aw man, no more free beer for Blaney," he laughed.
Dale Earnhardt Jr. calls out Ryan Blaney for his anger issues
In the latest episode of the Dale Jr. Download podcast, Dale Earnhardt Jr. interviewed Ryan Blaney and his dad, Dave. Toward the end of the conversation, Earnhardt delicately broached the subject of Blaney's hotheadedness. 
"I see you have that trait of getting mad mad," Earnhardt told his former neighbor and the winner of the most recent Cup Series race in Atlanta. "It doesn't matter. I just know that you have this sort of part of you where it's different than most people. At least most drivers."
After Blaney asked for a more in-depth explanation, Earnhardt carefully moved on with the conversation. 
"We're pretty good pals," Earnhardt half-asked and stated at the same time. "If I race you hard or something, then I'm not his pal anymore. I just know having been around you, and spent time with you, and listened to you…you'll get mad at something, and it burns inside of you…When you get behind the wheel of a race car, when you get frustrated, it's like a level that's pretty high."
Blaney admitted he can sometimes run hot but also acknowledged that his temper has gotten better through the years. That reduced level of frustration also just happens to coincide with more wins.
Whether or not Blaney continues to win or get upset on the track, Earnhardt isn't too concerned about it because no matter what happens he knows he won't be the source of those frustrations anymore.
Like Sportscasting on Facebook. Follow us on Twitter @sportscasting19.