Kyle Busch Rips NASCAR for Insensitive Twitter Post After His Third-Place Finish at Darlington: 'U Guys R So Stupid'
A third-place finish in any NASCAR Cup Series race is nothing to scoff at. Third place carries a respectable prize of 34 driver points, which is just six fewer than the winner of every race is awarded. Some drivers will never record a single top-three finish in the Cup Series over their entire careers in motorsports.
After Kyle Busch's third-place finish at Darlington over the weekend, he became offended by NASCAR's insensitive Twitter post diminishing his accomplishment, and he fired back with a jab of his own.
Kyle Busch finishes third at Darlington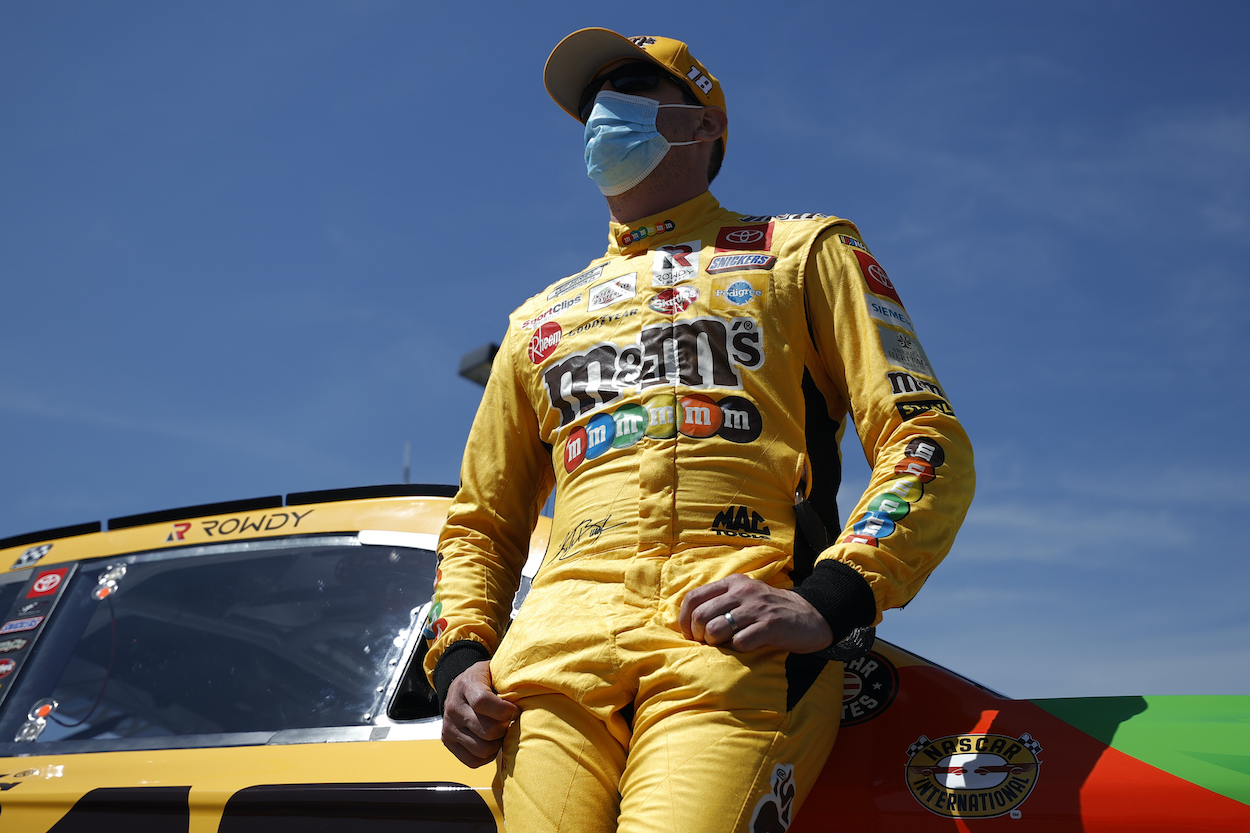 Busch came into Sunday's Goodyear 500 at Darlington Raceway off an impressive win at Kansas Speedway last weekend. He sped into the front of the pack on lap 14, but a flat tire caused him to spin out and forfeit his early lead a few laps later.
Busch did manage to rebound and give himself a chance to win by the end of the race, but he fell just short of a second consecutive victory. The driver of the No. 18 M&Ms Toyota finished in third place behind Joe Gibbs Racing teammate Martin Truex Jr. and Hendrick Motorsports' Kyle Larson.
After the race, Busch sounded quite pleased with his strong finish.
"Solid day overall. Definitely better than some of our other 750 (horsepower) package races. Just missing a little bit on the long run… but overall really good day," Busch told Fox Sports. "Really proud of [crew chief] Ben [Beshore] and the guys doing a lot of work on some stuff. Talking a lot and communication is going well. Seems like we're getting a little bit better and overall clicking a bit as a group, which is good. We can build on this momentum here and hopefully take it on into Nashville."
NASCAR tweets about Busch's third-place finish
Once the dust settled at Darlington on Sunday, NASCAR's official Twitter account sent out a flurry of tweets regarding the race. Most of the account's content rightly focused on Truex Jr. and his big win, but Busch was also the subject of an interesting post.
At 7:33 p.m. ET, NASCAR tweeted a picture of Busch walking away from his No. 18 Toyota with the caption, "The beginning was better than the end."
You wouldn't think Busch finished in third place by the tone of the post, and he took exception to it soon after.
Busch rips NASCAR for insensitive Twitter post
Later on Sunday night, Busch got around to checking his phone for reactions about the Goodyear 500. He eventually ran across NASCAR's tweet seemingly diminishing his strong finish, and he wasn't happy about it.
"U guys r so stupid w your wanna b tag lines," Busch wrote in a response to the tweet. "Every week u praise the winner and shame those following."
It makes sense for NASCAR's official account to give props to the race winner every week, but a third-place finish should also be celebrated, not made out to be a disappointment.
Does Busch have a point?