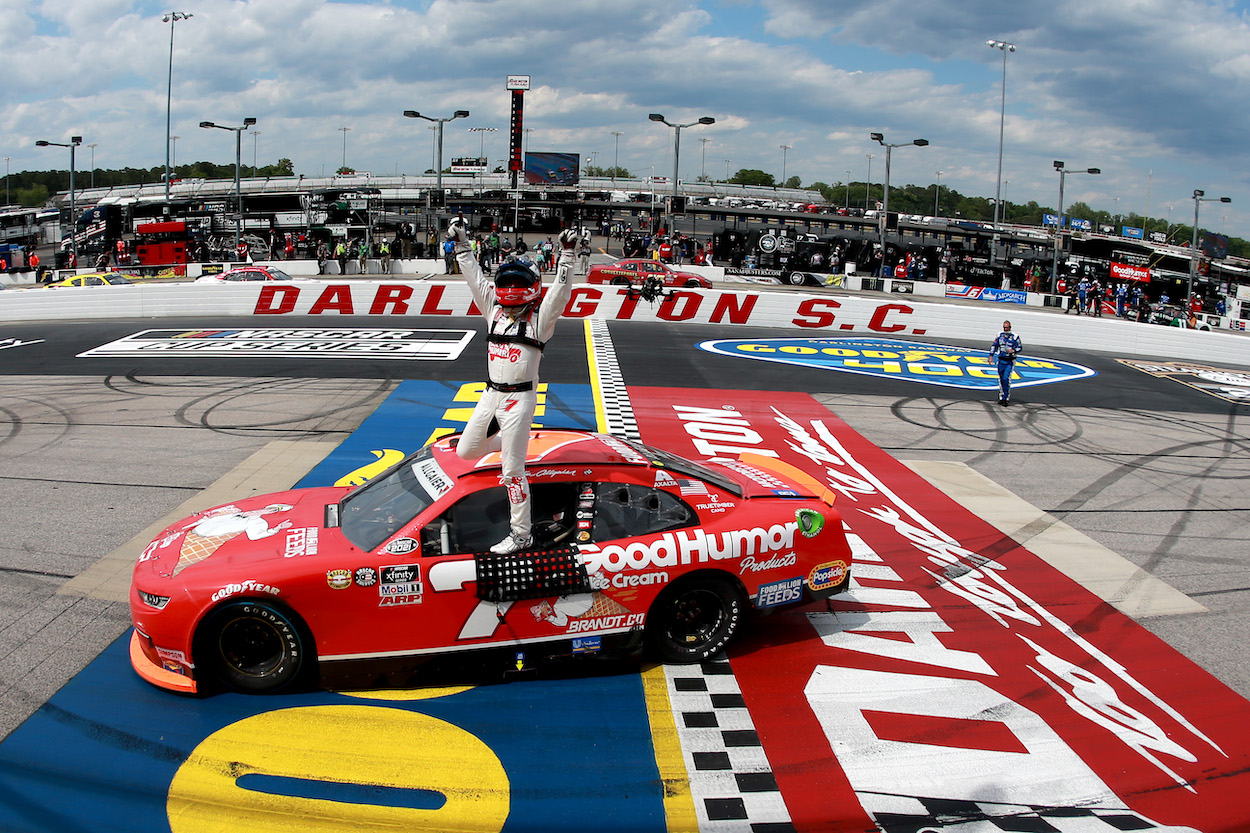 Justin Allgaier Credits Obnoxious Fan Who Flipped Bird as Motivating Factor in Xfinity Series Win at Darlington
Justin Allgaier credited a fan who flipped the bird at him during the race as a motivating factor in his victory at Darlington.
Justin Allgaier managed to hold off a pair of JR Motorsports teammates on Saturday to earn his first win at Darlington and his second victory of the 2021 Xfinity Series season. After the win in the postrace interview, the 34-year-old driver surprised the crowd when he thanked them and then credited one particular fan who flipped him off during the race as a motivating factor for his win.
Justin Allgaier wins at Darlington
Justin Allgaier had a solid car throughout the day at Darlington. With the race winding down, the No. 7 car moved to the front for the first time on a restart with less than 10 laps to go. 
With a late caution, the race extended into overtime, and Allgaier and teammate Josh Berry led the field on the restart. Berry appeared to get a jump on the inside during the restart but got loose in the first turn. Allgaier took advantage of that wobble and grabbed the lead coming out of turn two, before driving his car to victory.
It was an overall great day for JR Motorsports as Berry finished second, followed by Noah Gragson in fourth (later disqualified), and Michael Annett bringing home seventh. 
Allgaier credits fan flipping him off as motivating factor
In the postrace interview, Fox's Jamie Little asked Allgaier about capturing his second win of the season and how he managed to do it. Before he answered her question, the veteran driver who finished second in last season's standings, addressed the fans in the stands. And he called out one fan in particular. 
"First of all, y'all are awesome," Allgaier said, pointing to the fans. "Fans being back in the grandstands, this is special. Y'all don't realize how much energy you feed into what we do. I'll be honest with you, there's a guy right over here with a navy-blue shirt and he gave me the middle finger with both hands on that last caution and gave me a lot of motivation to win that one."
Images later shared on Twitter did, in fact, show the man in the navy-blue shirt flipping a bird. 
Josh Berry flips off driver and Dale Earnhardt Jr. not happy
It appears flipping birds, and JR Motorsports go hand in hand this season. The last time Dale Earnhardt Jr.'s Xfinity Series team and middle fingers were mentioned in the same breath happened at Phoenix, except it was one of the drivers doing the flipping.
Josh Berry had run a solid race in the desert but late in the day, while battling for position with Santino Ferrucci, got shoved into the outside wall. Moments later an unhappy Berry exited his vehicle and gave the double-bird as Ferrucci passed by. 
Earnhardt wasn't happy with his driver when he discussed the situation on his podcast.
"He had a great car and run up to third place in the race, but he gets out and flips the bird, two birds, whatever," an agitated Earnhardt said. "I told Josh, I said, 'Man, you've been wrecked before. You know how to act. And this ain't it.'"
Berry recovered from that incident and went on to win his first Xfinity Series race a few weeks later at Martinsville. 
Allgaier didn't flip anyone the bird but based on his result at Darlington might be seeking more bird flippers at upcoming races.
Like Sportscasting on Facebook. Follow us on Twitter @sportscasting19.