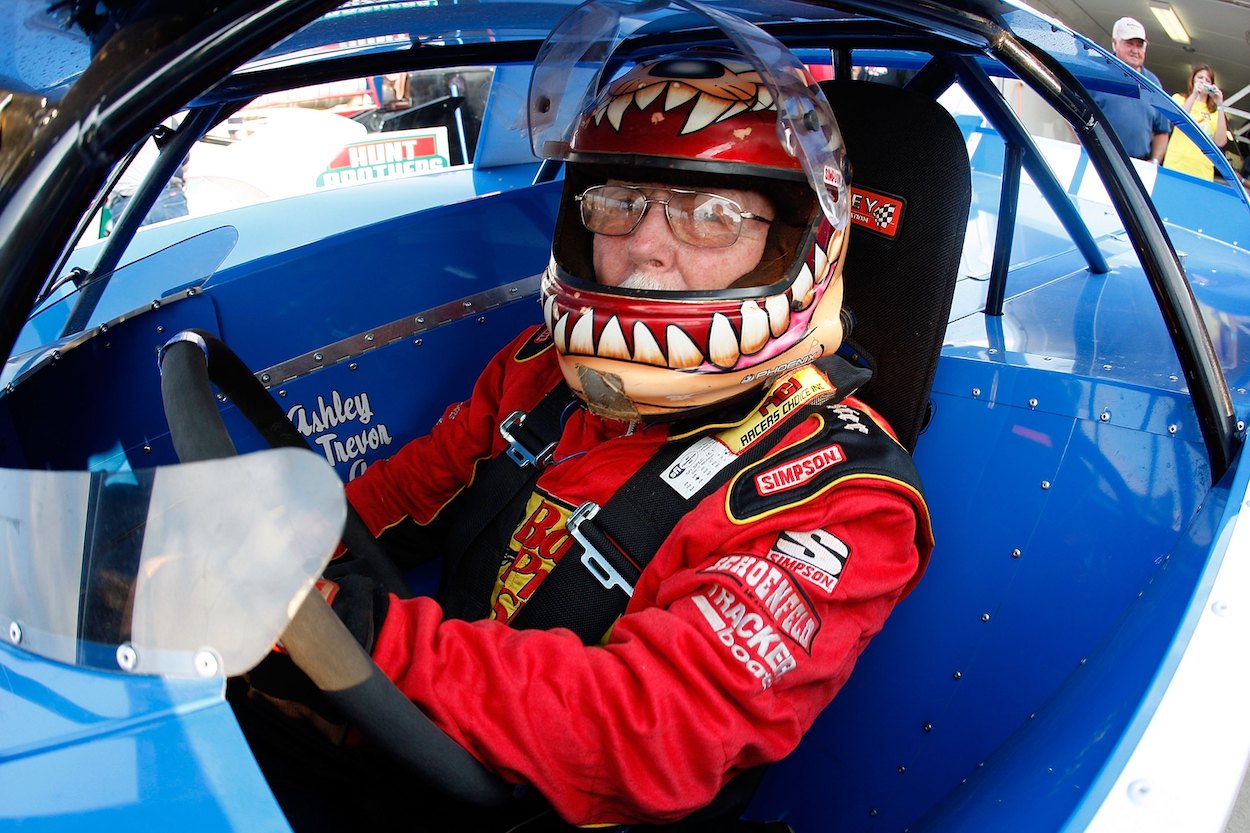 2021 NASCAR Hall of Fame Inductee Red Farmer Has Now Incredibly Survived Tornado, COVID-19, and Davey Allison Helicopter Crash
2021 NASCAR Hall of Fame inductee Red Farmer survived a tornado in Alabama on Thursday. He escaped death twice before, surviving COVID-19 and the Davey Allison helicopter crash.
Red Farmer is a NASCAR legend and an original member of the Alabama Gang. The 88-year-old, who was voted one of the top 50 greatest drivers in NASCAR history, still competes on the short track today. However, he is not only remembered for his amazing racing career but for surviving the helicopter crash that killed Davey Allison. 
Last year, Farmer experienced a range of emotions from the high of being elected into the 2021 NASCAR Hall of Fame class with Dale Earnhardt Jr. and Mike Stefanik, to the frightening low of being hospitalized and almost dying from COVID-19. This year has now started on an ominous note as Farmer's house was struck by a tornado and seriously damaged his car and trailer. 
NASCAR legend Red Farmer racing today at age 88
Red Farmer made his racing debut in 1948. Estimates suggest the short-track specialist earned between 700 and 900 victories, mostly in the 1950s and 60s. From 1969 to 1971, Farmer was champion of the NASCAR National Late Model Sportsman or what is known as the Xfinity Series today. 
He made it up to the Cup Series and ran 36 races, with his best finish a fourth-place. Today, now 88, Red Farmer still races short tracks on weekends at the 1/3 mile oval Talladega Short Track and remains competitive.
Survives helicopter crash that killed Davey Allison
Red Farmer teamed up with fellow Alabama Gang member Davey Allison as his crew chief on the Xfinity Series during the mid-1980s. In the summer of 1993, Farmer joined Allison on his recently purchased helicopter for a flight to Talladega to watch Neil Bonnett's son, David, practice before his Xfinity Series debut. 
Allison flew the helicopter to the Talladega Superspeedway and was mere inches from landing when something went awry. The National Transportation Safety Board later determined that Allison's inexperience piloting that helicopter style caused the accident.
The report said the helicopter hovered a foot above the ground when Allison attempted to turn it to the right. Instead, the aircraft abruptly began to climb before making a hard left turn and slamming violently into the ground on the pilot's side. 
Farmer escaped with serious injuries, including a broken collarbone and fractured ribs. Allison lost consciousness in the accident, and despite surgery to relieve brain pressure, died the next day at age 32 in the prime of his career.  
2021 NASCAR Hall of Fame inductee survives COVID-19 and tornado in last six months
In less than a year, Red Farmer has experienced a wide range of emotions. In June 2020, he was named a member of the 2021 NASCAR Hall of Fame class with Dale Earnhardt Jr. and Mike Stefanik. That was the good news.
Later in the year, Farmer contracted the COVID-19 virus, became very ill, and was hospitalized for five days. He told Birmingham NBC affiliate WVTM he almost died. Since that scare, he steadily recovered and has returned to racing at his familiar Talladega Short Track in 2021.
However, he has suffered another setback as severe storms rolled through Alabama on Thursday. Farmer's property took a direct hit from a tornado, damaging his house, his race car, and trailer.
Dale Earnhardt Jr. retweeted a post from Dirt Racing Media that showed the extent of the damage to Farmer's equipment with the hopes someone nearby might be able to help. 
While Red Farmer is deservedly recognized for his incredible career on the race track, his brushes with death off the track through the years are pretty remarkable as well.