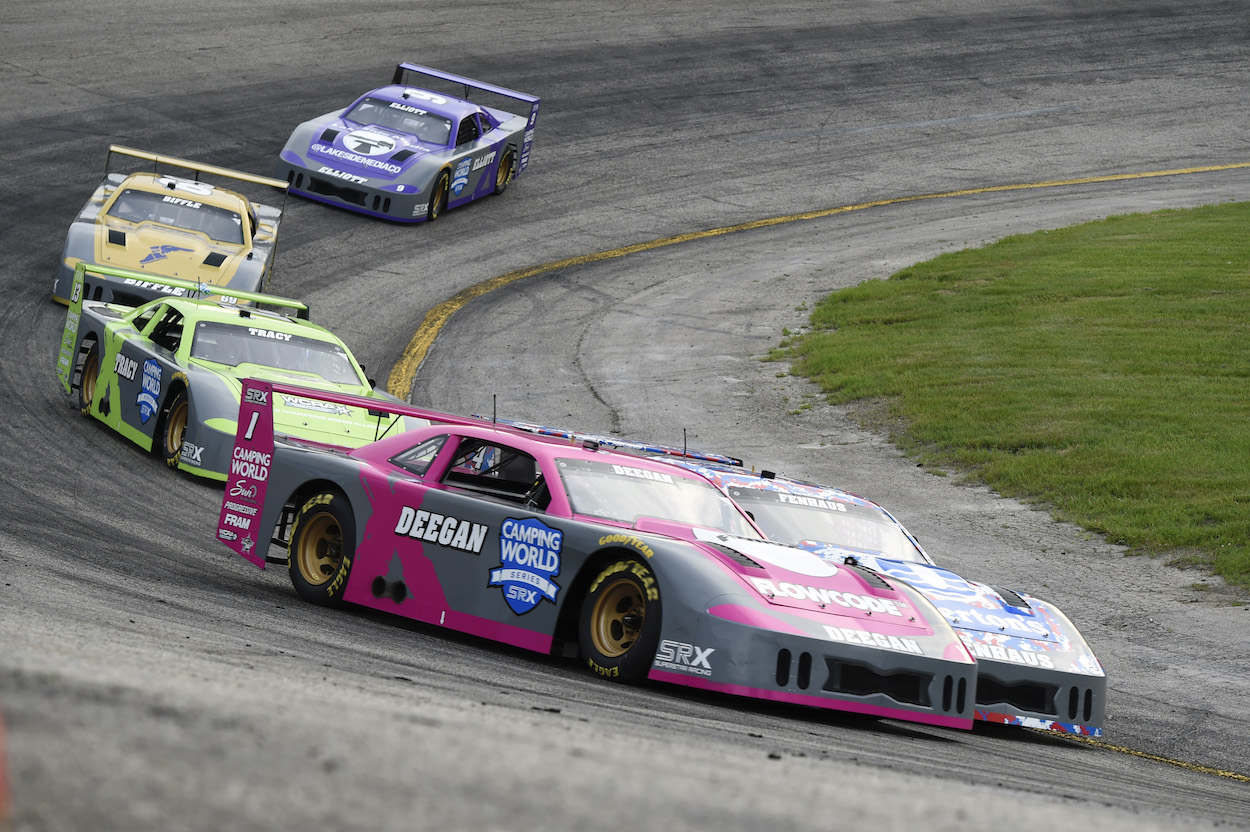 Hailie Deegan Confronted by Unhappy Paul Tracy After Dumping Him in Final Laps of SRX Race at Slinger Speedway
Hailie Deegan spun Paul Tracy late in the SRX race at Slinger Speedway on Saturday night. After the race, Tracy confronted Deegan about the move.
Hailie Deegan survived a wild NASCAR Truck Series race on Friday night in Iowa that included a lot of banging and fighting for the bottom line on the dirt at Knoxville Raceway. 
Just 24 hours later, the 19-year-old found herself competing on the "World's Fastest Quarter-Mile Oval" at Slinger Speedway in Wisconsin with the SRX Series. It was another night of close-quarters racing that included a late-race move where Deegan spun Paul Tracy, which caused a bigger collision with multiple cars and ended his night. After the race, the 2003 CART champion confronted the youngster to voice his displeasure.  
Hailie Deegan spins Paul Tracy with two laps to go
With 20 laps to go in the SRX race at Slinger Speedway in Wisconsin, Hailie Deegan and Paul Tracy battled for 7th and 8th place when they made contact. The 19-year-old made a nice save to maintain her position in the field.
Just a few minutes later and two laps to go, Tracy and Deegan had moved up to fourth and fifth, respectively. That's when Deegan dove down to the inside of Tracy's green No. 13 on the high-banked turn. When the front of her pink car reached the door of Tracy's car, he appeared to try and close the door. It didn't work, and Deegan sent him spinning.
Chaos ensued behind as Tracy collected Michael Waltrip, Helio Castroneves, and Willy T. Ribbs. Those involved almost immediately returned to the track. Tracy remained. As the AMR Safety Team approached his badly damaged car, he drove past them, up the track, and behind the wall. His night on the track was over. 
"Hailie just flat dumped me," Tracy told Brad Daugherty in the post-race interview. "Again, young, and Ernie dumps me. She dumps me. People complain that I'm rough. I'm getting spun out every flip week. It's ridiculous. I had a great car. Ran through the field. Two laps to go, we get turned, for no reason." 
Hailie Deegan confronted by Tracy 
Several minutes after the race, in which Deegan finished fourth, Tracy wasn't done and confronted her about the late-race incident inside a nearby trailer.
"Hey, I'm sorry. I didn't want to take you out at all, but I was at your door," Deegan began.
"I'm just so frustrated. People just dumping me," Tracy responded. "It's happened every race; someone dumps me." 
"I know. I understand. I've watched the video of it, and I was at your door coming off the corner. I was there on the straightaway," the NASCAR Truck Series driver told him. "I didn't want to dump you, but I just held my line on the bottom…I didn't try to take you out."
"Well, that's just not cool. I got dumped by Ernie in the first race, huge," he reminded Deegan.
After a few more seconds of conversation, she again mentioned how she was at his door. 
"I'll remember when I'm at somebody's door. I'll just turn him," Tracy said, obviously agitated by her explanation. Then someone off-camera interjected. "Well, when you're at someone's door, they're going to run the second lane," the voice said.
"Alright, see you next week," Tracy said, adding an expletive that was bleeped out before walking out of the trailer.
Ernie T. Francis and Tracy tangled in heat races
Paul Tracy's confrontation with Deegan was the conclusion to a night that didn't necessarily start off on the right foot for him. In one of the earlier heat races, Ernie T. Francis took an approach similar to what Deegan would employ later in the feature, diving inside of Tracy's green car. And it ended with the same result as Tracy spun out. 
When reporter Matt Yocum spoke with Tracy before the feature, he called his shot with Francis. 
"I tell you what I saw is a whole lot of dirty driving by Ernie Francis," Tracy said. "I'm pretty disappointed. I passed him clean, and he just flat-out dumped me. It's going to be a long 150 lapper, and I got a bad car, and he might have a bad night after this. So, get ready."
Someone, did indeed, have a bad night on Saturday night. It wasn't Francis.
Like Sportscasting on Facebook. Follow us on Twitter @sportscasting19.