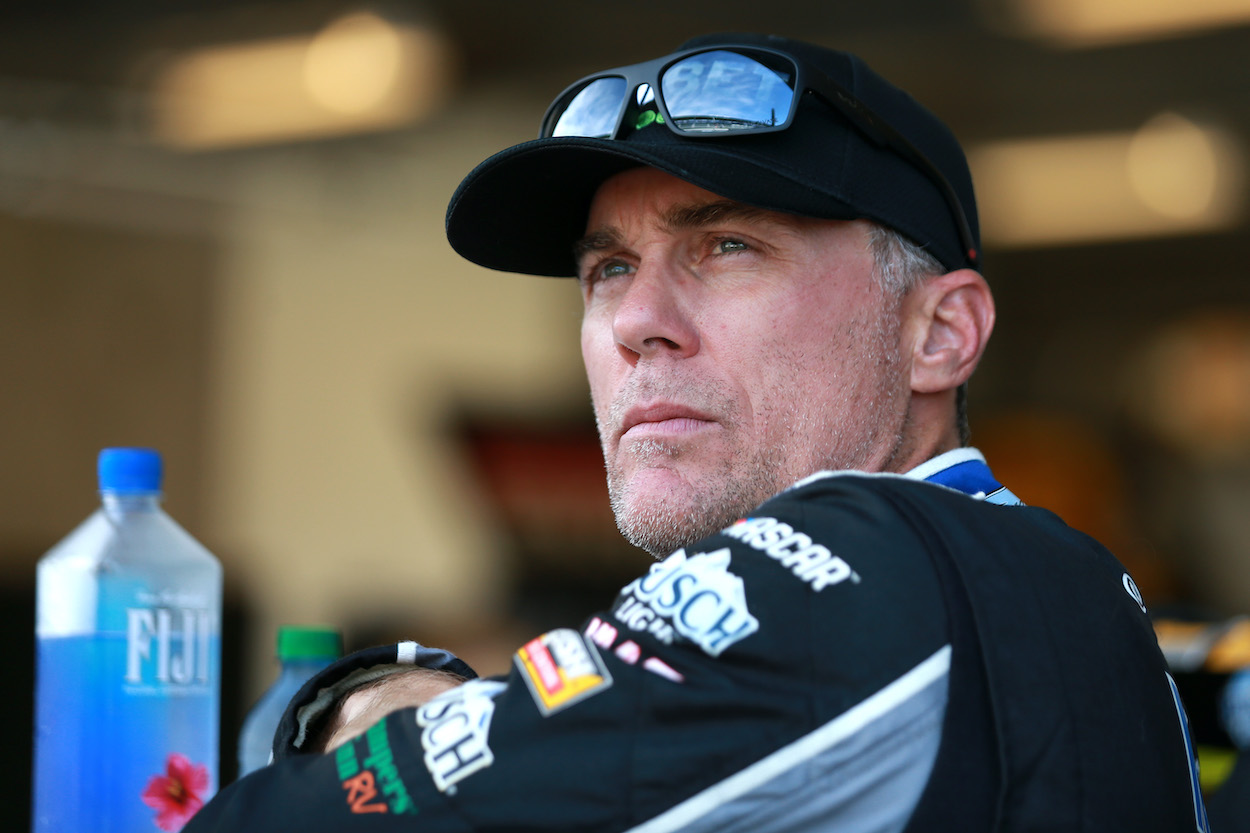 Kevin Harvick Meets Karma as Multiple Cars Go Airborne Dukes of Hazzard-Style in Wild First Lap of Xfinity Series Race on Indianapolis Road Course
Kevin Harvick met karma on Saturday. After openly criticizing NASCAR for moving to the Indianapolis road course, he wrecked on the first lap of Saturday's Xfinity Series race.
Kevin Harvick and several other Cup Series drivers have been openly critical of NASCAR's decision to move away from the tradition-rich oval at Indianapolis Motor Speedway onto the road course for 2021. During Saturday's Xfinity Series race, the track responded and exacted revenge on Harvick in a chaotic first lap that included multiple cars going airborne Dukes of Hazzard-style, severely damaging their cars and ending their days. 
Kevin Harvick critical of NASCAR moving to Indianapolis road course
Kevin Harvick has an understandable affinity for the Indianapolis Motor Speedway. He has won three Brickyard 400s on the famed oval. However, this year with the Cup Series moving from the oval to the road course, the 2014 champion didn't hesitate in voicing his opposition to the move.
"It's unbelievable. I can't even believe it," Harvick said. "It's the Indianapolis Motor Speedway. I'm just old school. Watching them run the Cup cars around there the first time in '94 and remember the excitement and enthusiasm that I had my whole life to go race on the oval and now we're going to backwards down the front straightaway and race on a road course. 
"I'm sure there will be a lot of people that will enjoy it. I won't be one of them." 
Kevin Harvick and multiple drivers wildly end their day going airborne on first lap
Kevin Harvick is a championship driver with 58 Cup Series wins to his credit for a reason. He puts in the work to hone his craft. He's shown that this year with no practice on most tracks, he's opted to practice by racing on a couple of occasions with the Xfinity Series at road courses like Circuit of the Americas and Road America. Prior to those events he hadn't raced with the series since 2018.
On Saturday, Harvick added the Indianapolis road course that he had bad-mouthed to his last of practice races. Unfortunately, it didn't last long. 
On the first lap, Harrison Burton led a group of cars, including Harvick, out wide on Turn 6 and hit a curb that was not there for last year's Xfinity race. All four cars jumped the curb with their front wheels visibly in the air. All of them sustained some degree of damage. For Harvick and several others, their day was over.
Brandon Jones describes first-lap chaos
A few minutes after the wild first lap, NBC caught up with Brandon Jones about the incident. 
"Our vantage points are so tough in these cars, especially when you're packed up that tight, especially after a restart," Jones said. "We all knew it was there all weekend long, but none of us hit it. It's the fact that just when you cannot see anything, you have to go off what the guy in front of you is doing. My idea and thought process was I need to get set up to the left for that Turn 7 on that left-hander so kind of using that run-off room there. 
"At least I can go back and look at the replay. I'm not the only one that did it. A lot of really good fast race cars got destroyed in that." 
For Kevin Harvick, it certainly wasn't the practice he had hoped to get on the road course at Indianapolis. The good news from the day is Harvick and the rest of Sunday's Cup drivers won't have to worry about that curb/ramp out wide on Turn 6. Track officials removed it after the race.
Like Sportscasting on Facebook. Follow us on Twitter @sportscasting19.