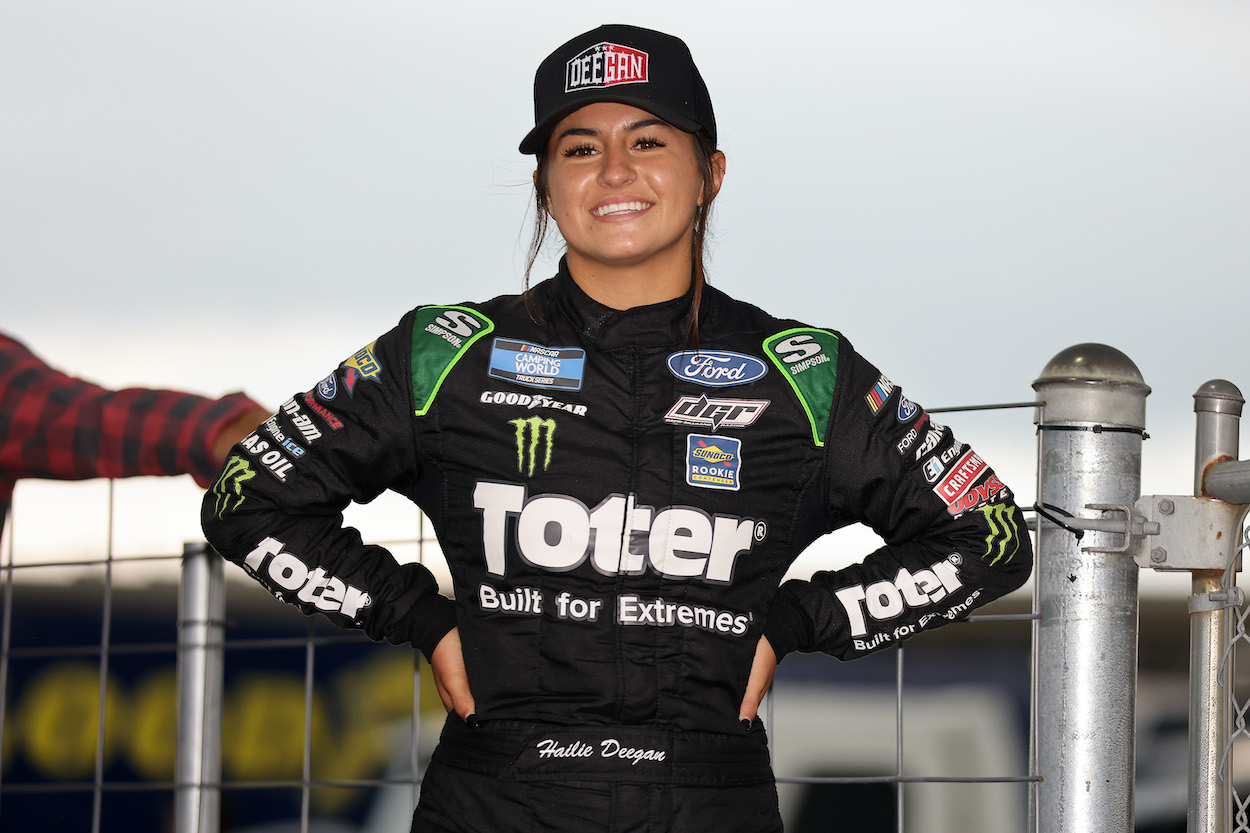 Hailie Deegan Makes Surprising Announcement About Driving Xfinity Series in 2022
Hailie Deegan surprised a lot of people this week when she announced that she wants to drive in the Xfinity Series in 2022.
Hailie Deegan is in the middle of her first full season in the NASCAR Truck Series. She hasn't earned a single top-10 finish. Despite that lackluster performance, she's already looking to take a step up and compete in the Xfinity Series next season. It's an interesting and somewhat surprising move. But is it the right one?    
Hailie Deegan's first full season in the Truck Series
Hailie Deegan impressed during her time on the K&N Pro Series West and ARCA Menards Series from 2018-20. With K&N, she won three times over two seasons. During the 2020 ARCA season, she had 17 top-10s in 20 races, but no wins. 
That level of success has not yet translated to the NASCAR Truck Series in 2021. Through 14 races, Deegan has yet to record a single top-10 finish. Her best finish to date is 13th, and she achieved that both at Kansas and Charlotte. Her performance at Kansas was unquestionably her best of the season, running around eighth or ninth for much of the race. 
It was Deegan's second trip to Kansas Speedway in the trucks. She made her series debut there last season and finished 16th.
For the 2021 season, Deegan sits in 17th place in the standings and will miss the playoffs. 
Hailie Deegan reveals hopes to drive in Xfinity Series next season
Despite what would be considered a lackluster season by any standards, the 20-year-old driver visited with the Sports Business Journal this week and talked about her hopes to move up and debut in the Xfinity Series in 2022 with a few races while maintaining her ride with the trucks.
"My hope is to race full-time trucks and that's kind of the plan right now," Deegan said. "Whether we're fully funded or not, that's my goal. The hope, or the dream would be to race a few Xfinity races by the end of the year and get our feet wet because that's obviously where I want to go in the future. That's kind of the dream goal, dream scenario. We're still open for more sponsors and always open to new relationships."
Deegan has been sponsored this season by a couple of main businesses, including Monster Energy and Toter, a waste container manufacturer. 
How social media might help make it happen
While Hailie Deegan didn't provide specific details of any organization interested in her piloting an Xfinity car in 2022, she currently has a driver development contract with Ford Performance. That existing relationship suggests she would drive for a Ford team. 
One thing she was clear on is how she plans to use social media as a way to connect her sponsors with her fans. Deegan currently has 282,000 subscribers to her YouTube Channel, a million followers on Instagram, and 125,000 followers on Twitter.
"Social media is something that I'm very passionate about," Deegan said. "I love every social media platform that we get to integrate into my career. If we can sell for social media, where that money goes toward racing so I can be in a seat as much as I want to be, that's great. I love that scenario. I'm very passionate about my racing and social media and those go hand in hand for my future and my career."
Deegan still has the rest of the 2021 Truck Series season to finish and is hoping at a minimum to earn her first top 10. That will go a long way in securing her a few rides with the Xfinity Series next season and proving that she actually belongs there.
Like Sportscasting on Facebook. Follow us on Twitter @sportscasting19.