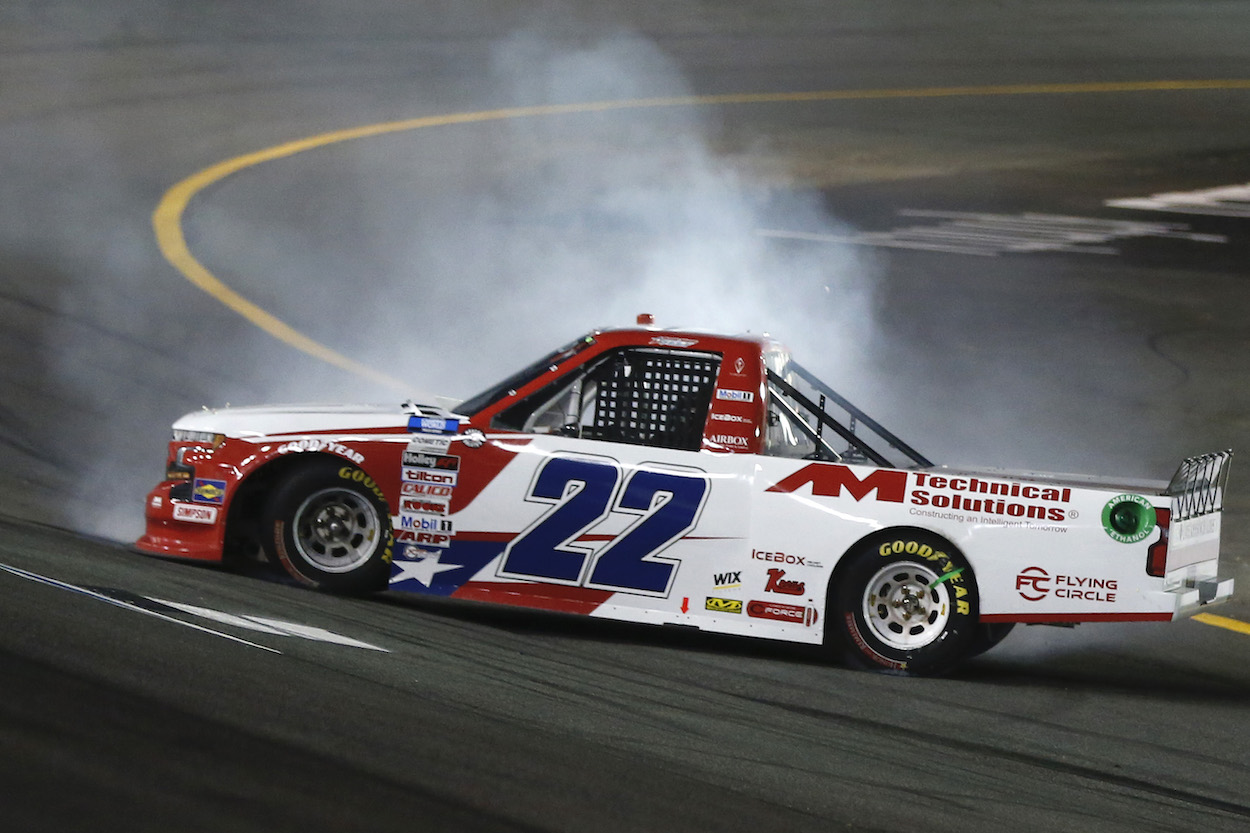 'Self Assessment' — Austin Wayne Self Details Near-Miss With Sheldon Creed and Reveals First Reaction After Seeing Destroyed Johnny Sauter Truck Following Violent Crash
Austin Wayne Self details NASCAR Truck Series race in Charlotte, including his late stage 2 spinout and his first reaction after seeing Johnny Sauter's destroyed truck following a violent late-race crash.
The is the first in a series of stories from the perspective of NASCAR Camping World Truck Series driver Austin Wayne Self. Each week the Austin, Texas native will provide a recap of the previous Truck Series race from a very unique view — the seat of his No. 22 truck. 
If there ever was a perfect week to start, it was the race in Charlotte, North Carolina, where the action started long before the green flag dropped. Self provides a behind-the-wheel look from the practice session to the race itself, where he spun out and miraculously avoided getting hit, and he details the first thoughts that ran through his mind when he saw Johnny Sauter's destroyed truck from a violent crash late in the race. Buckle up. It's going to be a wild ride!
Austin Wayne Self wasn't concerned about slow practice times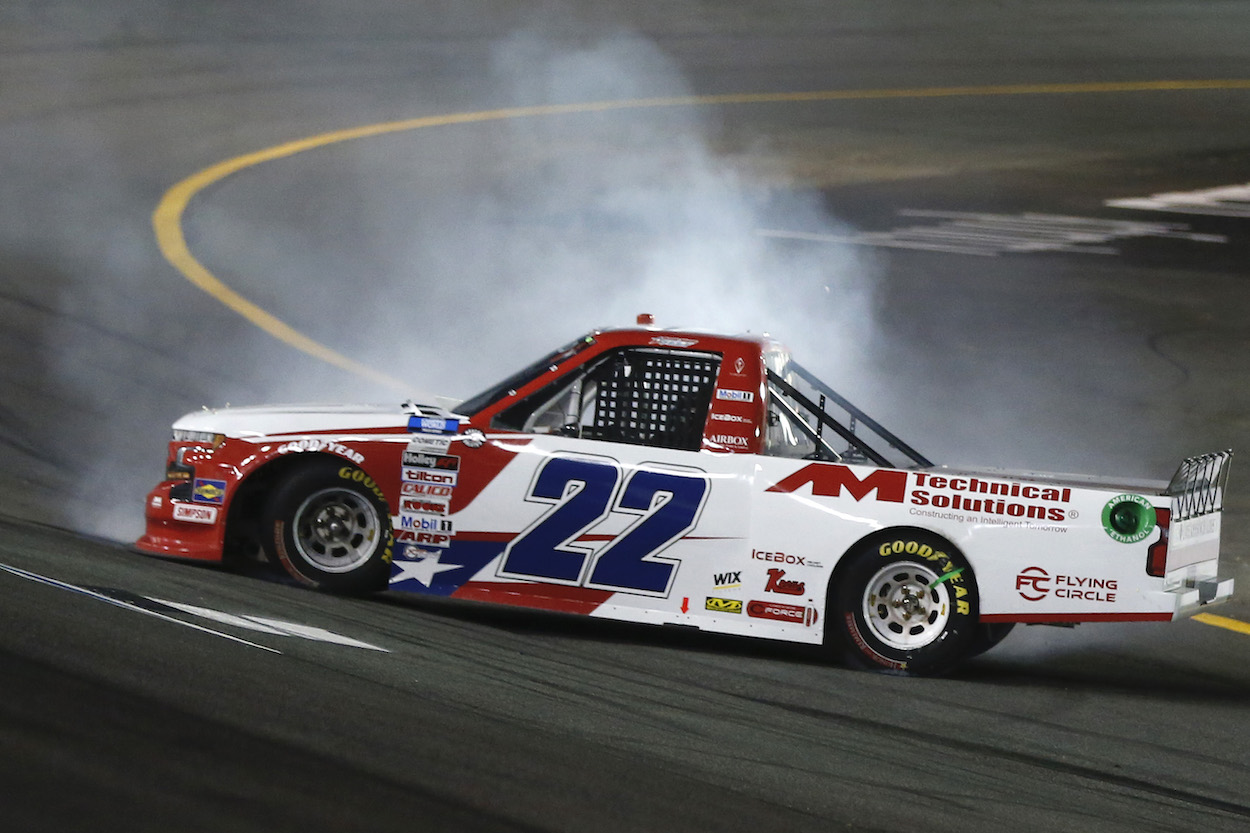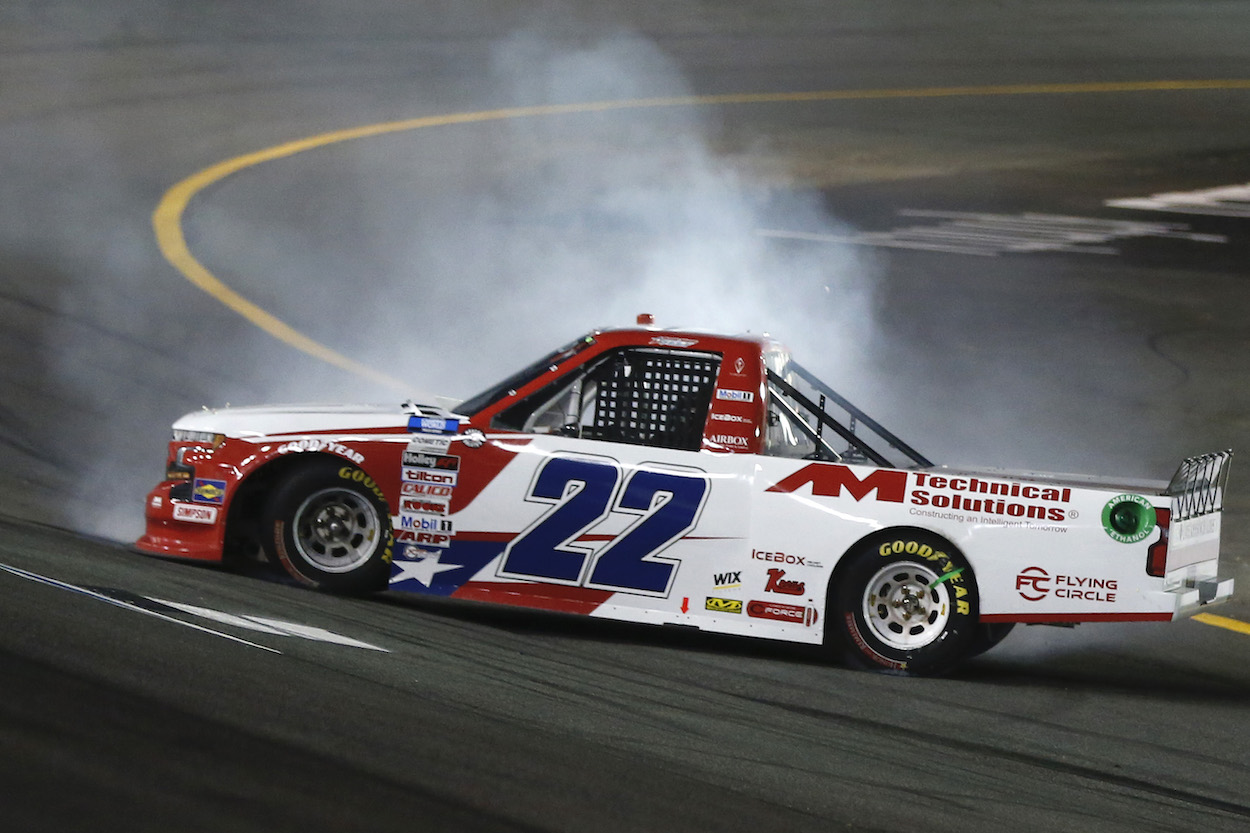 After a 16th-place finish at Circuit of the Americas on NASCAR's first visit to Austin Wayne Self's hometown in Austin, he hoped to return to his form from the previous week at Darlington, where he earned his second top 10 in a four-race stretch. 
Like Austin, the weekend in Charlotte included practice and qualifying — a rarity in the last year with the COVID-19 pandemic. Coming into practice Self said the team had a specific plan in place:
"We knew we weren't going to have a super-fast lap time in practice. Our goal was just to get the feel we wanted out of the truck. That way when we show in the race time we felt like we have the best truck we could have for race conditions."
Self said despite having a plan, he received texts from friends concerned about his lap time, which hovered in the low 30s. The 25-year-old driver said the team wasn't worried about the practice time and accomplished its objectives. 
"One, we didn't put it in the wall," Self said laughing, after watching multiple trucks make contact with the wall, including eventual race winner John Hunter Nemechek. "That was a big thing yesterday in practice, bringing the car home in one piece. We got the feel we wanted out of the car. We really only had time to make one change, and I thought it was in the right direction." 
Self avoids Sheldon Creed after accident with Todd Gilliland
Unlike a week earlier in Austin, where drivers qualified in stormy conditions, rain canceled Charlotte qualifying. Self started 13th but steadily dropped back in the field after the green flag dropped. He finished stage 1 in 23rd position.
Stage 2, Self admitted, was more intense than most races. He said you could create so much speed coming out of turn 2 that it was creating a bottleneck in turn 3, which made it very challenging.  
"Guys going three-wide, you just kind of knew. You had that feeling," Self said, realizing an accident was all but inevitable. "You can't lift off the gas. You're full speed ahead. When you're that close, racing and it's three-wide, you can see directly kind of in front of you, but you can't see over the top of the trucks. You don't know what's going on two car lengths ahead of you. You might get a glimpse. The spotter is really your eyes in the sky."
When Todd Gilliland and Sheldon Creed tangled up in front of him, his spotter guided him through. 
"They're wrecking high, wrecking high, wrecking high! Go low! Go low! Go low!" Self recalled the instructions he received. He said the spotter is such an integral part of the race and can make or break a driver's day. "He's got to see that stuff, and I'm really just doing what he says at that point. In those moments, if he tells you you gotta go low, you gotta go low."
Spins out and miraculously avoids damage
Self's spotter and his deft driving skills saved him in a final-lap incident in stage 2. Coming out of turn 4, Self got loose battling Tyler Ankrum to his outside and slid up the track toward the wall. After narrowly avoiding the wall, Self said for a split-second he was thankful to keep the truck off the wall, before his focus immediately shifted to trying to avoid the oncoming 20-plus trucks behind him.
"You've got cars coming, and you're thinking this is it, it's over," he admitted. "We're getting hit here. It's happening so fast, so you're having these split-second thoughts. Come down the race track, and I get back to the apron. I didn't get hit. I'm thinking – Wow! And it worked out again."
After narrowly avoiding the inside wall, Self said there were a couple of flats on the truck, so rather than risk the tire shredding and tearing up the vehicle, the team decided to come down a closed pit road to get new tires and take a penalty.  
Austin Wayne Self reveals first thoughts on Johnny Sauter's destroyed truck after violent late-race crash
With the penalty, Self started stage 3 from the back. During the final segment, he navigated his way through traffic. With 20 laps to go, he found himself in 20th position. That's when he and the rest of the drivers got a dose of reality during a scary accident between Johnny Sauter and Trey Hutchens. 
After his spotter informed him about the big wreck and told him to slow down, Self said he was surprised by what he saw when he came out of turn 4.
"It was a scrapyard," Self said. "There was so much debris. You couldn't go around the debris. You had to run over stuff. There were still things floating in the air." He said when he first saw Sauter's truck, it got his attention. "You're thinking, man, that was a heavy incident. You really didn't know. When you see a car tore up that bad, it's pretty hairy. You knew something big had just happened."
Fortunately, Sauter and Hutchens were uninjured. Self finished the race in 17th place and returns to action in his home state in two weeks at Texas Motor Speedway for the Speedycash.com 200. 
Like Sportscasting on Facebook. Follow us on Twitter @sportscasting19.