Austin Wayne Self Overcomes Rain, Missing Windshield Wiper, and Multiple Pit Road Mistakes to Secure Solid Finish at COTA in Front of Hometown Fans
Any athlete will agree there's always something special, an extra energy, when performing in front of the home crowd. NASCAR drivers are no different. The difference is drivers have one or two opportunities to race in front of the hometown fans, and that's only if there's a race in their hometown. 
NASCAR Truck Series driver Austin Wayne Self started racing in Austin, Texas, long before Circuit of the Americas was ever a thing. This weekend Self had an opportunity to compete at the world-class facility in front of the hometown fans and despite several costly pit road mistakes, secured a solid 16th-place finish. Regardless of the finish, it was a memorable weekend that will last him a lifetime.
Austin Wayne Self has made his way up the racing ranks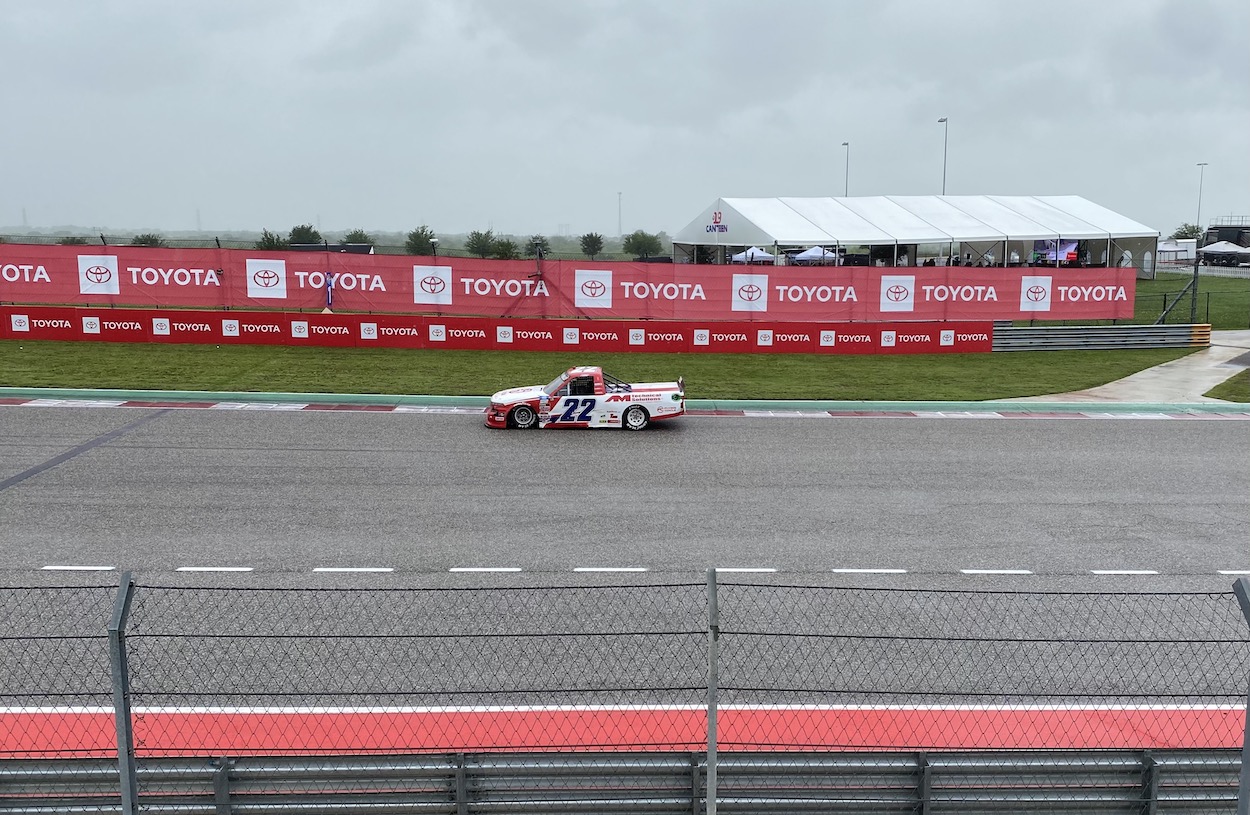 RELATED: Kyle Busch Cheats and Gets Revenge on John Hunter Nemechek at COTA After Finishing Second During Truck Race at Richmond
Austin Wayne Self started racing go-karts at age four. At 18, he made an impressive debut on the ARCA Menard's Series, where he won Rookie of the Year honors. He was just getting started.
The following year Self won his first race at Winchester Speedway, and more impressively, finished second in the championship standings. Over three seasons and 45 starts in ARCA, he earned 13 top-five and 30 top-10 finishes.
In 2016, Self joined the NASCAR Truck Series and earned a top 10 on the dirt at Eldora Speedway. During his sophomore campaign, the Texan started off the season strong with a second-place finish at Daytona, his best finish to date with the trucks.
Through eight races in the 2021 season, Self is off to the best start of his NASCAR career with five top-15 finishes and a pair of top 10s.
Self forced to overcome costly pit road mistakes
RELATED: NASCAR at COTA Lives Up to Hype and Will Be Action-Packed Race in May, According to Chase Elliott, Martin Truex Jr., and Brad Keselowski
Self's much-anticipated start at COTA didn't go according to plan when he received damage during qualifying and opted to start the race from the back of the field. Once the green flag dropped, Self had a fast truck and went on the attack, steadily making his way up through the field, moving all the way up to 12th.
"First segment we got up to 12th and the car was really good and with it raining, felt like the truck was just getting better and better," Self said in a postrace interview. "Same in the second segment. Everything was going good."
Then, the first of two costly pit road mistakes happened when a member of the crew missed a lug nut. In a separate incident, a pit crew member went over the wall too early and Self was sent to the back of the field.
"It's a little unfortunate," the 25-year-old said of the mistakes. "I think the truck was really good. Definitely more positives to take out of the day."
Positive outlook with truck running well
RELATED: NASCAR Moving Past Pandemic and Going Big in Texas at COTA With Large Turnout Expected at First-Time Event
Racing in rainy conditions throughout much of the race made it more challenging, but Austin Wayne Self said it also made it more entertaining behind the wheel.
"It was a lot of fun running in the rain today. It was something else. I even had the windshield wiper come off," he said with a smile. "It was great. On the back stretch and it came clear off."
Self managed to overcome the pit road mistakes, the rain, the missing windshield wiper, and finished 16th. He said it was an overall positive experience and leaves him encouraged about the future. 
"We showed up. We had a good truck. It was a lot of fun to come to my hometown. I don't know if anybody saw it, but we were running down trucks, getting by," he said. "At least we're running good. That's the biggest thing, right. I've been doing this for a while and it took a long time to get in the position we're in now. I'm just really happy that we've got the truck running really well and we got something to look forward to in Charlotte when we show up."
Like Sportscasting on Facebook. Follow us on Twitter @sportscasting19.