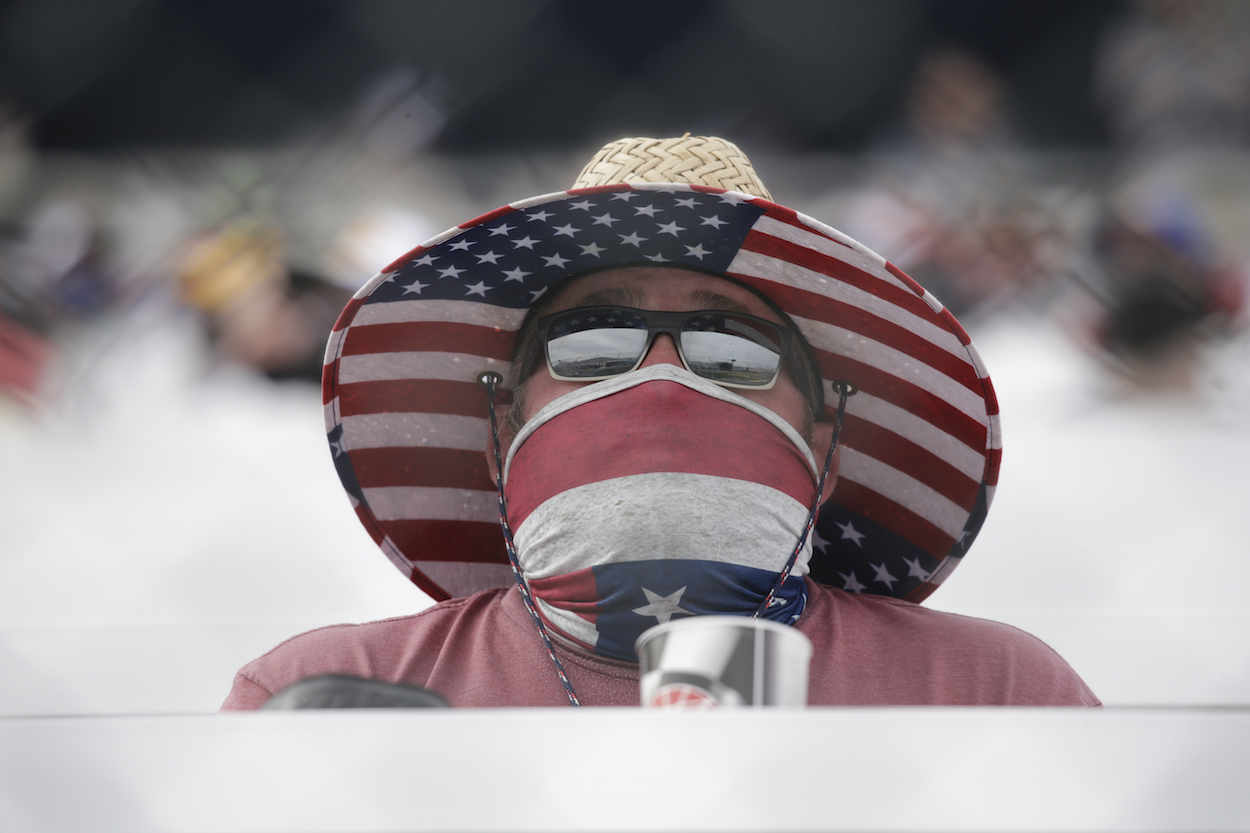 NASCAR Moving Past Pandemic and Going Big in Texas at COTA With Large Turnout Expected at First-Time Event
NASCAR is returning to normal in the middle of the pandemic with an expected crowd of up to 50,000 at the upcoming race at COTA.
NASCAR was quick to shut down operations in early March last year due to the rapidly spreading pandemic. The organization was then second to resume its activities, albeit without fans, behind only the UFC. Now, as sports fans slowly began to trickle back into stadiums, NASCAR appears to be on the forefront of fans attending races, and they're going to do it big, appropriately enough, at next month's race in Texas at COTA. 
NASCAR changes since pandemic
Two days after the NBA led the way and suspended operations on March 11, 2020, NASCAR followed suit. For the next two months, fans and drivers turned to iRacing to get their fill of races. On May 17, a week after UFC was the first sport to return to action, Kevin Harvick won NASCAR's first race back at Darlington Speedway. 
While racing returned in May, it was dramatically different, starting with the schedule. NASCAR doubled up events at the same venues to limit traveling for drivers and teams and to try and fit in all the races for the season. In addition to the race schedule changes, NASCAR completely dropped practice and qualifying before the races. 
The most noticeable change to drivers and those watching on television was the absence of fans in the stands. That became the new normal for NASCAR and all sporting events throughout much of 2020, although limited numbers of fans were allowed to attend events later in the year.   
Texas Rangers set precedent for large number of fans in stands 
The start of 2021 for all sports has seen a continuation of 2020 as far as fans are concerned, with limited numbers attending events, including NASCAR races. The numbers are typically dependent on the state and local policies in place. The Daytona 500, which has a capacity of 101,500, took place before a crowd of just over 30,000 to open the season.
In Texas, Governor Greg Abbott lifted fan capacity limits in March. On April 5, the Texas Rangers took advantage of the move and opened the 2021 MLB season at Globe Life Field to a full house, with more than 38,000 fans in attendance.
Since that game, the first-ever in the stadium, which officially opened in 2020, the numbers have somewhat dipped. However, through nine home games, the club has averaged more than 26,000 fans per contest. 
Up to 50,000 fans expected at COTA for biggest NASCAR crowd since pandemic
With Texas open for business and NASCAR's first race of 2021 in the Lone Star State scheduled for May at the first-time event at COTA, CEO and president of Speedway Motorsports Marcus Smith said he expects to have a large turnout around the 3.41-mile long layout. 
"We started really planning for it a year ago hoping that we would be able to have as much as 50 percent capacity," Smith told reporters. "The state of Texas is opened up to 100 percent. We're also following social distance guidelines. We want people to make sure that they feel safe. That's all going into our plan. This is a really big facility. I think if we have 40,000 or 50,000 here, there's plenty of room to have some space if you want to be with your friends and family and still be well within the range of safe distance."
Since the very beginning, NASCAR has been progressive and on the leading edge of getting back to normal as soon as possible during a worldwide pandemic. The race at COTA is another big step in that direction.
Like Sportscasting on Facebook. Follow us on Twitter @sportscasting19.