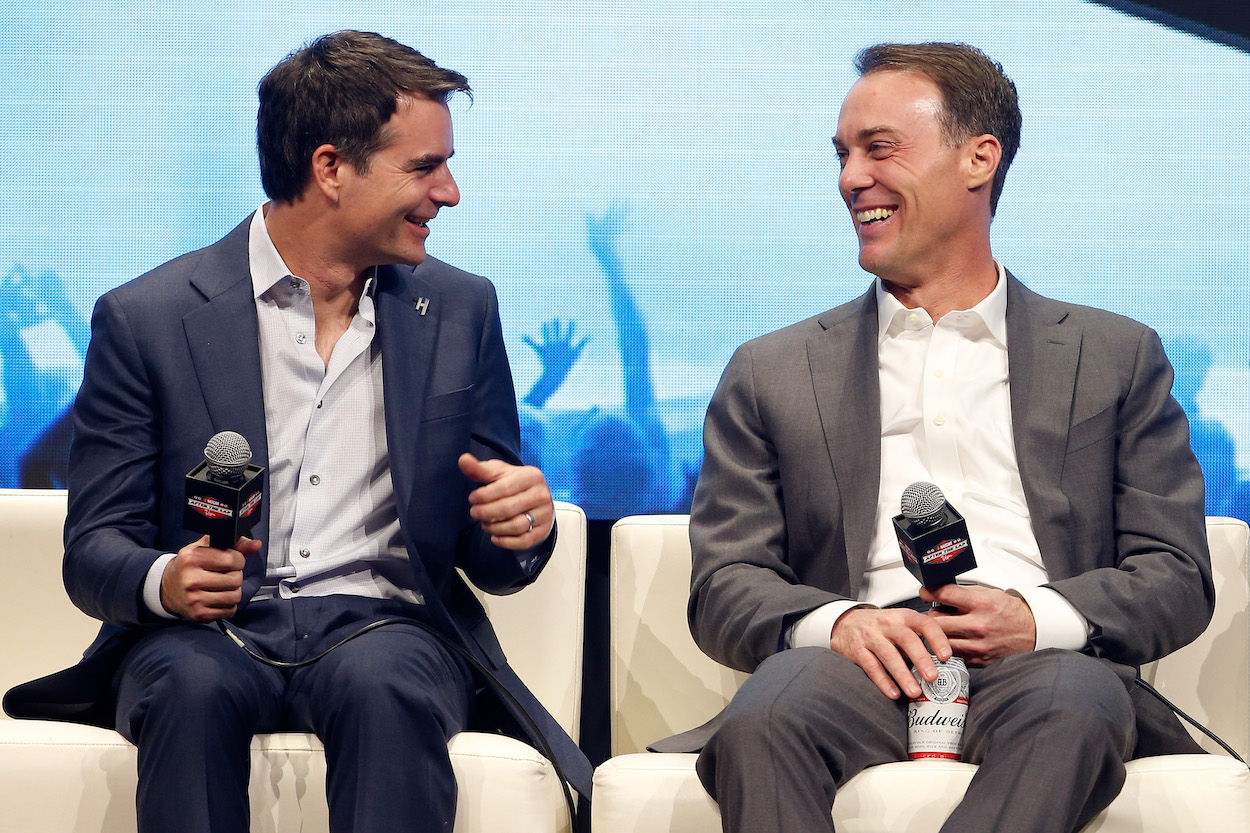 Jeff Gordon and Kevin Harvick Gang Up Together and Insult Clint Bowyer's Intelligence Before Richmond Race
Jeff Gordon and Kevin Harvick ganged up together and mocked Clint Bowyer's intelligence.
During Sunday's NASCAR Cup Series prerace show on Fox before the Toyota Owners 400 at Richmond, Jeff Gordon, Clint Bowyer, and Chris Myers followed along with the camera and microphone and interviewed random drivers on pit road. When the camera stopped for a visit with Kevin Harvick, Bowyer's former teammate at Stewart-Haas Racing talked about his car and then teamed up with Gordon to mock Bowyer and his intelligence.  
Jeff Gordon and Kevin Harvick mock Clint Bowyer's intelligence
RELATED: How the Jeff Gordon and Clint Bowyer Hilarious Days of Thunder Racing Skit on Fox Turned Scary When 1 of the Cars Caught on Fire
Kevin Harvick has been the lone highlight for the Stewart-Haas team in the 2021 NASCAR season, earning six top-10 finishes in eight races. Before the start of the race at Richmond, the Fox cameras found Harvick on pit road and talked to him about the track he's won at three times before. 
"This place is tricky," Harvick admitted to Clint Bowyer and Jeff Gordon. "Bowyer used to be really good here, so he should be able to tell you what you do. You got to roll through the center, right Bowyer? Off the brake. And you've got to have some throttle on the exit."
Without pausing, Harvick transitioned into talking about his Hunt Brothers Pizza car, which featured a large QR Code on the hood, and took a shot at his former teammate.
"Jeff, make sure you explain to Clint how he can use his camera to use this QR code here," Harvick said. 
"He's not too good with electronics, I can tell you that," Gordon responded. "Or being timely. I don't know how he ever made one of you guy's meetings."
Clint Bowyer won twice at Richmond
Clint Bowyer ran 541 races on the NASCAR Cup Series over 16 years. Like Harvick said in the prerace show, Bowyer figured out Richmond and consistently ran well at the three-quarter-mile track. Of his 10 career wins, he won twice at Richmond in 2008 and 2012.
During the Fox prerace segment of "Put It Out," Jeff Gordon presented a bonus video, which featured the 2008 Richmond spring race with Kyle Busch and Dale Earnhardt Jr. battling on the last lap of the race.
"That 2008 race was pretty exciting because look what happened between Kyle Busch and Dale Earnhardt Jr. They wreck coming to the finish, the final lap and look who squeezes in there for a put it out," Gordon described, as Bowyer came in underneath both cars for the checkered flag. 
"I backed into another one, didn't I, baby?" Bowyer admitted while laughing. "Thank you, Kyle Busch. You pulled one off for me. I love that kid. That was a fun one." 
"Now we know how he got one of those wins," Gordon delivered a parting shot.  
Jeff Gordon and Bowyer mocked each other throughout season
Jeff Gordon and Clint Bowyer have taken repeated shots at each other in the broadcast booth throughout the 2021 NASCAR Cup Series season. Early in the year at Homestead, Bowyer commented on Martin Truex's No. 19 car and how the large lettering would be easy for Gordon's 49-year-old eyes to see.
"I was looking at the side of this thing. It's exactly like looking at your phone with those big letters and everything that you can see it," Bowyer told Gordon. "Everything shows up. That bold print." 
Gordon has returned fire, generally mocking Bowyer's number of wins compared to his own (93 and four-time Cup Series champion). Even broadcast lead man Mike Joy inadvertently joined in on the fun last month at Atlanta when he suggested neither driver had faced the situation of drivers racing laps without any practice, even though Bowyer did that last year. 
"This is a situation that I don't think that either of you faced in your Cup careers. Show up to the race track. Get in the car. Drop the green flag and go," Joy said.
"I did," Bowyer quickly fired back, with Jeff Gordon backing him up. "He did. Bowyer did."
"That's right. You did. I'm sorry," Joy apologized. 
Kevin Harvick teaming up with Jeff Gordon to insult Bowyer is the first time a current driver has joined in on the action this season. Who knows who might get in on the fun in the coming weeks, but it will be Gordon or Bowyer right in the middle of it like a massive pileup at Richmond.