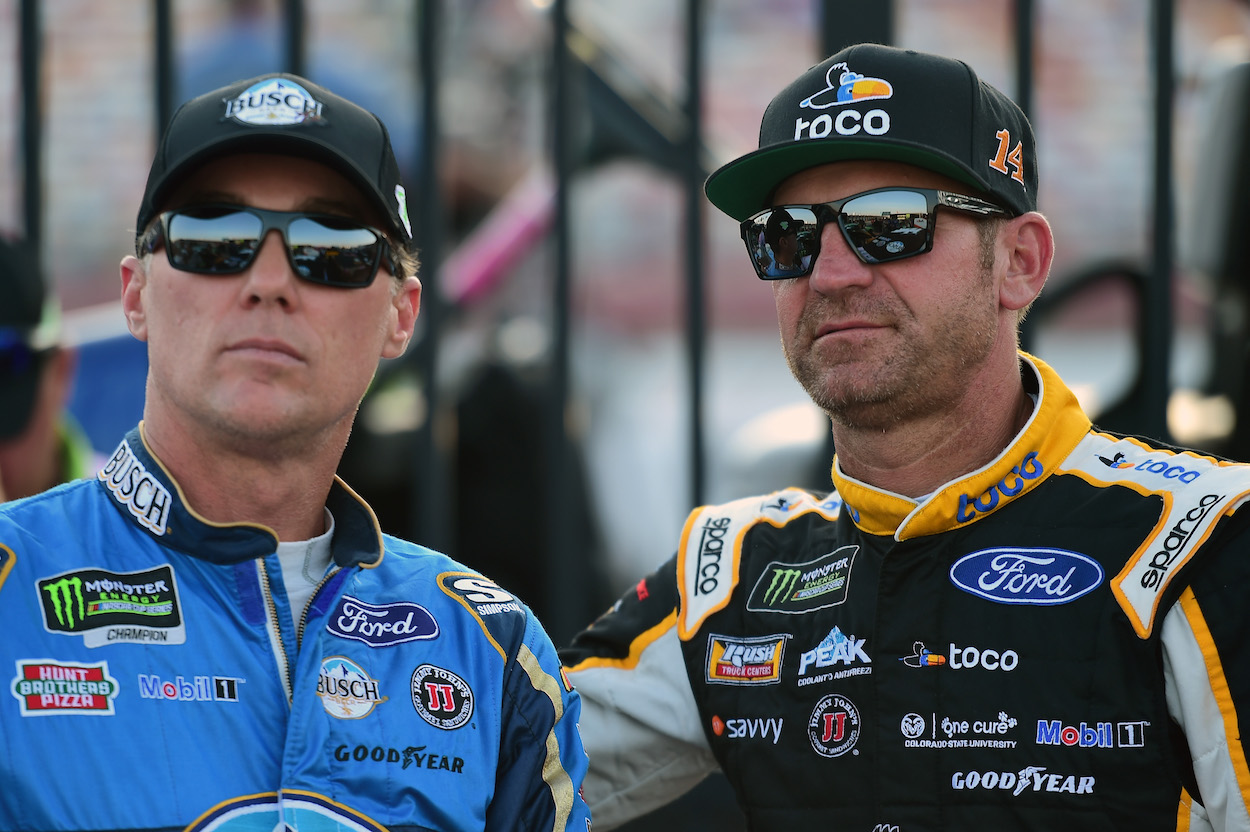 Clint Bowyer Candidly Offers a Very Grim Assessment on Kevin Harvick and the Rest of 2021 Season
Clint Bowyer offered a grim assessment on Kevin Harvick and the rest of the 2021 NASCAR Cup Series season.
Kevin Harvick and Clint Bowyer worked together as teammates for four years with Stewart-Haas Racing before Bowyer called it quits at the end of the 2020 season and moved up to the broadcast booth with Fox. Now, as a broadcaster, Bowyer gets paid to offer his thoughts on the happenings in NASCAR with the drivers and the teams.
This week during an episode of NASCAR Race Hub, Bowyer appeared as a guest, and the crew discussed the chances of Harvick winning a race this year — a shocking conversation when you consider he won nine times in 2020. Bowyer, who has never shied away from sharing his feelings, didn't this time and suggested the rest of the 2021 season looks bleak for Harvick and his fans. 
Kevin Harvick winless so far in 2021
After winning nine times in 2020 and finishing fifth in the points standings, there were no indications Kevin Harvick would struggle to find victory lane in 2021. But that's what has happened just past the halfway point of the regular season.
This time last season, Harvick had already won three times, including victories at Darlington, Atlanta, and Pocono. This season the Cup Series hasn't yet visited Pocono, but he finished 10th at Atlanta and sixth at Darlington.
Those race results are solid indicators of the difference between the two seasons. Harvick hasn't won any races, but he's still been good. Through 14 races this year, Harvick has four top-5s and ten top-10s. Last weekend, he suffered his worst finish of the season at the inaugural race at COTA, where he finished 37th after being involved in an early accident with Bubba Wallace. 
Clint Bowyer suggests Harvick won't win a race in 2021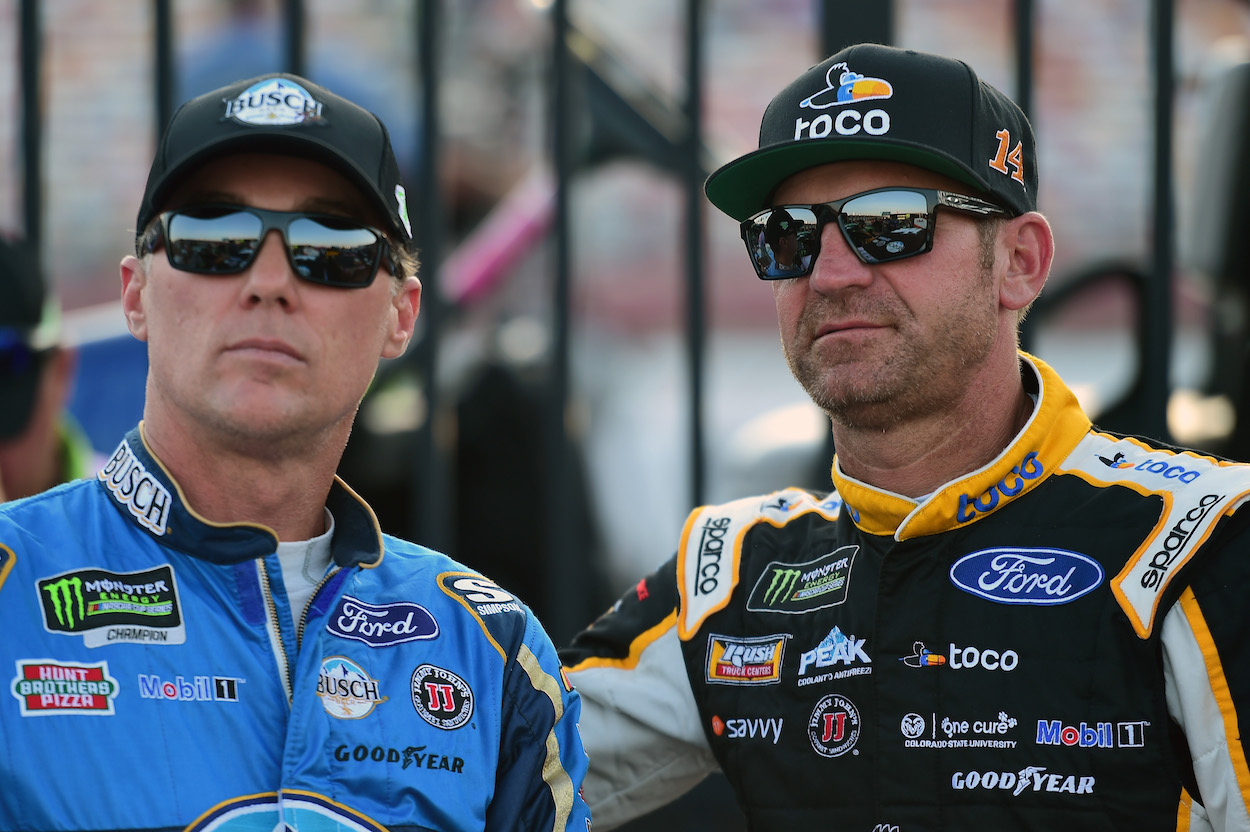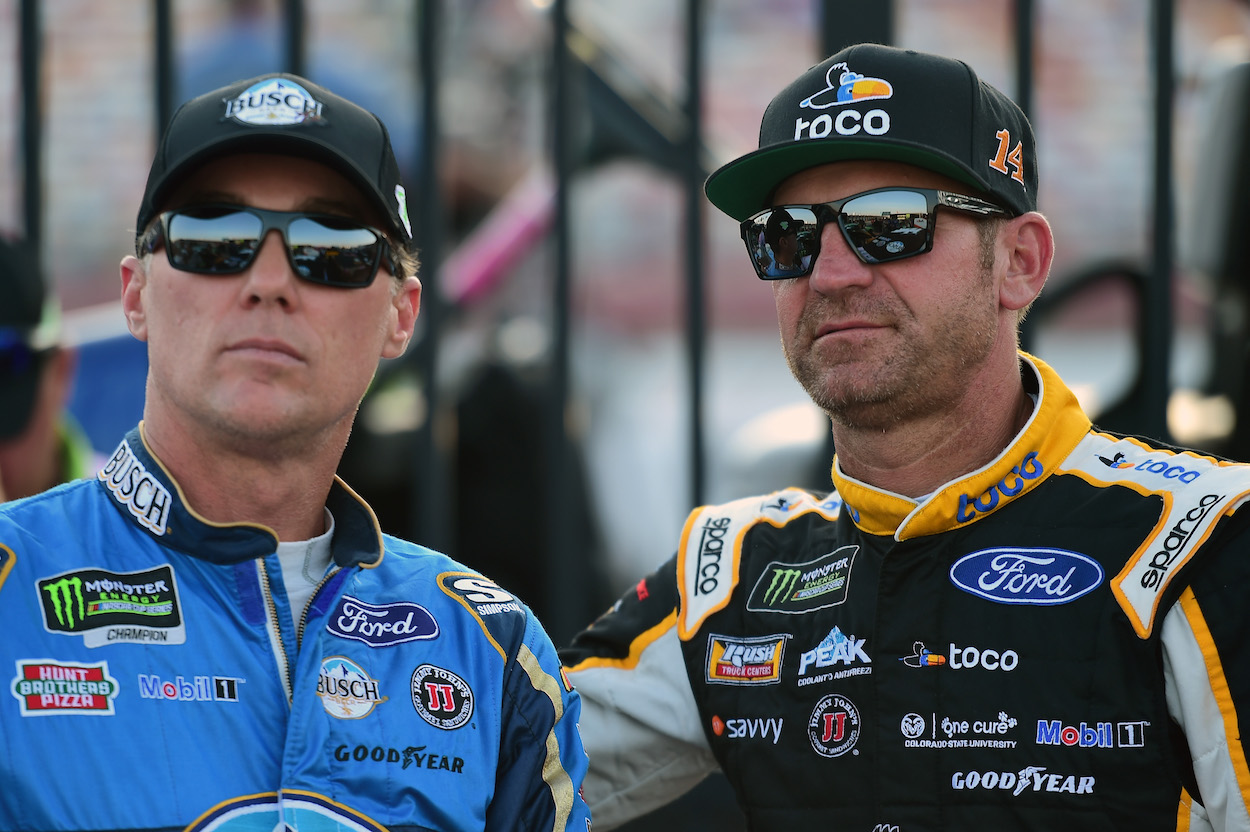 This week during an episode of NASCAR Race Hub, Clint Bowyer and David Ragan appeared as guests on the show. During a segment called "What Are the Chances?" host Kaitlyn Vincie posed the question around Harvick going winless this season.
"Winless. I don't think it's going to happen," Ragan said confidently. "One percent. There's always a chance something crazy can happen. Kevin's too good. I think they can make some small adjustments on those Fords. It's not like he's running 15th. He's running fifth to eighth. And through some strategy, he digs down a little deeper, he's going to get a win."  
Surprisingly, Harvick's former teammate at Stewart-Haas offered a much less optimistic view on the future for the No. 4 car in 2021 and said there's a 70 percent chance he doesn't make it to victory lane this season. 
"This is where we're a little bit different, David," Bowyer said. "I think last year when he won eight (actually nine) races, he dominated. He was leading every lap. He was winning the stages and everything else. Dominating the weekend. Don't see that happening. And I see it coming out of other camps this year. So I don't think it's going to be his year. I really don't."
Bowyer gets called out on Twitter and responds with facts
Following Bowyer's comments on Harvick, a follower on Twitter called him out and used one of his own favorite phrases – "Shots fired!"
"No shots fired," Bowyer replied. "Hell I hope they get it turned around. But I have to do my job!"
Bowyer then backed up what he said with numbers, posting comparisons of Harvick's numbers in 2020 and 2021. In 2020 he led 1,531 laps, compared to 39 this season. He won seven stages last year versus none so far this year. And the most important number, nine victories last season compared to none thus far this year.
"But…I did say there's still a percentage there to get things turned around," Bowyer ended his tweet.
Whether Bowyer really believes that is another story because as he pointed out, the numbers don't lie.
Like Sportscasting on Facebook. Follow us on Twitter @sportscasting19.