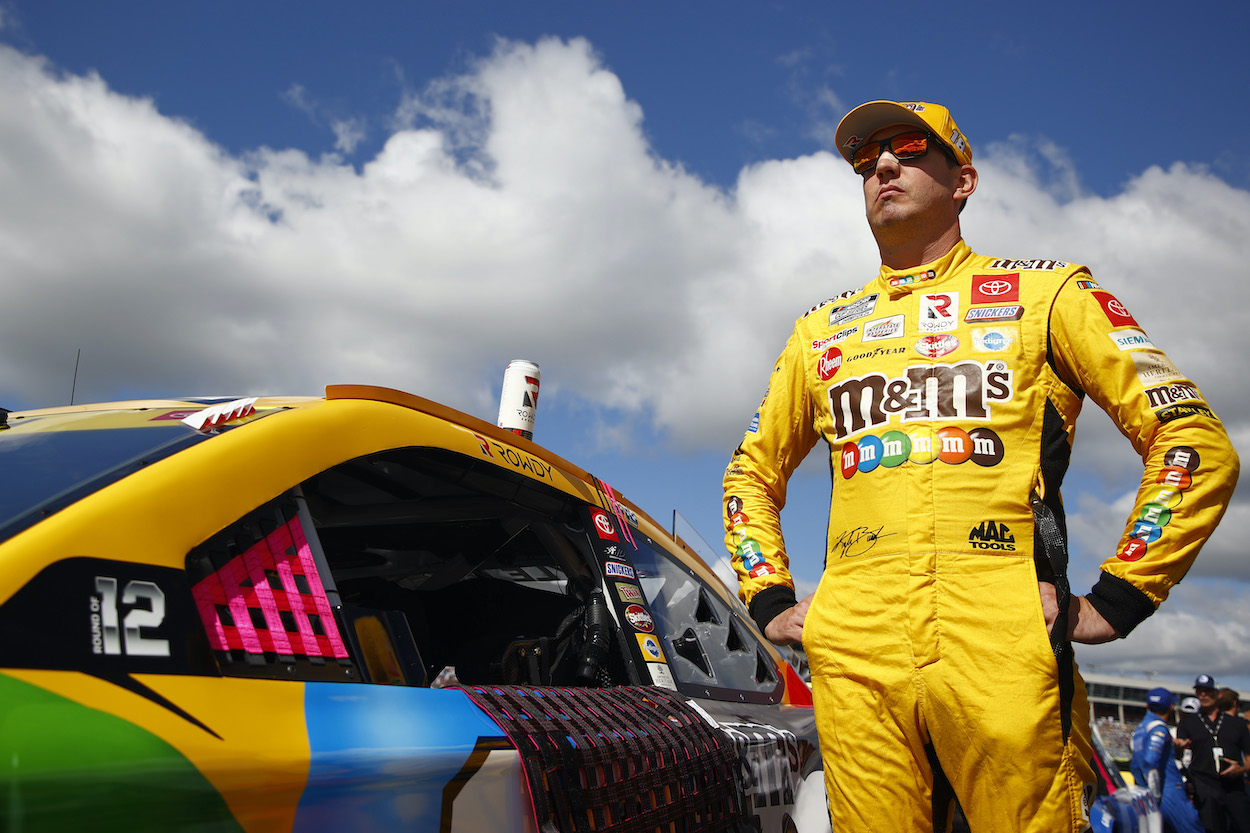 Kyle Busch Savagely Embarrasses Fan on Social Media Who Foolishly Mocked Him for Finishing Second Behind Joey Logano at Clash
Kyle Busch isn't one to hold back how he feels. And he didn't when one fan decided to mock him for finishing second behind Joey Logano at the Clash.
Kyle Busch isn't one to hold back his feelings. Through the years, he's directed his sharp comments at fellow drivers, media members, NASCAR officials, and even fans. 
This week, after finishing runner-up to Joey Logano in the Clash at the Coliseum, one fan decided to mock the two-time Cup Series champion for coming up short against the Team Penske driver. And Kyle Busch did what Kyle Busch does. He fired back. 
Kyle Busch has a good weekend at the Clash
Kyle Busch was the prohibitive favorite heading into the Clash at the Coliseum with the most short-track Cup wins by any active driver at 16 — six more than the second-most by older brother Kurt. 
Busch showed his short-track prowess on Saturday during qualifying when he posted the fastest time. During his heat race on Sunday, the Joe Gibbs Racing driver established that he was the man to beat, leading from start to finish and putting himself on the pole for the featured event.
In the main, he was once again dominant, and led a race-high 64 laps. However, with 35 laps to go, Joey Logano got a good restart and pulled out front. He never relinquished the lead and Busch finished just behind him. 
Kyle Busch embarrasses fan on social media
The weekend was a smashing success for NASCAR, with a diverse collection of more than 50,000 fans in the stands, including a younger demographic. Among those was Charli D'Amelio, a social media personality with more than 47 million followers on Instagram. 
After the race, she posted a photo to Instagram that showed her family all adorned in yellow M&M's jackets and wrote "spoiled." Busch replied to the post, thanking her for coming out. 
A fan then replied to the post and tagged Busch. "IMAGINE FINISHING 2ND TO LOGANO LMFAO," the fan wrote. 
"imagine sitting on ur couch," Busch fired back. 
After the Athletic's Jeff Gluck pointed out the driver's "gem" of a reply on Twitter, Busch delivered another humorous follow-up remark.
"I think they call that a ratio @jeff_gluck," he wrote. 
Mocks booing fans last year
No matter where Kyle Busch goes, there's always a contingent of fans who boo him. He doesn't care what the haters think. He likes to engage. That's one of the reasons his loyal fans have been so supportive through the years. 
There is no better example of this than last year at Kansas. After winning the race and during the postrace interview, a vocal group of fans booed him in the background. Upon the conclusion of his interview, he directed his attention to the fans, then proceeded to shift his head from side to side and rub his eyes, mimicking a crying baby.  
It was Kyle Busch in his purest form. 
When you've accomplished what he's accomplished, including 61 Truck Series wins, 102 Xfinity victories, and 59 in the Cup series with the two titles, it doesn't matter what the naysayers have to say. Busch knows this. He's not only one of the greatest drivers in NASCAR history; he's also one of the sport's greatest personalities. 
Like Sportscasting on Facebook. Follow us on Twitter @sportscasting19.