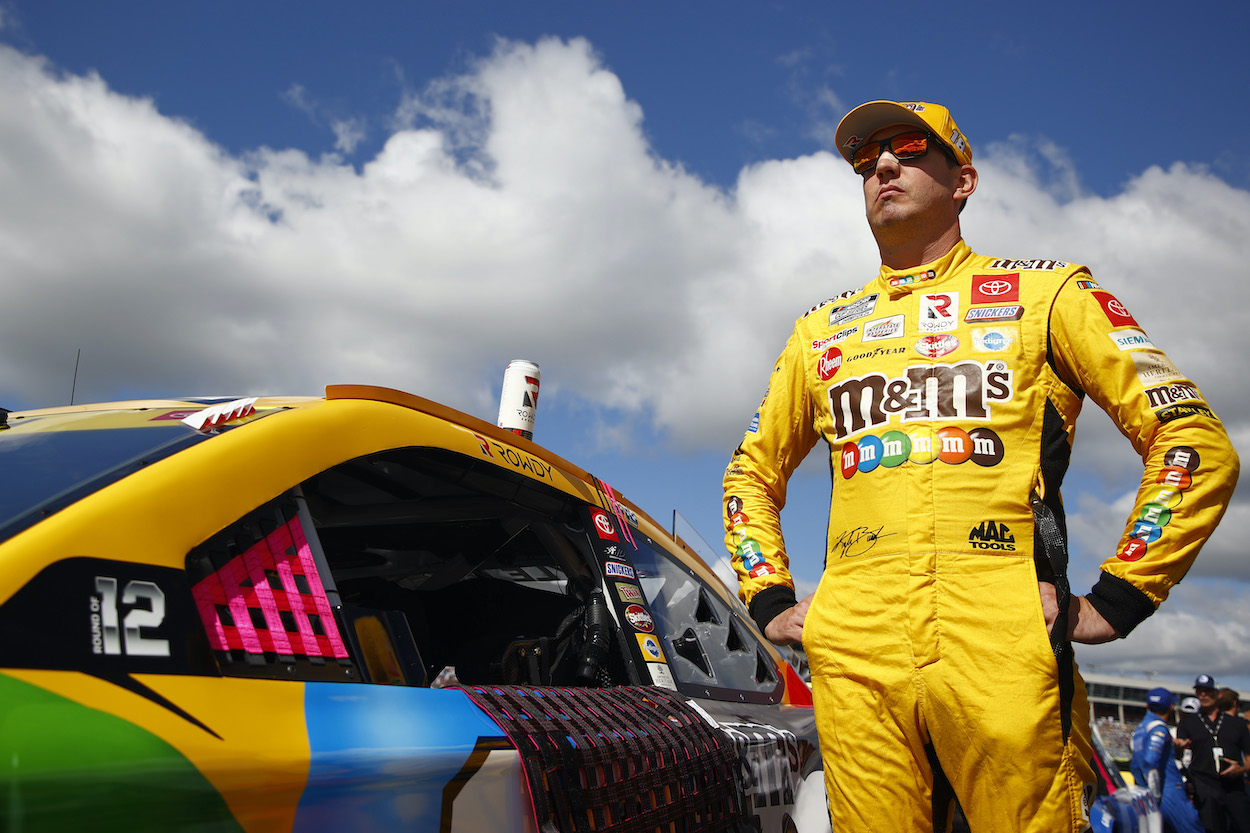 Kyle Busch Has Officially Served Penalty for His Offensive Behavior Late in 2021 Season, According to Report
Kyle Busch has officially served a penalty for his offensive behavior during a race at the end of the 2021 season, according to a new report.
Kyle Busch has been known to get fired up occasionally and say things in the heat of the moment that some might consider inappropriate for younger NASCAR fans. After finishing second back in November at Martinsville and narrowly missing the Championship 4 race, the two-time Cup Series champion expressed his emotions and directed a few harsh words at Brad Keselowski. In the process, the Joe Gibbs Racing driver used an offensive slur that NASCAR later condemned and mandated that he attend sensitivity training prior to the 2022 season. According to reports, he has completed the training. 
Kyle Busch gets upset with Brad Keselowski on final lap at Martinsville
There are always hurt feelings after any race at Martinsville, but those sensitivities dramatically escalate when there's so much riding on the line, like a chance to advance to the Championship 4 in Phoenix. 
The 2021 version was no different. It included one feisty interaction between Alex Bowman, who won the race, and Denny Hamlin, who he spun out to do it, at the start-finish line, when the three-time Daytona 500 winner interrupted the Hendrick Motorsports driver's celebration. 
And that wasn't all. Kyle Busch and Brad Keselowski battled back behind Bowman for second, beating and banging on each other on the final lap, with the No. 2 hitting the No. 18's left rear quarter panel and knocking him into the wall coming out of Turn 4. When the cars crossed the finish line, Busch turned left into Keselowski but spun himself out, which forced the Penske driver to maneuver around the front of the yellow M&M's car. 
Makes offensive remark in postrace comments
After the race, reporters caught up with a frustrated Busch and he didn't sugarcoat his displeasure about the incident with Keselowski. 
"Well he drills my ass coming out of 4 for no reason. I mean, where was he going? What was he going to do? Spin me out? He was trying to do a Harvick is what he was trying to do. For what? For second place? To do what? He wasn't going to transfer through with that.
"It's freaking retarded man. So stupid. I don't understand these guys. I should beat the s*** out of him right now is what I should do. But that doesn't do many any good either… I've already had to pay enough fines in my lifetime. I'm sure I'll get another one." 
Busch apologized on Twitter for his remark several hours later.
"In one of my post-race interviews I used a word I should never use and I want to apologize for it," he tweeted. 
Busch has completed NASCAR-mandated sensitivity training
A day after the race, NASCAR announced Busch would be required to complete sensitivity training before the start of the 2022 season as a result of the language.
With less than a month before the official start of the season at the Daytona 500, Busch has completed the training, according to Fox's Bob Pockrass. 
"Kyle Busch has completed sensitivity training required from using r-word last yr, NASCAR confirmed," Pockrass tweeted. "Confirmation today doesn't mean it occurred in the last few weeks, just that he did complete it during offseason & those who conducted the session pleased with his responsiveness."
Kyle Busch is never going to stop being emotional. That's one of the things that his fans love about him. Hopefully, going forward, he'll do so by being a little more mindful of his word selection and avoid any language of the offensive variety. 
Like Sportscasting on Facebook. Follow us on Twitter @sportscasting19.