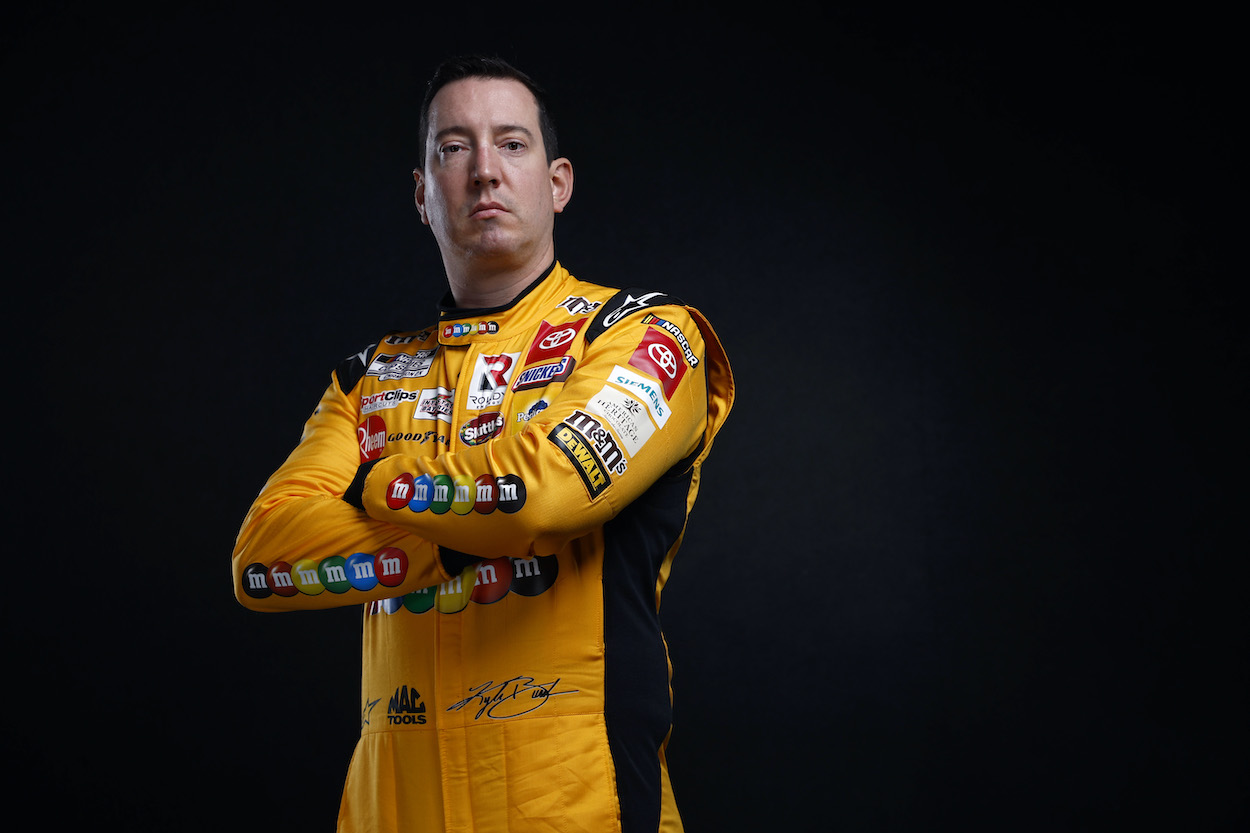 Kyle Busch Makes Interesting Remark About His Future at Joe Gibbs Racing: 'Hopefully All That Works Out'
Kyle Busch visited with the media and candidly talked about his future, including potential sponsors and one unique option being considered in the next deal.
The record books will show Kyle Busch as one of the greatest drivers in NASCAR history, and he accomplished most of that success with Joe Gibbs Racing and M&M's as his primary sponsor. In December, the team surprisingly announced that Mars Wrigley would not sponsor the No. 18 car after the 2022 season. 
While making the rounds this week with the media, Busch talked about that unique partnership with the candy maker and what he hopes to achieve in the final year with the company. He also talked about what it all means for his future, including one interesting option that the team is considering when exploring potential new sponsors.    
Kyle Busch becomes star with Joe Gibbs Racing 
After a moderately successful stint at Hendrick Motorsports from 2005-07, which included four Cup Series victories and a fifth-place finish in the 2007 standings, Kyle Busch left and signed with Joe Gibbs Racing. It's worked out well for both the driver and the team.
Since joining JGR, Busch has produced a Hall of Fame-worthy racing career in both the Cup and Xfinity Series. Racing in Xfinity, he earned an incredible 91 of his 102 wins en route to becoming the most successful driver in series history. 
He has been equally successful with the Cup Series, amassing 55 of his 59 wins with Gibbs, including a pair of championships in 2015 and 2019. More often than not, the driver of the No. 18 appeared in victory lane in a car and firesuit covered in logos from the colorful candy company.
Busch's future at Joe Gibbs Racing is uncertain at this point
Back in August, Mars informed Gibbs and Busch of their decision to exit the sport as a sponsor after 32 years. The team made the surprising announcement in late December. The 36-year-old driver hadn't addressed the move until this week when he met with the media to talk about the upcoming season. 
The two-time Cup champion didn't hide his disappointment in the decision and admitted that he wanted to stay with Gibbs, but understands in NASCAR that change is often inevitable, as the M&M's decision proved. 
"I'm good where I'm at, absolutely," Busch told Fox's Bob Pockrass. "It would be nice to just have all the discussions out the window and have us ready to have something to announce. We're very early in that game, so we're not ready for that. Obviously, I'm good where I'm at, would love to stay, and hopefully all that works out."
Son could be part of new sponsorship deal
Busch isn't by any stretch ready to retire from competition anytime soon. However, when he does, he's discovered a hobby in the last year that he can pursue when he does officially hang up the helmet. Not surprisingly, it's still associated with the sport that's provided him with fame and fortune. 
His six-year-old son Brexton has proven to be an accomplished driver himself during the last year, winning numerous trophies in various series featuring racers ages 5 to 8. Busch has been there each step along the way, offering advice, consolation, and encouragement to his son, who has an impressive roster of sponsors, including SERVPRO and Toyota. 
The elder Busch understands trying to find the next primary sponsor for his car will be a challenge, and he hopes to find someone like M&M's who is willing to accept him, including his temper and sometimes colorful language. 
"In a new sponsor search, you would look for someone that is kind of around the same way," he said. "But anything is possible, and we'll just have to see who that next company is."
When asked whether or not that next sponsor could also be tied in with Brexton's blossoming career, Busch didn't hesitate. 
"That has been talked about," he admitted.
While Busch's next sponsorship deal and future at Gibbs remain unclear at this point, there's no denying that he's already left his mark on the sport. And if things continue trending in the same direction, it appears he won't be the last one in the family to do it.
Like Sportscasting on Facebook. Follow us on Twitter @sportscasting19.