Joe Gibbs Racing Was NASCAR's Other Silly Season Winner in the Cup Series This Year
Article Highlights:
Kyle Larson going to Hendrick Motorsports was the Silly Season move of the year
Joe Gibbs Racing also made an upgrade by bringing in Christopher Bell
Chase Briscoe's debut season at Stewart-Haas Racing was a reason for optimism in 2022
Courtesy of Kyle Larson, Hendrick Motorsports won NASCAR's 2020-21 "Silly Season" by a mile. As the replacement for Jimmie Johnson in a roundabout way, Larson won 10 points races, the All-Star Race, and the season championship.
Even combined, all other moves made by NASCAR Cup Series teams fell short of what Rick Hendrick's organization and Larson accomplished together. That being said, the gang at Joe Gibbs Racing has a right to feel good about coming up second in Silly Season. They landed a young driver with a bright future ahead.
NASCAR's Silly Season never ends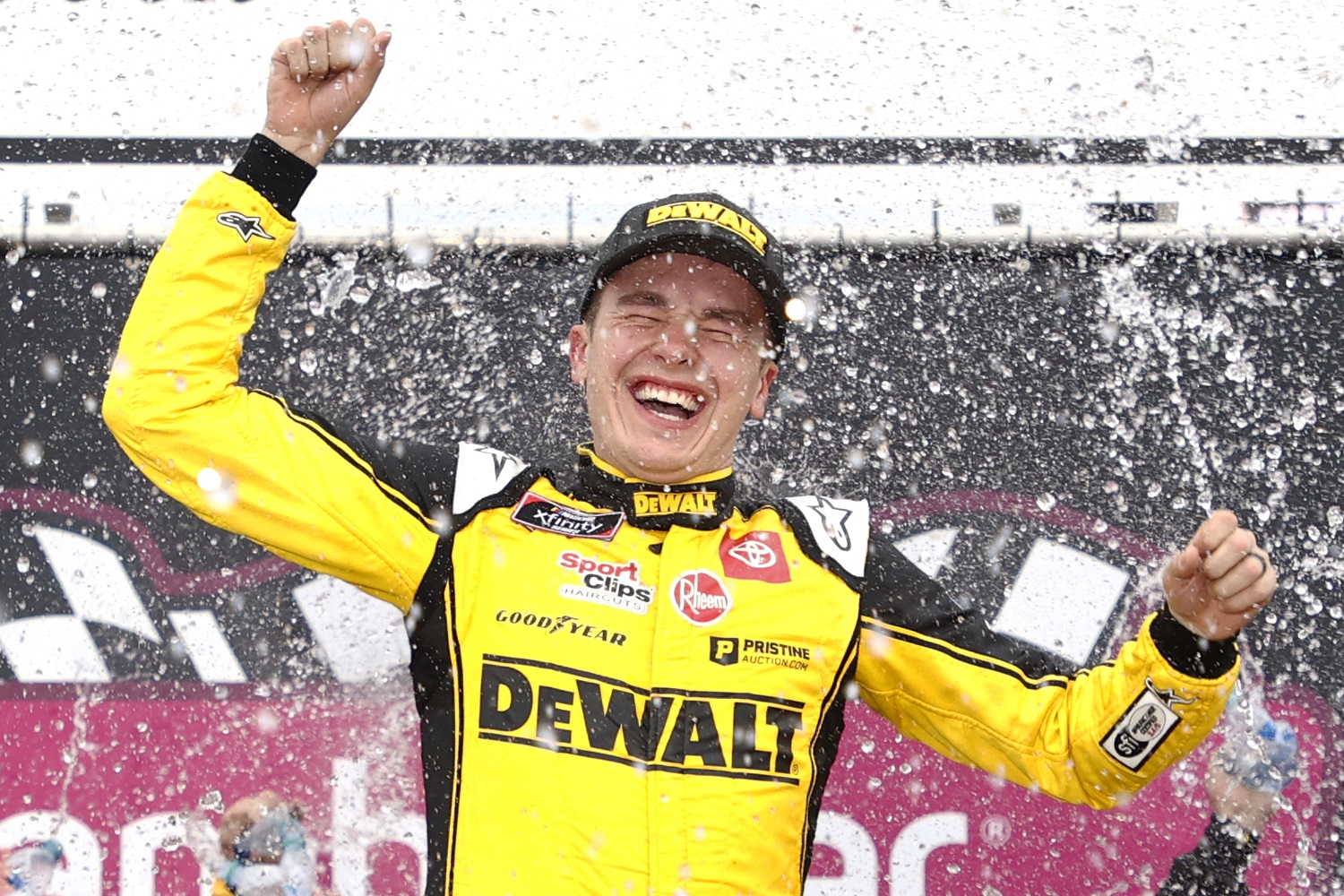 With the possible exception of college football and its now-robust transfer portal to go along with the coaching carousel and conference realignments, no sport does Silly Season better than NASCAR.
In broadest terms, Silly Season in sports consists of offseason rumors and speculation that give fans something to talk about. NASCAR does it so well because drivers and teams can announce moves far ahead of time, meaning that Silly Season is more or less 24/7/365. That was in play this summer for big names, including Kurt Busch and Brad Keselowski.
When Chip Ganassi Racing announced it was leaving NASCAR and selling to Trackhouse Racing, two months of conjecture followed before 23XI Racing announced in late August that it signed Busch.
In Keselowski's case, Team Penske announced his departure in mid-July, by which time the industry knew about his planned move to Roush Fenway Racing as a driver and co-owner. That opened a spot for Austin Cindric, a hot name in Silly Season a year earlier as Wood Brothers Racing tabbed him as its driver-in-waiting for Matt DiBenedetto's seat.
Naturally, DiBenedetto's future has now been one of the ongoing Silly Season topics for close to a year.
Joe Gibbs Racing was NASCAR's other Silly Season winner
There's no disputing that Hendrick Motorsports hit the jackpot by signing Kyle Larson following his reinstatement by NASCAR late in 2020. HMS had an open seat due to the retirement of seven-time Cup Series champion Jimmie Johnson, so owner Rick Hendrick moved Alex Bowman into the No. 48 Ally Chevy and gave Larson the No. 5 Chevy last driven by Kasey Kahne in 2017. He responded with one of the greatest seasons of the modern NASCAR era.
Even before HMS made its move, Joe Gibbs Racing was plotting a change for 2021. Third-year JGR driver Erik Jones kicked off his season by winning the Busch Clash and was on his way to a solid season despite not winning any points races. But when Leavine Family Racing sold its team to Spire Motorsports in August, owner Joe Gibbs signed Christopher Bell. It left Jones without a ride for 2021 despite two wins and 48 top-10s in three seasons.
It turns out Gibbs knew what he was doing. Having seen Bell up close as part of JGR's Xfinity team, where he won 16 times in 74 starts, the owner recognized that his talent would show through in the Cup Series.
Bell finished the year with one victory, 16 top-10s, and 12th place in the season standings. At 26 years old, he looked especially strong late in the season and has plenty of solid years ahead.
Dumped by JGR in a tight job market, Jones signed with Richard Petty Motorsports, where he managed just six top-10 finishes and placed 24th in points. Driving the same No. 43 car the previous year, Bubba Wallace finished 22nd. While that's not necessarily a reflection on Jones, 25, nabbing Bell for the Cup Series team turned out to be a win for JGR.
Joe Gibbs Racing wasn't the only other winner
It may not look like it, but Stewart-Haas Racing was probably Silly Season's third winner. Tony Stewart and Gene Haas had to replace Clint Bowyer, who retired to work for Fox Sports. SHR stayed in-house and promoted Chase Briscoe following his nine-win season in the 2020 Xfinity Series.
Bowyer went winless in his final season but did finish in the top 10 a dozen times. With just three top-10s to his credit, Briscoe's rookie season didn't look like much. That was especially true while it took him 10 races to crack the top 15 for the first time.
However, two factors work in Briscoe's favor. First, NASCAR rules in the second year of the pandemic severely limited practice and qualifying. Second, the entire Stewart-Haas Racing team underperformed, beginning with Kevin Harvick plunging from nine victories to none.
Given a normal 2022 practice and qualifying schedule, Briscoe figures to be better the second time around.
All stats courtesy of Racing Reference.