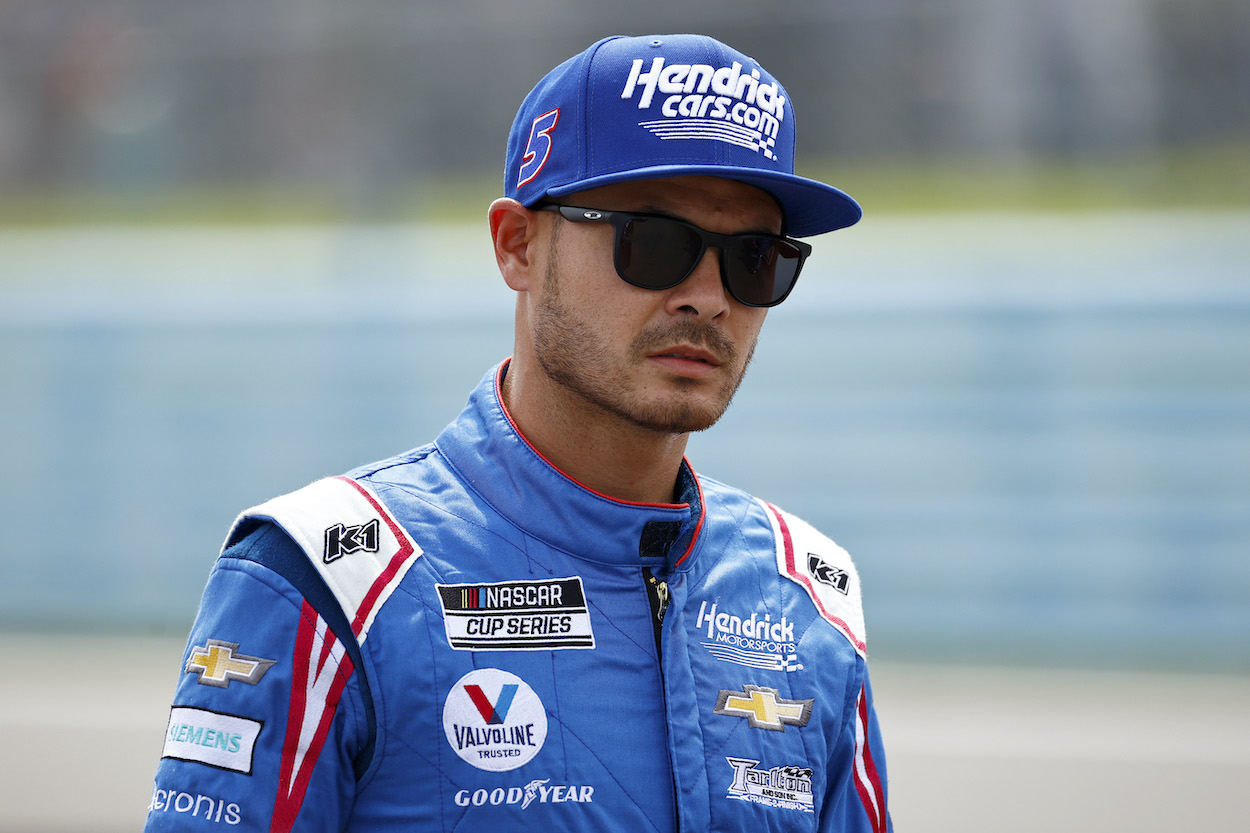 Frustrated Kyle Larson Calls Out Christopher Bell for Childish Behavior After Incident at Watkins Glen: 'Any Other Adult in the Field Would at Least Have a Conversation With Ya'
Kyle Larson and Christopher Bell have a developing feud after a final stage incident at Watkins Glen.
Kyle Larson is undeniably having the best year of his NASCAR Cup Series career. The 29-year-old earned his fifth win of the season at Watkins Glen over the weekend, but it didn't come without some controversy between Larson and Christopher Bell for a final stage incident that knocked the latter out of contention. 
The tension between the drivers ratcheted up a notch this week when Larson was interviewed on SiriusXM NASCAR Radio and the normally reserved driver not only explained his side of the story, but called out the Joe Gibbs Racing driver for his immature behavior. 
Kyle Larson spins Christopher Bell in final stage at Watkins Glen
Kyle Larson has been the top Cup Series driver this season, and has even found success on road courses, including a win at Sonoma and a runner-up at Circuit of the Americas. However, heading into Watkins Glen, Larson was in a drought by his own lofty 2021 standards, with just one top-10 finish in his previous three races. 
Many experts predicted Larson's Hendrick Motorsports teammate and the Watkins Glen two-time defending champion Chase Elliott would be the one to watch on Sunday. Unfortunately for the defending Cup champion, a pre-race violation sent him to the back of the field, and a flat-spotted tire early in the race and the resulting pit stop to change it made it an uphill climb all day.
Larson capitalized on his teammate's misfortune and battled a pair of Joe Gibbs Racing teammates in Martin Truex Jr. and Christopher Bell for the lead at the start of the final stage. Heading into Turn 1, Larson made a move on the inside to claim second place. The cars made contact, with the No. 20 car getting the worst of it and spinning out. 
Following the incident, Larson's crew chief Cliff Daniels tried to assure his driver he wasn't in the wrong and told him to "shake it off." He did just that and beat Truex on a pit stop and won the race, his fifth victory of the season. 
Kyle Larson and Christopher Bell address incident
Shortly after crossing the finish line, Larson took a moment out of his celebratory postrace interview to address the move with Bell.
"I want to say a big apology to Christopher Bell," Larson started. "I was inside, but I wasn't inside enough, and I needed to have a nose a few feet further ahead, and the angle, I was just caught there in the middle, and I ended up turning him. I hate that. I race with him a lot. He's probably the one guy that I race with the most in all of my racing. I hate to turn him like that. We've had incredible races together."
Bell, who has a win this season on the Daytona road course and is locked into the playoffs, was in no mood for apologies. 
"It's just so frustrating because I was a lot faster than (Truex), but I was waiting for the right time to make a run on him to pass him," Bell told NBC Sports. "He's my teammate. I attempted several times and never quite got the momentum that I needed, so I was waiting for the right opportunity to pass him. At that point, (Larson) really couldn't make a run on me either. If I could have forced the issue on my teammate and got away, I think I would have driven away. (Larson) didn't have a run on me coming off of (Turn) 7 whenever he charged Turn 1. I'm focused on trying to set up (Truex) and (Larson) is dive-bombing me from whatever it was, three car lengths back at the flagstand. Just extremely frustrating that I was equal to him – probably better than him – and he won the race. We had an opportunity taken away from us."
Upon further review, Larson isn't as sorry
On Tuesday, Kyle Larson appeared on SiriusXM NASCAR Radio and, after further review of the replay, his tune on the incident had noticeably changed.
"Initially, I thought I was completely at the wrong," Larson admitted. "But honestly, more after watching the replay, I think that we both had a factor in what happened. I definitely got in there. I didn't divebomb like he said I did. I was half a car-length back on him down the front stretch, was to his inside the whole braking zone, and was actually further forward than I thought I really was. I locked the brakes up late in the braking zone when I realized he was going to turn the corner and really turned in like I wasn't there. I'm not sure if his spotter just didn't tell him or what happened there. Either way, I still feel bad about it. I don't ever want to spin anybody out, especially Christopher Bell. I've got a lot of respect for him on the race track. We've had amazing races together. Obviously, he's upset, and I get it, but, like I said, after watching the replays, I don't think I was fully at the wrong."
When Larson was asked if he wanted to talk with Bell more about the situation, he offered up a surprising response. 
"I reached out and tried. But I guess he's not willing to talk to me, which is kind of, whatever. Any other adult in the field would at least have a conversation with ya. But he doesn't care to. We'll move on from it and if he wants to get me back, that's fine. The quicker, the whatever. I'm not going to worry about it. If it makes him sleep better at night to ignore me and then want to crash me or whatever, so be it."  
NASCAR could use a good heated rivalry. And rivalries can only happen if the drivers are successful and have something to lose. Both of these drivers fit the bill this year. The rest of the 2021 season just got a lot more interesting.  
Like Sportscasting on Facebook. Follow us on Twitter @sportscasting19.