A Joe Gibbs Racing Decision Will Shake Up the Xfinity Series in 2022
Article Highlights:
Xfinity championship crew chief Dave Rogers is leaving Joe Gibbs Racing for 23XI Racing
JGR has not made the announcement, but the team is downsizing to three Xfinity cars
The No. 54 Toyota was the winningest car in NASCAR this season, making it a prize catch for a driver
The official announcement hasn't come down yet from the owner, but the Joe Gibbs Racing team in the NASCAR Xfinity Series will have to do more with less in 2022 due to a decision to downsize.
Theoretically, that should translate into parity, but the JGR No. 54 Toyota remains the most dominant car in NASCAR points races until someone proves otherwise. Determining who'll drive it next season is a big decision for owner Joe Gibbs.
Joe Gibbs Racing will drop down to three Xfinity cars, an ex-employee reveals
Serving as the crew chief for Xfinity Series champion Daniel Hemric, Dave Rogers just completed a won-and-done season at Joe Gibbs Racing. Denny Hamlin, Tony Stewart, Kyle Busch, Joey Logano, and Aric Almirola previously won races in the series with Rogers as the crew chief, and that first overall crown with Hemric only made him more marketable.
That would seem to explain the announcement Tuesday that Rogers will join 23XI Racing as the second-year team's performance director. In reality, the move was already in the works before Hemric took the checkered flag at Phoenix Raceway this month.
"The discussions, they were ongoing for a long time," Rogers said Tuesday on SiriusXM NASCAR Radio. "23XI Racing, Joe Gibbs Racing, Toyota, everyone works really well together, so I'd been talking to Coach (Joe Gibbs) about what would happen next.
"We knew the JGR Xfinity program was going to be reduced from four teams to three teams, and that left an odd man out. Coach and I had been talking for a while, and (he) said that if anything opened up at 23XI Racing, that he would bless my desires to entertain those conversations."
Rogers may have been speaking out of school a bit. Joe Gibbs Racing has not yet announced its Xfinity Series plans for 2022.
Joe Gibbs Racing is coming off a 12-win season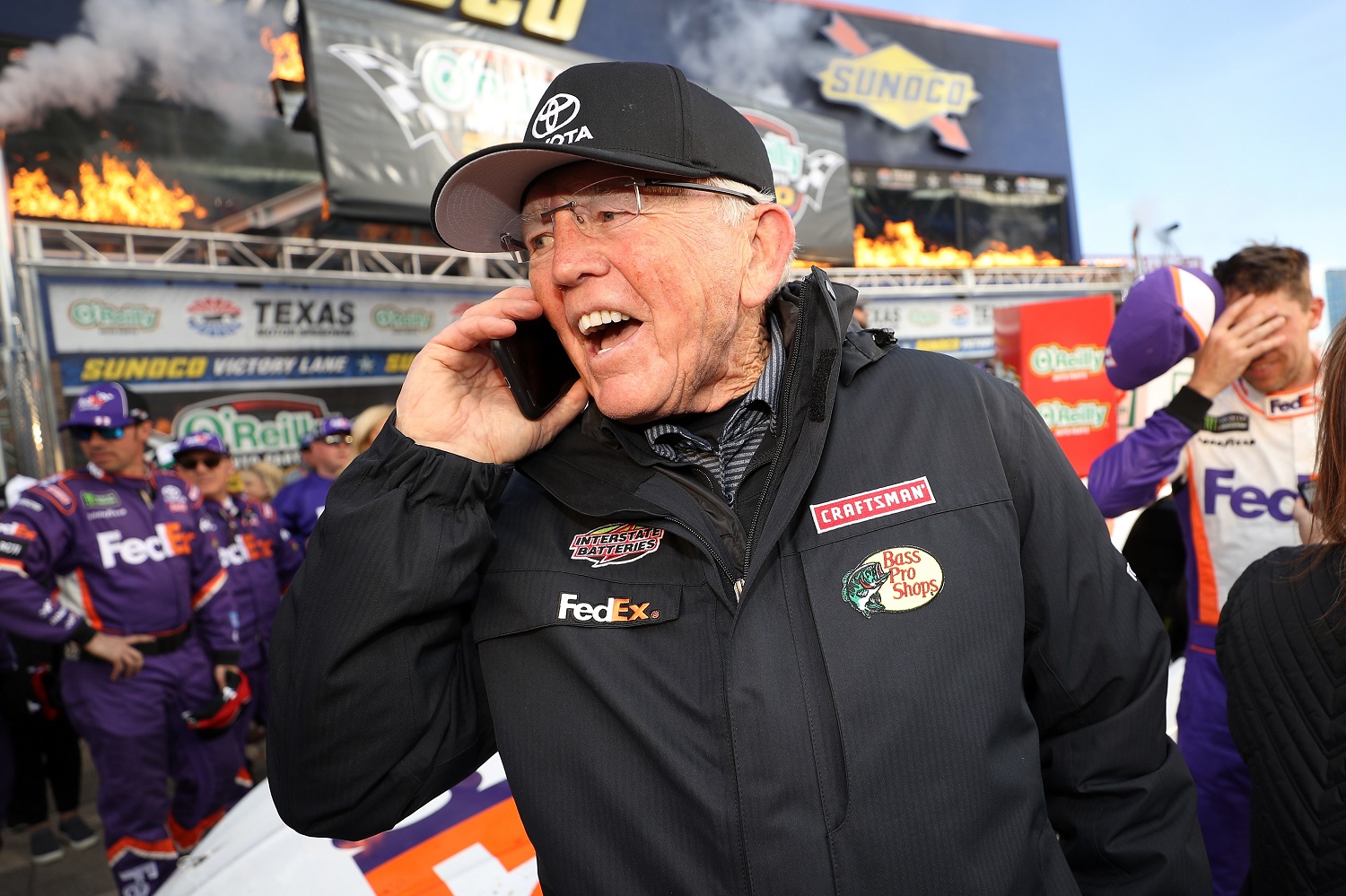 Daniel Hemric's first victory of the season, as well as his NASCAR career, came at Phoenix Raceway in the Xfinity Series Championship 4, earning him the 2021 title. It was the 12th victory of the season by a Joe Gibbs Racing driver, though it came with an interesting side story. (More on that below.)
JGR ran three full-time cars during the season, as well as a fourth shared by several drivers, including Kyle Busch, the Xfinity Series career leader in wins. The lineup was heading for an overhaul even before the revelation that the organization will downsize.
Harrison Burton has landed a Cup Series ride with Wood Brothers, and Hemric is moving to Kaulig Racing to team up with AJ Allmendinger. That leaves JGR with just Brandon Jones, though the announcement he's adding grandson Ty Gibbs, who was highly successful in spot duty as a rookie, is expected any day.
As for the third car, we still don't know if JGR is in the market for a full-time driver or whether it will be a committee effort. Kyle Busch previously said that his 102 career victories are enough, and he does not expect to continue entering Xfinity races. But Joe Gibbs could easily split seat time across the rest of his roster, complemented by prospects Toyota would like to audition.
A smaller JGR team will still be potent
Joe Gibbs Racing drivers scored 12 race victories in the just-concluded Xfinity Series season, but the number is wildly misleading. Harrison Burton and Brandon Jones did not win in their full-time roles, and Daniel Hemric scored one triumph, albeit a fortuitously timed one.
Ty Gibbs posted four victories, Kyle Busch five, and Christopher Bell and truck series standout John Hunter Nemechek one apiece. All 11 of those came in the No. 54 Toyota.
It's easy to explain Busch's five victories since he's the winningest driver in NASCAR history, but there has to be something special about the car for there to be so much overall success for the team.
Speculation had Gibbs sliding into the No. 18 Toyota, but that was before we knew Joe Gibbs Racing was downsizing. Now, it makes sense that he gets the No. 54 car and the first crack at extending the success of his grandfather's team.
All stats courtesy of Racing Reference.