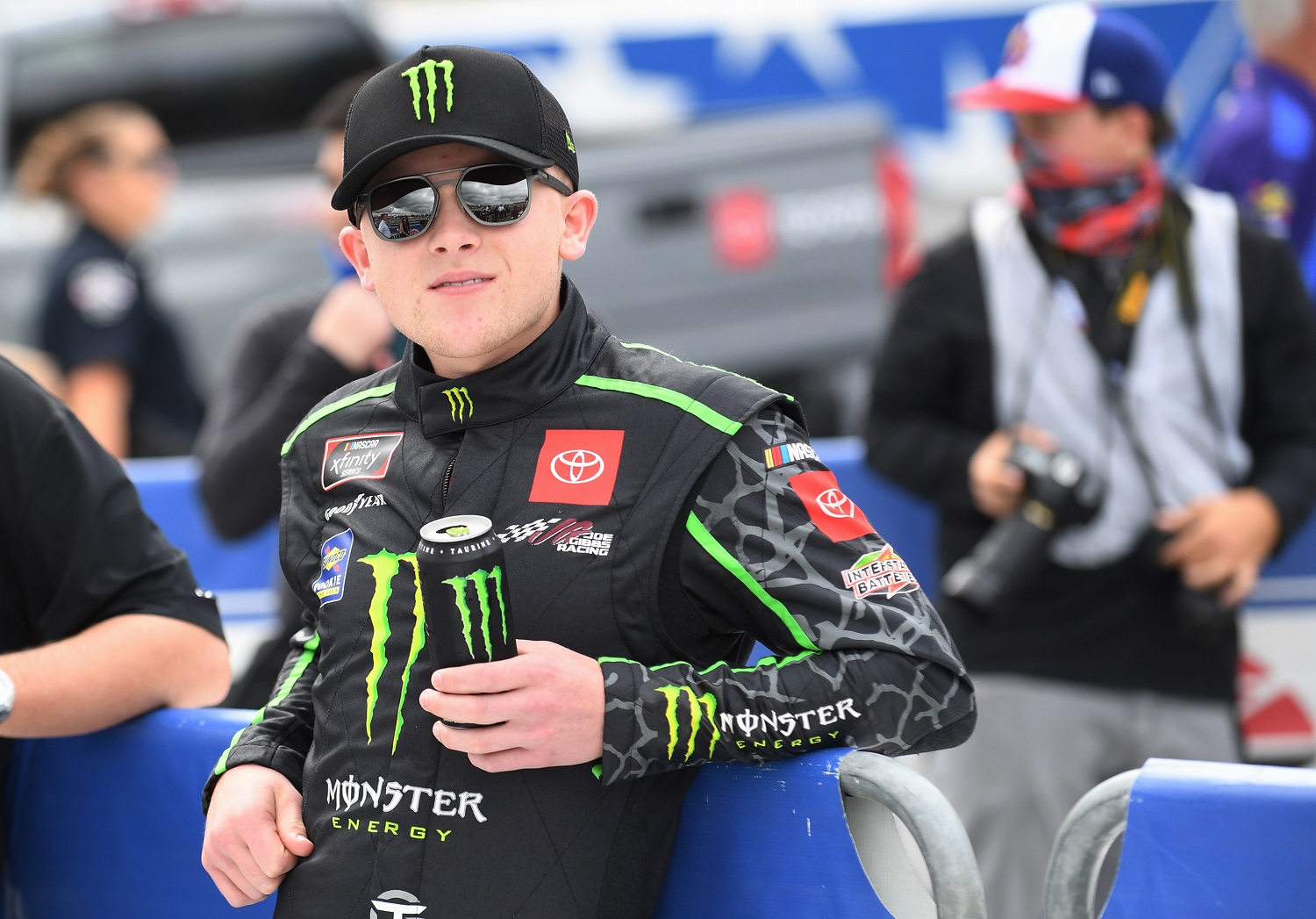 Ty Gibbs Will Be Dogged by the Same Question for the Entire NASCAR Offseason
Rookie Ty Gibbs has won four Xfinity Series races this season in the No. 54 Toyota. Some wonder how big a role the car played in that success considering that three other drivers won seven races in the same car.
A lot of other 19-year-olds spend the weekdays attending freshman classes in college. Ty Gibbs, meanwhile, spends weekends schooling other drivers in the world of racecar driving. Gibbs emerged as a big deal as a part-time driver in the NASCAR Xfinity Series this year. He could be a huge deal in 2022 when grandpa Joe Gibbs puts him behind the wheel full-time.
However, Ty Gibbs faces an offseason of questions. More specifically, there is one question: How much of his success was based on his talent, and how much of the credit belongs to the car?
Ty Gibbs has amassed impressive credentials this season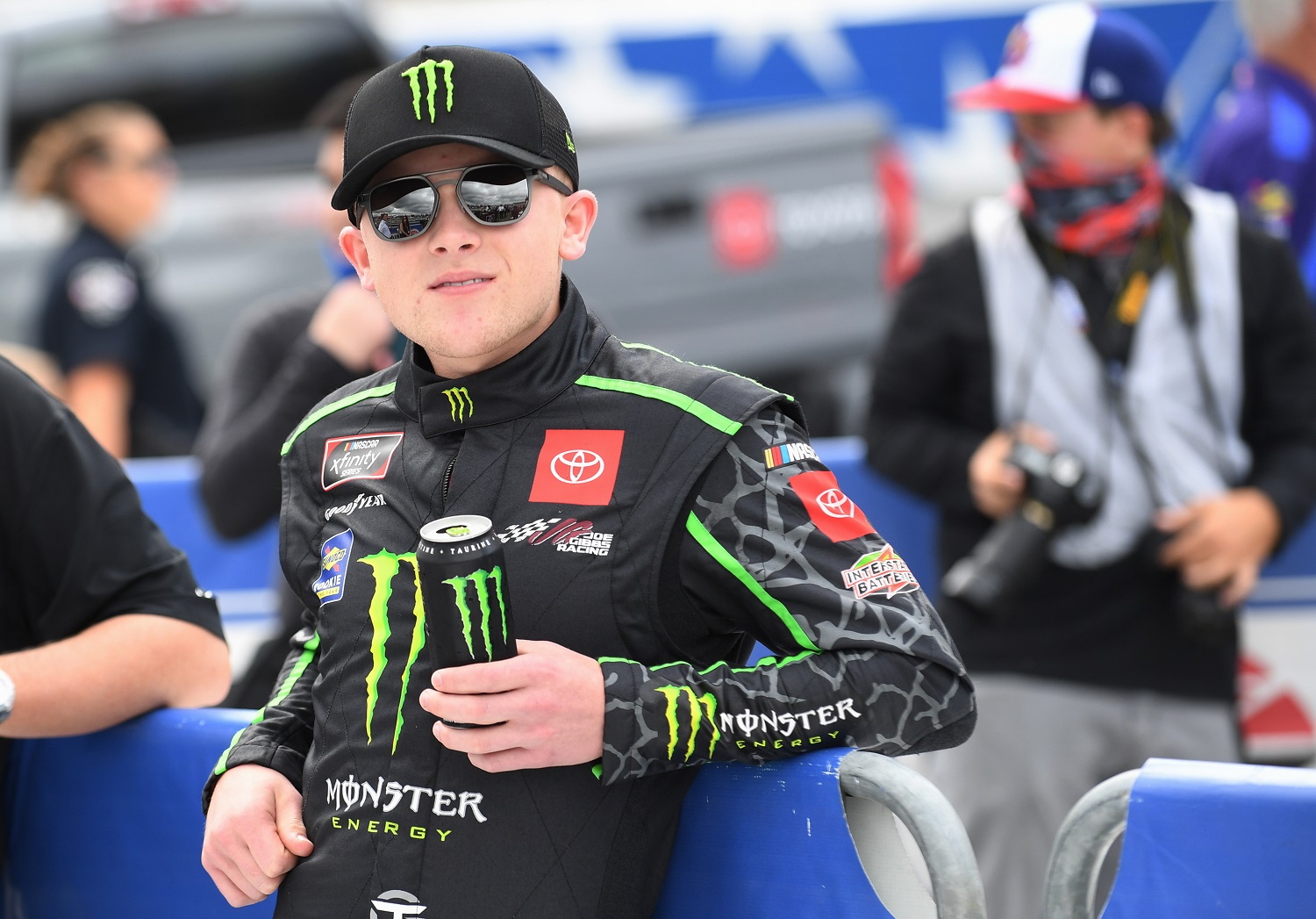 There is not a huge difference between the cars in the ARCA Menards Series and those that NASCAR Xfinity teams drive. Thus, the six wins Ty Gibbs scored in 16 ARCA starts last season served as a tipoff that he could be competitive in Xfinity cars this year.
Without a full-time Xfinity ride from Joe Gibbs Racing, he competed in both circuits with superb results. In the ARCA Menards Series, Gibbs has won half of the 20 races and finished in the top 10 in 19 of them. In Xfinity, he has won four of 17 starts and finished in the top five in five others.
This weekend at Kansas Speedway, Gibbs clinched the ARCA title with a second-place finish. Even more impressively, he took the No. 54 Toyota to victory lane, all but clinching the Rookie of the Year Award.
What more could the 19-year-old from Charlotte, North Carolina, have done this season?
Ty Gibbs will be dogged by the same question this offseason
Joe Gibbs Racing still has Denny Hamlin, Kyle Busch, and Martin Truex Jr. alive in the NASCAR Cup Series playoffs. In the Xfinity Series, Daniel Hemric, Brandon Jones, and Harrison Burton remain in the hunt. Had he competed in a full slate of races, Ty Gibbs could easily be in that Xfinity conversation.
Here's a wild and relevant statistic: Hemric, Jones, and Burton have combined for zero victories in the Nos. 18, 19, and 20 Toyotas. Meanwhile, the No. 54 Toyota has parked in victory lane an amazing 11 times this season. Busch won all five of his appearances, Gibbs has won four, and Christopher Bell and Truck series standout John Hunter Nemechek won once apiece.
So, despite the fact that Gibbs also logged plenty of success in the ARCA races, people will be asking all offseason just how much credit for his Xfinity success, which began with a win on the Daytona road course in his debut, goes to the No. 54 car.
Think about it: Hemric, Jones, and Burton have combined for 392 career starts in Xfinity Series and have won eight races, but none this year despite making it to the final eight of the playoffs. Yet, four JGR drivers have hopped into the No. 54 car and won 11 times this season.
How to explain the No. 54 Toyota's 11 victories?
Kyle Busch could probably drive a school bus to wins in the Xfinity Series. He owns 102 career victories in those cars, so going 5 of 5 this season was only mildly outlandish for him.
Fellow NASCAR Cup Series driver Christopher Bell won 16 Xfinity races from 2017-19, so his victory in one of his two appearances this year makes sense. And John Hunter Nemechek is in the midst of a five-win season in the truck series.
So, all that winning was happening in that car while the three full-time drivers at Joe Gibbs Racing were taking a collar.
Daniel Hemric is leaving for Kaulig Racing's Xfinity team next season, and Wood Brothers has hired Harrison Burton for its Cup Series car. Brandon Jones will return to JGR.
The conjecture thus far has Ty Gibbs taking the No. 18 Toyota in 2022, with the No. 54 available for Busch (despite his insistence that he is done with Xfinity racing) and the other Cup Series drivers.
After four wins this season, Gibbs will face scrutiny. If he's not driving the No. 54 and also not winning, then the suspicion will be that his success this year has had more to do with JGR pouring disproportional resources into the car. His own ability, despite being on ample display in the ARCA Menards Series, would be doubted.
He can quickly dispel that talk with a couple of wins, but Gibbs will face questions about the No. 54 car until then.
All stats courtesy of Racing Reference.