Xfinity Series Driver Ty Gibbs Mocks Himself on Twitter and Takes a Shot at His Haters in the Process
Ty Gibbs is a baby-faced 18-year-old who also happens to be one of the greatest young NASCAR drivers in recent memory. In his first Xfinity Series season running a part-time schedule, he's won three times in 12 races. He's finished in the top-5 five other times.
Despite all of the early success, Gibbs has his share of critics. These folks think he's got a ride because of his famous last name. Each race, he definitively answers those questions. On Saturday, after finishing 13th at Michigan — his second consecutive finish outside of the top-10 — the young driver took to Twitter and made a pre-emptive strike against his critics who like to question his talent.
Ty Gibbs has had an outstanding first Xfinity Series season
The last two seasons with the ARCA Menards Series hinted at just how good Ty Gibbs was when he strapped in behind the wheel. In the 27 races he ran from 2019-20, he won eight times. 
Despite all of those wins, the thinking was that Gibbs making the step up to NASCAR and the Xfinity Series this season would prove to be more challenging for the 18-year-old. 
Not so much.
In a dozen races this season, Gibbs has won three times. He's had five other top-5 finishes. The kid has been more than impressive, and the veterans like Justin Allgaier have taken notice. 
"It's incredible," Allgaier said. "Ty has done a great job. He's come in and he's executed well. Ty has done a great job of preparing himself for the races that he's going to run. He's able to go and practice and be ready and be prepared for each and every week that he's going to the racetrack. He's somebody that when you talk to him and you listen to how he prepares, he's not afraid to lean on the resources that they've got — the drivers, the teams, the people. There's a lot to be said for that. He's put the work ethic in and he's put in the time to be competitive and be successful." 
Ty Gibbs finishes 13th at Michigan and beats his critics to punch on Twitter
Of the Xfinity Series races Ty Gibbs has run in 2021, he's finished outside of the top-10 just four times. Interestingly, three of those came in the last four races, including two on road courses (Road America and Indianapolis), with a win at Watkins Glen sandwiched in between. 
With his lesser performances in recent weeks, his critics are quick to react and suggest he's only found success because of his famous last name and driving for grandfather Joe Gibbs. However, with that line of thinking, the same could be said of other drivers in JGR equipment, like Daniel Hemric, who has eight top-5 finishes through 22 races this year but remains winless. 
On Saturday night after finishing 13th at Michigan (19th at Indy last week), and the first time this season that he's finished outside of the top-10 in consecutive races, Gibbs took to Twitter and made a pre-emptive strike on his haters.
"Looks like I ran straight outa talent," he tweeted. 
Fans supportive of him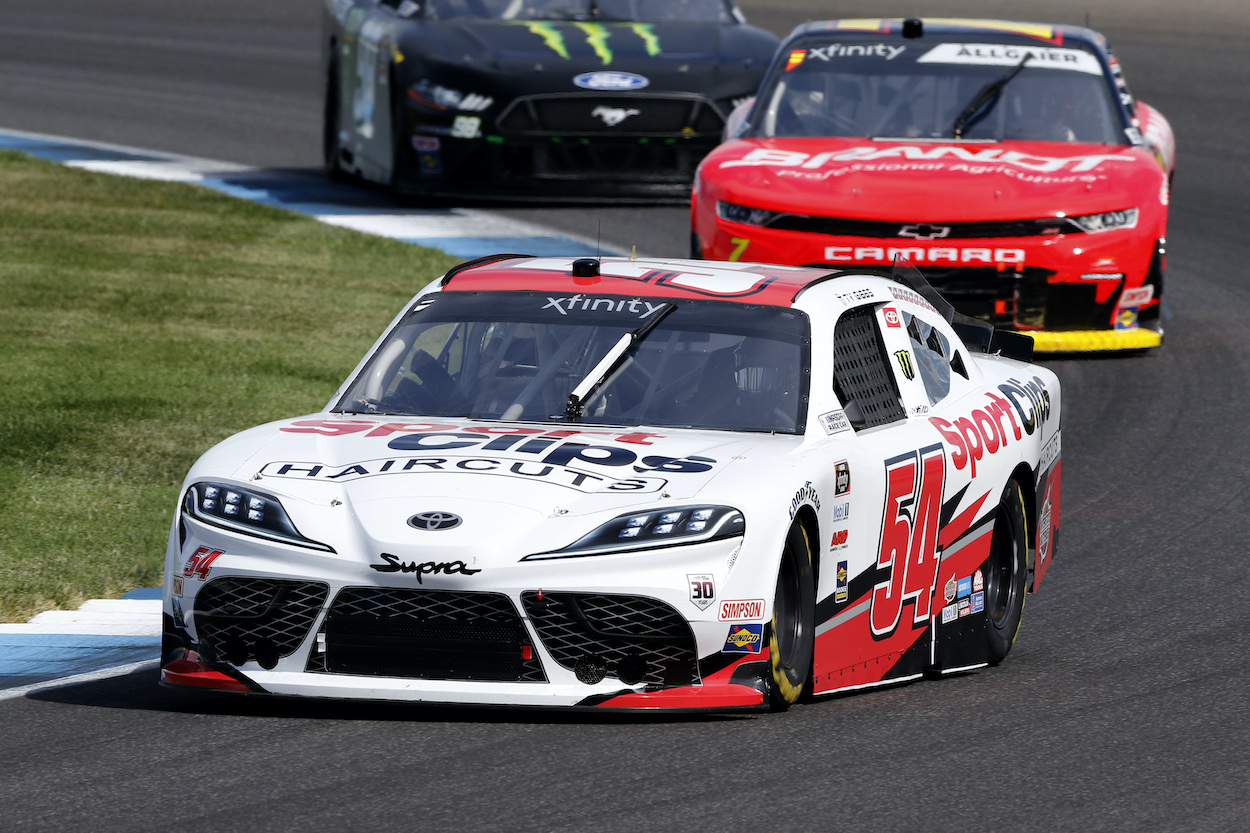 Many of those who saw his tweet missed the sarcasm. Despite that, the reaction was overwhelmingly positive and encouraging. 
"Don't say that dude, you just made a mistake, those things happen. You're young, don't beat yourself up over it!! Keep your head high and go get em tomorrow," wrote one follower. 
"It's ok, even Superman encountered Kryptonite every once in awhile," another fan wrote. "You can't win them all, but you do a good job every week."
Not surprisingly, his tweet drew out some of his critics as well.
"Correct, grandpa can only give u the best equipment against Dollar Tree teams in ARCA. Now it's the big boy on big tracks. U needed that," one person said. 
"Didn't have enough of daddy's money to lean on I guess," someone else commented. 
At just 18 years old, Ty Gibbs has proven to be mature beyond his years on the race track. He's also showing that he's got a level of maturity capable of dealing with all of the critics that come with success.
Like Sportscasting on Facebook. Follow us on Twitter @sportscasting19.