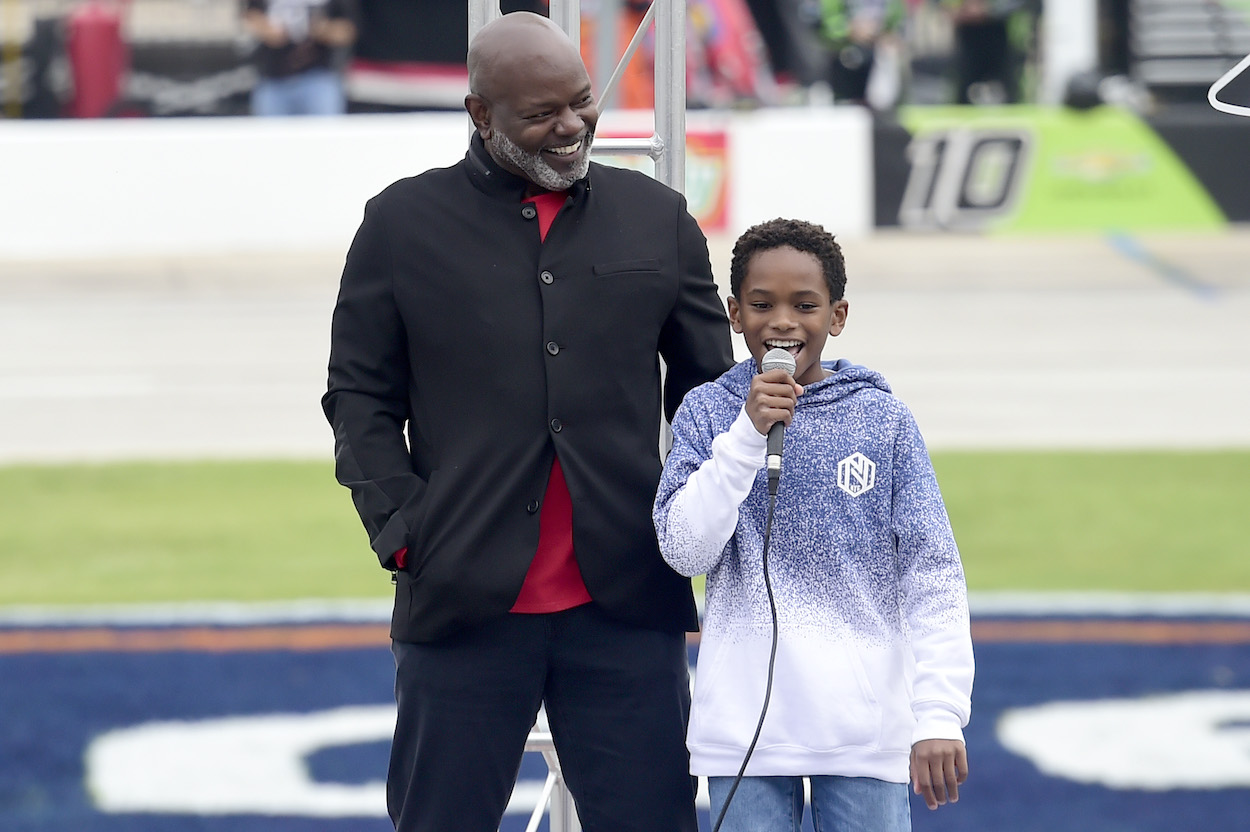 Long-Time NASCAR Fan and Hall of Famer Emmitt Smith Joins Forces With Military Hero, and Is Latest Celebrity-Athlete to Become Team Owner Starting in 2022 Xfinity Series
Emmitt Smith joined the NASCAR family on Saturday when he announced he would be partnering with driver Jesse Iwuji for the 2022 Xfinity Series season.
Many consider Michael Jordan the GOAT of basketball. Many think the same about Emmitt Smith for his career as an NFL running back. On Saturday, the Pro Football Hall of Famer and former Dallas Cowboys great announced that the pair now have something else in common besides their athletic greatness. Smith announced he is becoming a co-owner of a NASCAR Xfinity Series team in 2022 with former Navy football player, and military officer, Jesse Iwuji, who will also be behind the wheel.  
Emmitt Smith announced as new owner of Xfinity Series team in 2022
Before Saturday's Xfinity Series race at Michigan, the NBC pre-race show Countdown to Green interviewed military veteran and part-time Xfinity-Truck Series driver Jesse Iwuji, who made a special announcement. He and Dallas Cowboys Hall of Fame running back Emmitt Smith were joining forces to run an Xfinity Series team in 2022. 
Smith came on and talked about the exciting new business venture. 
"This came about a year and a half ago," Smith said. "We were in Texas at the Texas race, and Jesse happened to be there. His partner, Matt Casto, reached out to me and my partners, and we became a sponsor of that car during that particular race. That's when I had the chance to meet Jesse, understand what his mission was, understand what his plans were, and to try and be involved in every which way that I possibly could to help enhance it."
While some might think Smith followed the lead of Jordan, the eight-time Pro Bowler said it was Iwuji and helping him achieve his goals and make a difference in the community that motivated him to do it.  
"Our mission is twofold," Smith said. "Obviously, we want to win, but we want to create an opportunity for others. All people are looking for is an opportunity to become successful."
Who is Jesse Iwuji?
Jesse Iwuji will be the first one to admit he's got a lot to learn about NASCAR. The 34-year-old lieutenant commander in the U.S. Navy Reserve, who played safety at the U.S Naval Academy before serving seven years of active duty, is new to NASCAR. He made his Truck Series debut in 2018. 
Since then, he's raced 13 times with the trucks and made five Xfinity Series starts. His highest finish was a 17th-place with the trucks on his home track of Texas back in 2019. 
Despite Iwuji's considerable inexperience, Smith said his decision to come on board was an easy one.
"He's a very talented individual, not to mention he happened to be from the Dallas, Texas-area and he grew up being a Dallas Cowboys fan," Smith said with a big smile. "With all of that said, it made it a whole lot easier for me to get behind a young man like him, that's very passionate, very driven, obviously serving our country, served our country for many years. And now he has a different type of passion in terms of getting into NASCAR, and driving 200 miles an hour around a track trying to beat people. So I'm okay with that."
Emmitt Smith has been a NASCAR fan since he was young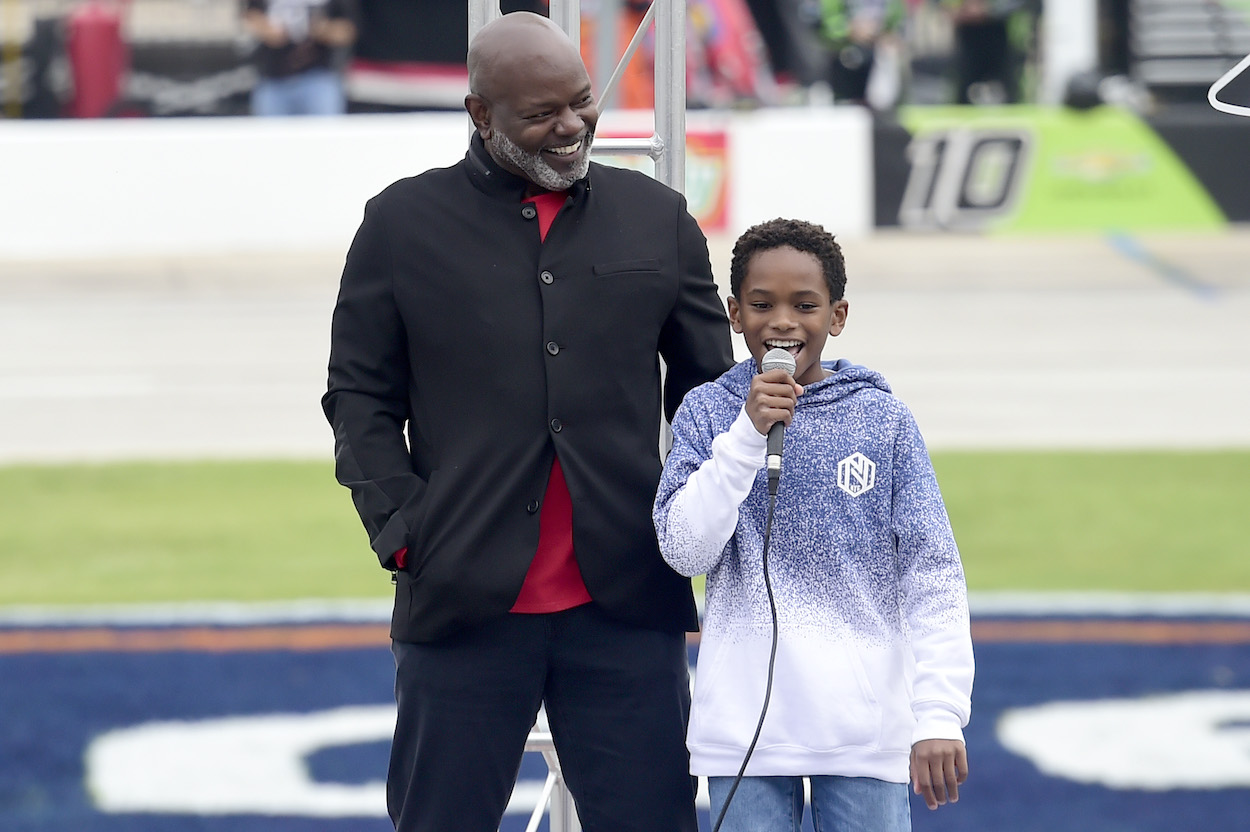 Emmitt Smith made his name as the all-time leading rusher in NFL history with the Dallas Cowboys. In addition to his obvious love of football, growing up in Florida, his dad also had a passion for NASCAR and introduced him to the sport. 
"My father used to go to the races all the time," Smith said. "I never went to too many races, but I went up to a race at Bristol, Tennessee, and I saw a bunch of wrecks, and it was so loud. I enjoyed the moment and so much excitement around it. You talk about football is physical, when you see cars wreck, running into each other, that's extremely physical."
Smith said even as one of the most successful players in NFL history, he's always been in awe of drivers and what they do. 
"Seeing these big tracks and knowing these cars are flying around at 190 something, almost 200 miles an hour, these guys are so talented," Smith said. "I could not drive that fast. I know my talent. I know my lane. I'm going to stay in my lane and put Jesse in the car. Let Jesse drive and enjoy himself. It's his job."
Smith knows his lane. He used to run through it for touchdowns to the roar of cheering fans. Now, he's going to be able to experience a whole different roar at race tracks around the country.
Like Sportscasting on Facebook. Follow us on Twitter @sportscasting19.