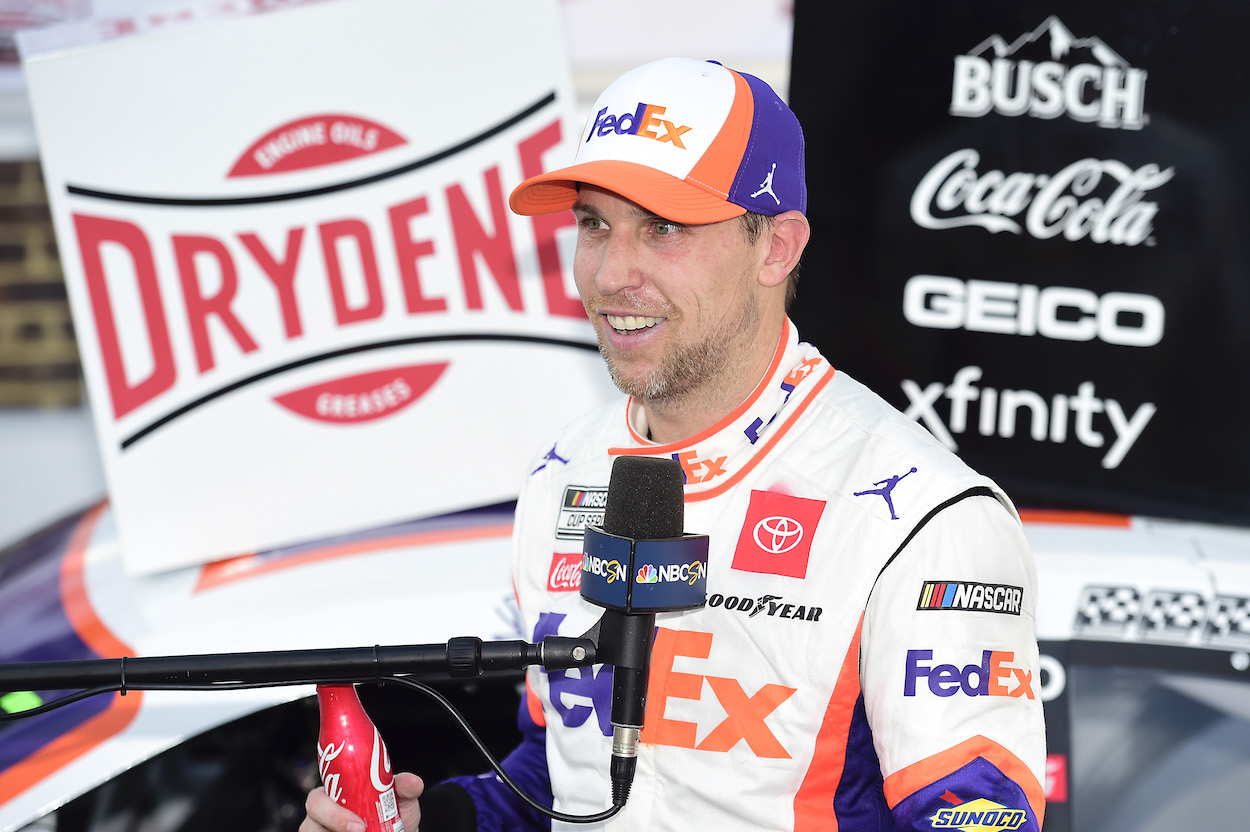 Denny Hamlin Embarrassingly Calls Out Austin Dillon for Wardrobe Malfunction During Truck Series Race, Forcing Him to Alter Attire During Broadcast
Denny Hamlin uses Twitter as a weapon. On Friday night, he targeted Austin Dillon and called out the driver-broadcaster for an embarrassing wardrobe malfunction, which prompted him to alter his attire.
Denny Hamlin and Austin Dillon have a history together on the racetrack. On Friday night during the NASCAR Camping World Truck Series race in Las Vegas, Hamlin started a new chapter when he spotted something embarrassing about Dillon's attire up in the broadcast booth and called him out about it on Twitter. By the end of the race, Dillon had altered his wardrobe. 
Denny Hamlin and Austin Dillon have a history together
Denny Hamlin and Austin Dillon started their relationship on rocky terms in 2012, two years before Dillon even had a full-time ride on the Cup Series. That's when the pair got into a post-race confrontation at Texas Motor Speedway and Hamlin had a few choice words for the young driver.
"First of all, he got a ride because of his name. But second of all, you've got to take advantage of the opportunity. And if it's points racing, you can't crowd a guy. I'm on the bottom. I'm all the way to the apron. So I'm doing everything I can. Then, after the checkered flag, he wants to run into me. So I run him into the fence…He needs to learn a lesson." 
Austin Dillon, who is part of a basketball group with Hamlin and other drivers, later admitted he wasn't too fond of Denny Hamlin during those early days.
"Didn't really like him at first because we moved into each other a couple of times," Dillon told Daryl Motte on Fox. "Texas, we beat and banged after the race. New Hampshire he moved me for a win. He later on did tell me that he won a car for winning that race so that's why he moved me."
Denny Hamlin calls out Austin Dillon on Twitter for his tie
On Friday night's broadcast of the Camping World Truck Series race from Las Vegas, Austin Dillon worked alongside Vince Welch and Michael Waltrip up in the broadcast booth. Early in the broadcast, when the cameras showed the announcers, Denny Hamlin saw what all those watching the broadcast also noticed — Dillon's purple tie was tied way too short.
"Someone hemmed @austindillon3 tie too short," Hamlin posted on Twitter. 
NASCAR fans responded, and so did Austin Dillon, not with a tweet, but with an alteration of his attire. When the broadcast wrapped up after the race and the announcers offered their final thoughts, there was a striking difference in Dillon's attire. He was no longer wearing the short tie but had untied it and wrapped it around his neck. 
"Way to go @dennyhamlin, you broke him!" wrote one fan. 
No one is safe from a Hamlin tweet
While Denny Hamlin targeted Austin Dillon with a tweet on Friday night, the three-time Daytona 500 winner has already proven in this short 2021 NASCAR season that no one is safe from his Twitter attacks, including one of the most respected athletes in all of sports.  
Last month Hamlin pre-recorded an interview for NASCAR talking about his golf game and conceded that his business partner with 23XI Racing, Michael Jordan, was better than him. After playing a round of golf with His Airness just a couple of days before the Daytona 500, Hamlin's perspective changed. Not surprisingly, Hamlin shared his thoughts on Twitter.
"I revise my final answer after the spanking I put on him in Daytona. #stillwinning," Hamlin wrote. 
Denny Hamlin has proven for years he's one of the top Cup Series drivers. He's also proven to have a strong Twitter game and anyone is fair game.