Michael Strahan Fires First Shot of 2021 NFL Season at Terry Bradshaw During Fox Pregame Show Before Dallas Cowboys-Pittsburgh Steelers Hall of Fame Game
The Fox NFL broadcast team kicked off the 2021 season on Thursday night in Canton for the Hall of Fame Game between the Dallas Cowboys and Pittsburgh Steelers. Despite the offseason and being off the air for months, Michael Strahan found his groove early during the pregame show and fired the first shot of the season at broadcast partner and fellow Hall of Famer Terry Bradshaw. 
2021 NFL season officially gets started
It's always a big weekend in Canton, Ohio. This year the Pro Football Hall of Fame welcomes its newest inductees from the 2020 and 2021 classes (last year's ceremony was postponed due to the pandemic). This year's ceremony will include a large representation from two of the league's most storied franchises in the Dallas Cowboys and Pittsburgh Steelers.
From the Cowboys, the inductees include head coach Jimmy Johnson, Cliff Harris, and Drew Pearson. The Steelers are represented by head coach Bill Cowher, Troy Polamalu, and Donnie Shell.
All of them are in town for the festivities, starting with the Hall of Fame Game kicking off the season and a weekend full of memorable moments.  
Michael Strahan fires first shot of season at Terry Bradshaw 
It was a night of celebration on the Fox set with former Dallas Cowboys coach and Fox analyst Jimmy Johnson, joining his broadcast partners and Hall of Famers, Michael Strahan, Howie Long, Terry Bradshaw, and host Curt Menefee. 
During a segment where the three Hall of Famers talked about their respective induction ceremonies and accompanying busts — all lined up on the front of the set — Johnson brought up the gap in Strahan's teeth and how the artist's rendering closely resembled the real thing.
"They told me not to smile because they said it's very hard to get the teeth right. It's a little off. But I'll tell you right now, without a smile, it wouldn't be me," Strahan said, which drew laughter from all those at the desk, especially Bradshaw. Strahan then focused his attention on the Steelers Hall of Fame quarterback.
"Terry, you can't talk because I can go put that coffee cup on your head," Strahan said, looking at Bradshaw's bust and then picking up a coffee cup on the desk and promptly setting it back down.
"You can land a plane on it," Long added, pointing at Bradshaw's statue. 
"That looks like you can land a plane on it," Strahan agreed. "Flat."
Bradshaw remained his cheerful self chuckling at the two taking shots at him.
Terry Bradshaw fired ugly shot at Michael Strahan and Howie Long last year and later apologized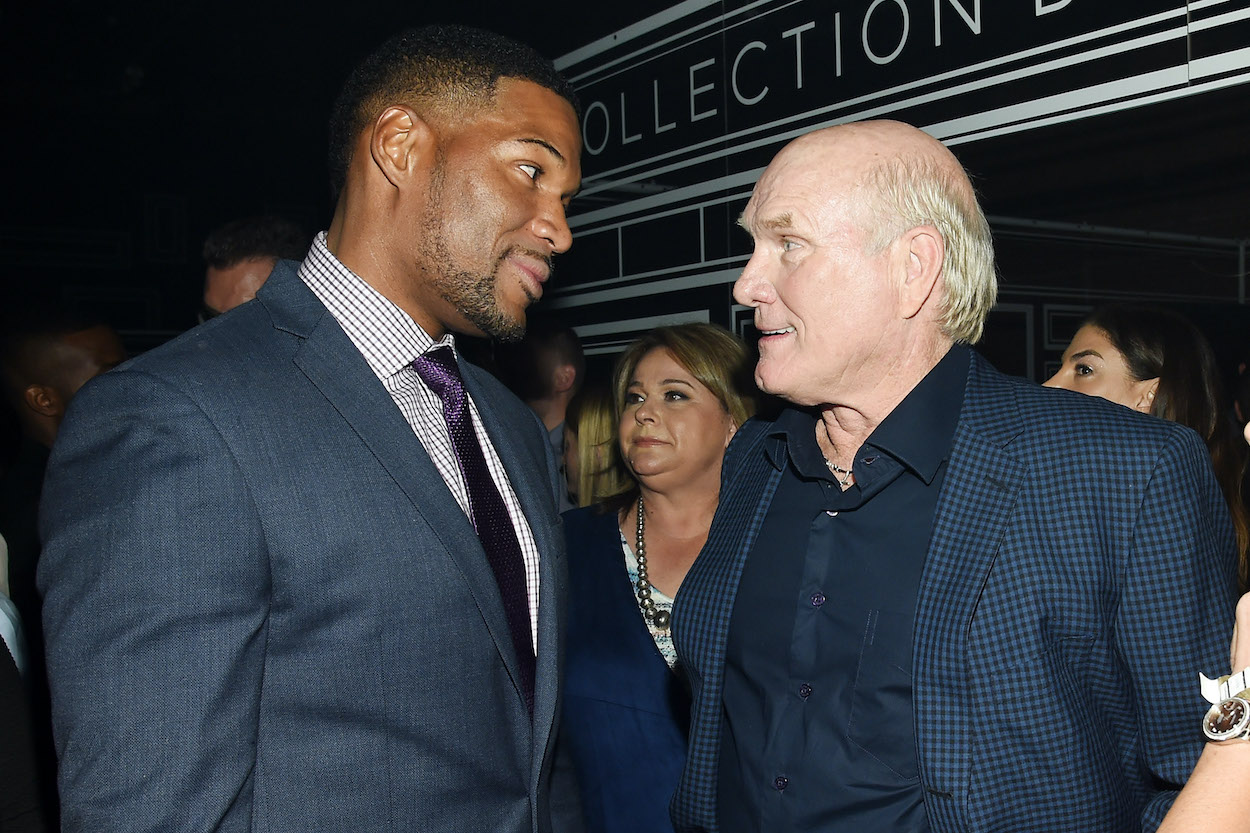 Strahan firing the first shot of this season might be considered a continuation of last year's verbal sparring that turned ugly at the end of the year. It happened when Bradshaw and his sometimes over-the-top sense of humor took it a step too far during the Fox pregame show and leveled serious accusations against Long and Strahan while talking about playing against the Baltimore Ravens. 
"There are some things in life you just don't want to face," Bradshaw started. "Number one, I don't want to go fishing with Jimmy Johnson, and Jimmy Johnson takes his shirt off. I don't want to see Howie, when Howie and Michael used to juice, take those steroids."
"Whoa! Whoa! Whoa!" Menefee intervened. The cameras initially showed Long and Strahan laughing. The former NY Giants defensive star then expressed a look of surprise.
Bradshaw tried to continue, but Long interrupted.
"Wait, wait, wait!" he said.
"I'm not through. I'm not through," Bradshaw replied.
"You have us mixed up with the team that you played with," Long countered. "Exactly!" Strahan said off-camera in the background.
"I don't want to see those guys coming at me," Bradshaw continued. "I don't want to see a divorce lawyer come knocking on my door. And if you're in the NFL, you don't want to see the Ravens because no team is going to be harder to beat once they beat Cincinnati today."
Bradshaw apologized for his remark later in the broadcast. There likely won't be an apology from Strahan for making fun of the former Steeler quarterback's dome. 
The NFL is back. Let the verbal shots fly. 
Like Sportscasting on Facebook. Follow us on Twitter @sportscasting19.
RELATED: Erin Andrews Found Tom Brady's On-Field F-Bomb Tirade 'Interesting'