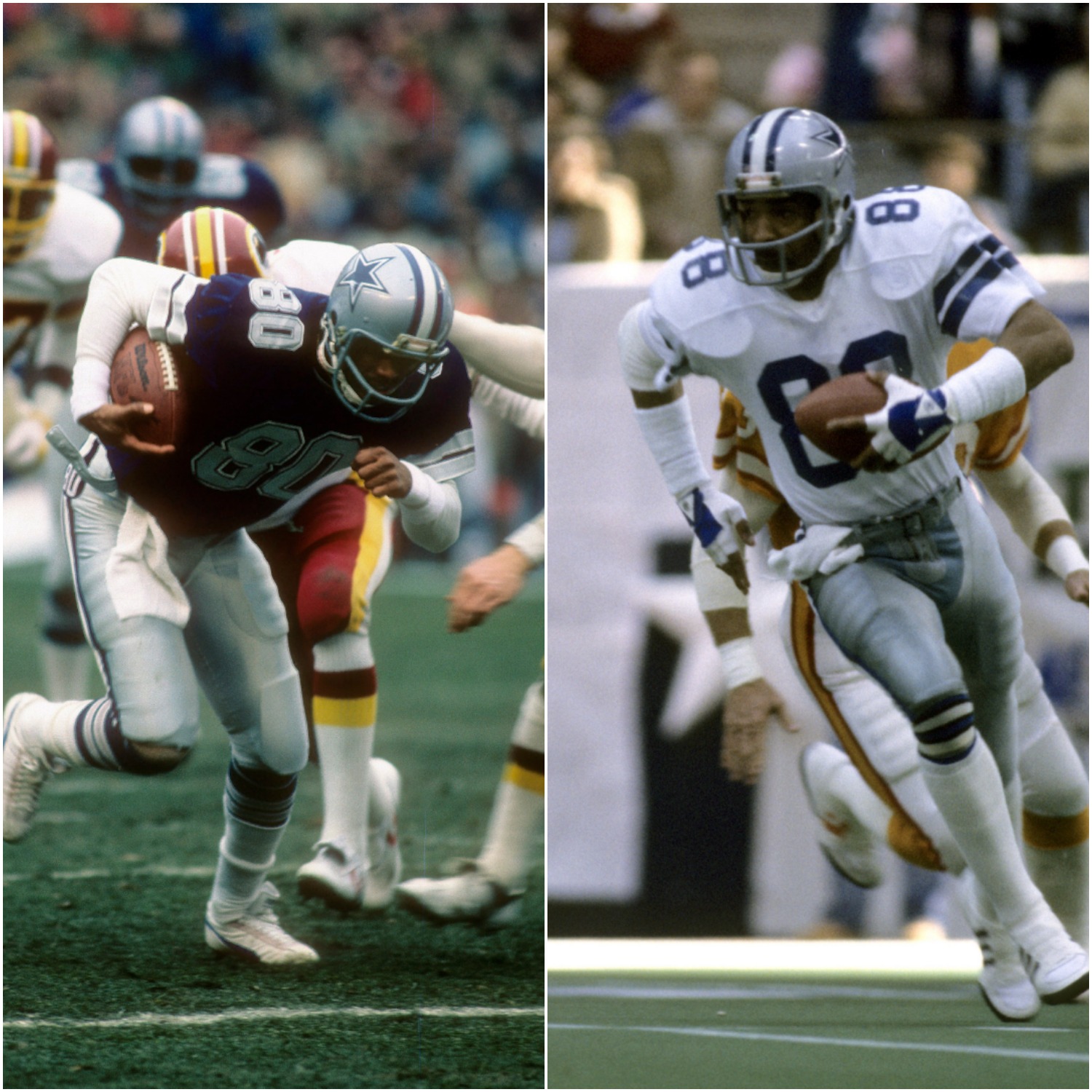 Drew Pearson Not as Hall of Fame Worthy as His Fellow Dallas Cowboys Wide Receiver Tony Hill
Former Dallas Cowboys star receiver Drew Pearson is not worthy of the Pro Football Hall of Fame more than his fellow teammate Tony Hill. The numbers don't lie.
For years Dallas Cowboys fans and others have questioned why former star wide receiver Drew Pearson isn't in the Pro Football Hall of Fame. Each year around nomination time, there's always speculation that this might be the year. In August, the Hall of Fame announced Pearson had been selected as a finalist for the Class of 2021. 
After years of anticipation, it appears the former Dallas Cowboys receiver's wait for acceptance to the Hall might finally be over. While there's no argument that Pearson is worthy of such an honor, there is an argument to be made that former teammate and fellow wide receiver Tony Hill is actually more deserving of being inducted. The numbers don't lie.
Drew Pearson's career with the Dallas Cowboys
Drew Pearson signed with the Dallas Cowboys as an undrafted free agent in 1973. After his rookie season where he started six games, Pearson introduced himself to the NFL during the 1974 season when he earned his first All-Pro and Pro Bowl nods after grabbing 62 catches for 1,087 yards and two touchdowns. 
Pearson repeated that success in 1976 and 1977, earning both honors in those seasons as well. In 1976, Pearson finished the season with 58 receptions for 806 yards and six touchdowns. The 1977 season Pearson caught 48 passes and led the NFL with 870 yards. He caught two touchdowns.
When he retired after his 11-year-career in Dallas following the 1983 season, Pearson had amassed 489 receptions for 7,822 yards and 48 touchdowns. He also added 21 touchdowns on the ground for his career.  
Tony Hill's career with the Dallas Cowboys 
Unlike Pearson, Tony Hill was drafted by the Dallas Cowboys in the third round of the 1977 NFL draft. Similar to Pearson, Hill saw limited action his first season but burst on to the scene during his sophomore campaign in 1979.
During that season, Hill caught 46 passes for 823 yards and six touchdowns. He earned his first Pro Bowl nomination. The following season, Hill performed even better. He caught 60 passes and surpassed the 1,000-yard mark with 1,062 yards, including 10 touchdowns. He earned his second consecutive trip to the Pro Bowl.
Hill played for seven more seasons in Dallas and earned his third Pro Bowl in 1985 when he hauled in 74 receptions for 1,113 yards and seven touchdowns. He retired after the 1986 season.
Hill's numbers are definitively better than Pearson's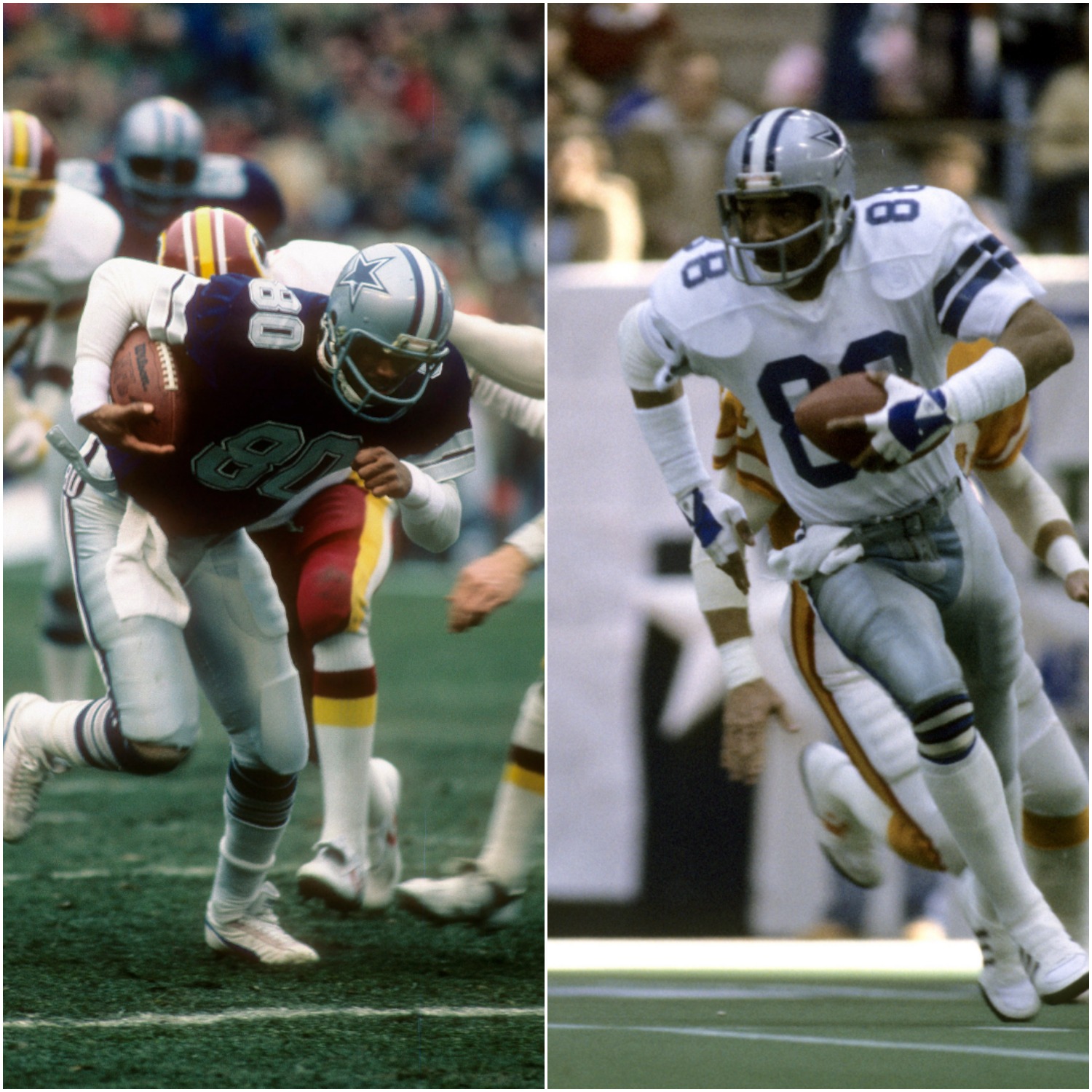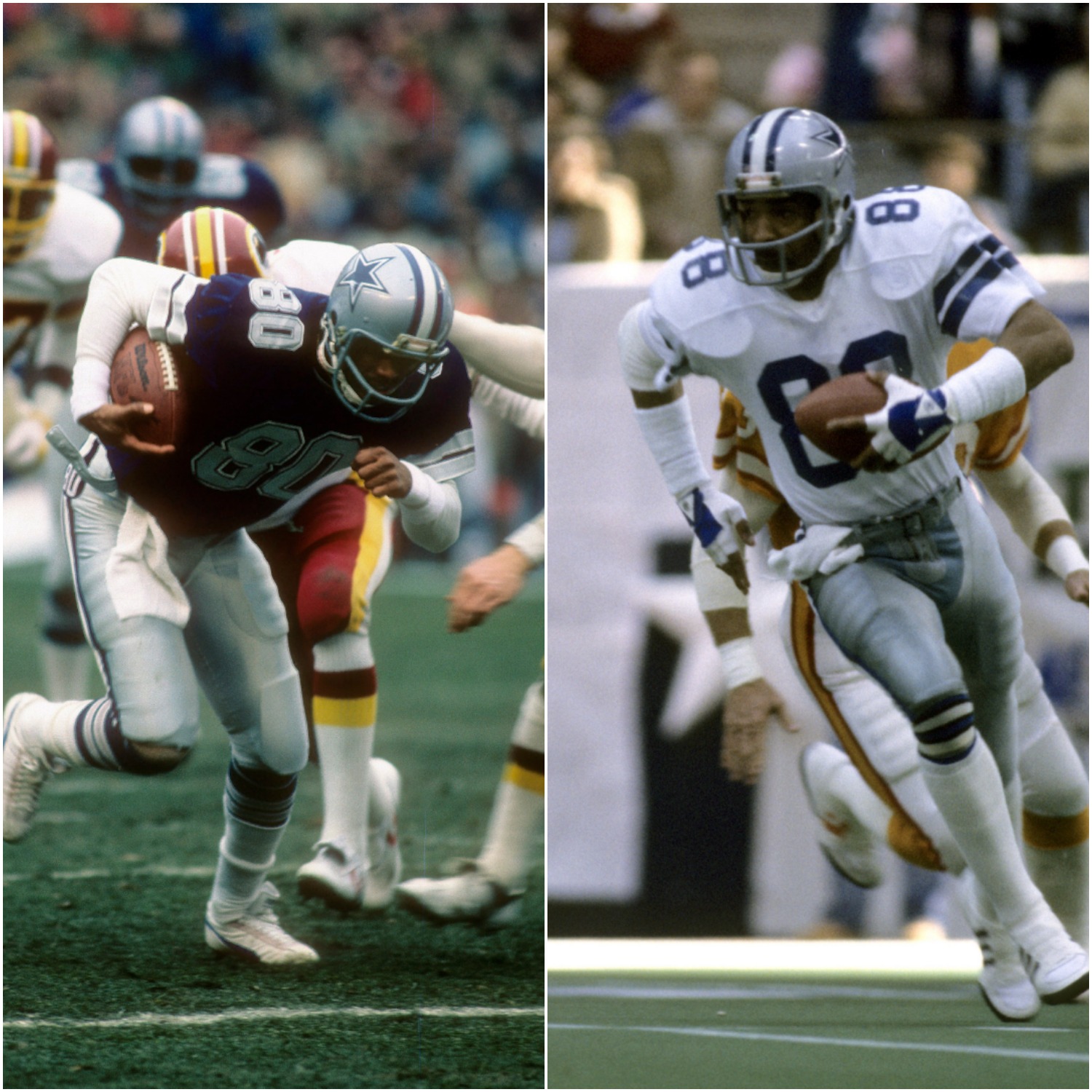 The careers of Drew Pearson and Tony Hill overlapped from 1977-1983. During that time, the numbers are overwhelmingly in favor of Hill. Outside of 1977, Hill's rookie season, where he caught just two passes, Pearson trailed Hill every year in receptions, yardage, and touchdowns except for 1982. That season Pearson had three touchdowns to Hill's one but had fewer catches and yards. 
Before you compare their overall careers, you have to remember Hill played one less season than Pearson. Despite that, Hill's total career numbers are still better in almost every category.
The only major category Pearson leads Hill for his career is in total receptions and it's a slight edge. Pearson finished with 10 more catches at 489 to 479. As far as total receiving yardage is concerned, Pearson finished with 7,822 yards and two 1,000-yard seasons. Hill finished with 7,988 yards and three 1,000-yard seasons, 
When it comes to the most important offensive production category of all, touchdowns, Hill wins convincingly. Pearson caught 48 touchdown tosses in his 11 seasons in the NFL. He added 21 touchdowns on the ground. Hill hauled in 51 touchdown receptions in his 10 seasons in Dallas and added 14 on the ground. 
Drew Pearson was a great Cowboys receiver and made the 1970s All-Decade Team. He remains the only player from that team not in the Hall of Fame. However, based on production alone, Hill put up better numbers in his shorter career than Pearson did. If Drew Pearson earns a bust in Canton, there should be a strong push for Tony Hill to join him there as well. 
All stats courtesy of Pro Football Reference.