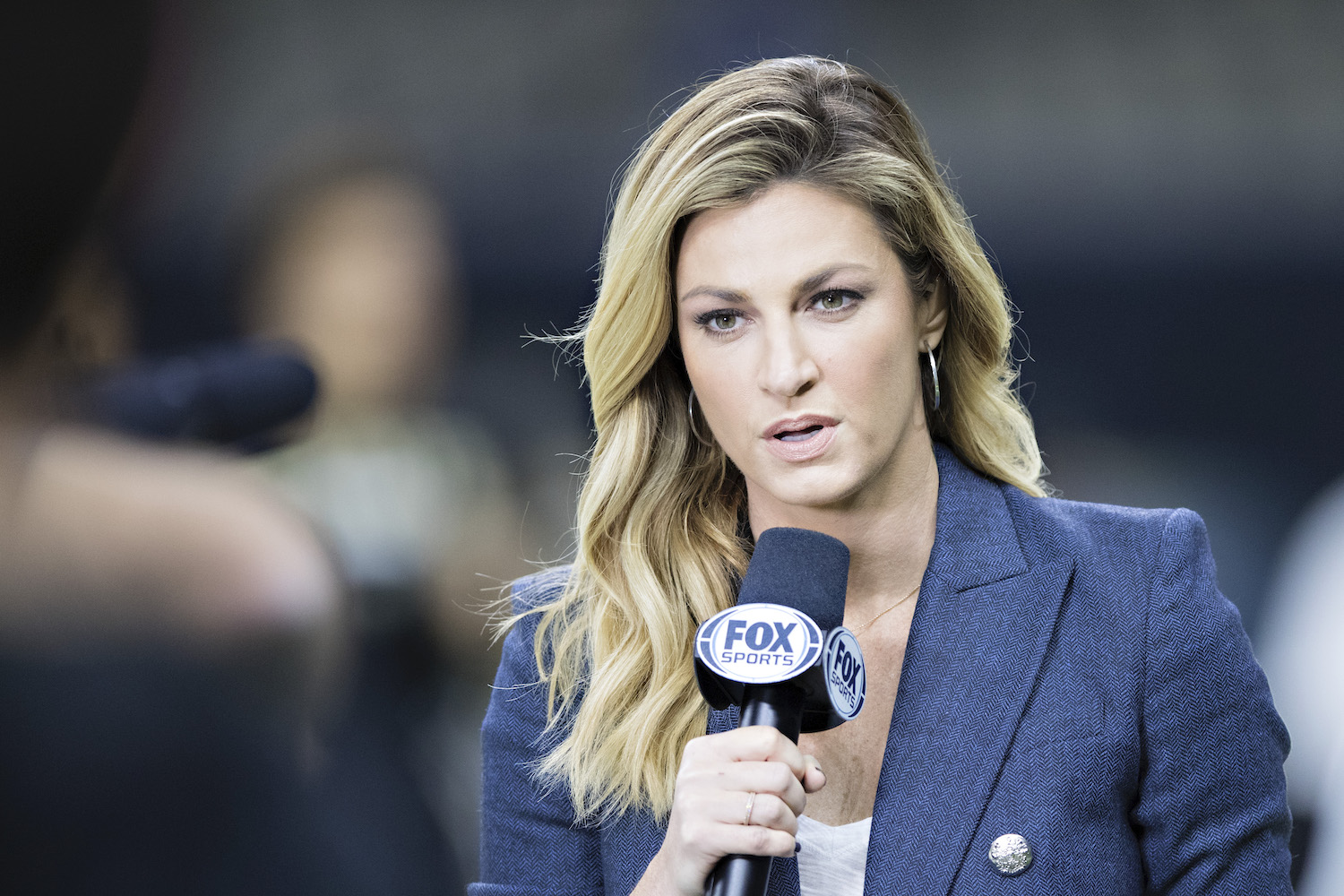 Erin Andrews Found Tom Brady's On-Field F-Bomb Tirade 'Interesting'
Erin Andrews has been on the sidelines for almost 20 years but never at a game without fans. What Andrews heard from Tom Brady and others on Sunday was "interesting."
In her almost two decades roaming the sidelines at various sporting events, Fox Sports' Erin Andrews has seen and heard it all. Or at least that's what she thought. The veteran sideline reporter had an ear-opening experience on Sunday while in New Orleans covering the marquee matchup between the New Orleans Saints and Tampa Bay Buccaneers with new quarterback Tom Brady. With no fans in the stands, Andrews could hear everything. And based on what she heard, Tom Brady's mouth is in need of some soap. 
Erin Andrews' career as a sideline reporter
Erin Andrews debuted as a sideline reporter in 2001. Since that time, she steadily made her way up covering the Atlanta professional teams for Turner South before landing her first gig at ESPN in 2004.
At ESPN, Andrews became a household name when she worked the sidelines for the ESPN College Football Thursday Primetime and Saturday Primetime games. She also covered Big Ten college basketball games and Major League Baseball.
After 12 years with the Worldwide Leader, Erin Andrews headed west and joined Fox Sports. Since 2014, she has been the sideline reporter for Fox's lead NFL broadcasting team. In addition to covering the NFL, she has also roamed the sidelines for other events, including the MLB All-Star Game, the World Series, and Daytona 500.
No fans in the stands or reporters on the field
With the COVID-19 pandemic, various leagues around the world have taken different approaches in playing their respective sports. In the U.S., leagues have opted for a bubble environment where everyone is isolated from outside contact, or the traditional in-stadium setup with limited or no fans, which is the system adopted by the NFL.
In addition to limiting fans, the league also has limited reporters' access to the field. Instead of the standard location standing field-side and reporting, reporters are relegated to a position behind the team's benches in the stands. That decision, while understandable in following health protocols, makes it more challenging for reporters to get inside information. 
"It will be challenging for audio eavesdropping and immediate injury observation," one reporter told Front Office Sports before the season kicked off. "But with cameras and good positioning up behind the bench, I feel there will be items of interest to add."
Erin Andrews found Tom Brady's F-bomb tirade 'interesting'
While Erin Andrews has been on the sidelines for hundreds of games, she's never done so without fans in the stands. That was the case during the 2020 NFL season opener with Drew Brees and the New Orleans Saints hosting the visiting Tampa Bay Buccaneers and new quarterback Tom Brady. In an interview on the podcast "10 Questions with Kyle Brandt," Andrews described her first experience of an eerily quiet Superdome and how she could literally hear everything on the field. 
"Two things [Sunday], I never really knew how much s–t-talking there was until (Sunday)," Andrews said. "You could hear it so clear. And I can't imagine if I was down there what that would have been like."
Andrews said some of the most interesting comments came from Brady, who didn't have his best performance, and his words reflected that.  
"The other thing is after Tom threw the first interception. I mean, we all know, we've seen the video of him get so fired up, but again, it was silent in there and you just heard two F-bombs clear as day and you're like, oh boy. This is what we're going to hear all season. So it was interesting."
Andrews and the Fox Sports crew are in Cleveland tonight to call the Browns and Baker Mayfield hosting the Cincinnati Bengals and No. 1 overall draft pick quarterback Joe Burrow. The Browns have announced they will allow up to 6,000 fans in the stands. Even with those small numbers, it will be less likely Andrews audibly hears any foul language from the field. But with Mayfield playing, chances are, there will be a few expletive-worthy passes thrown.