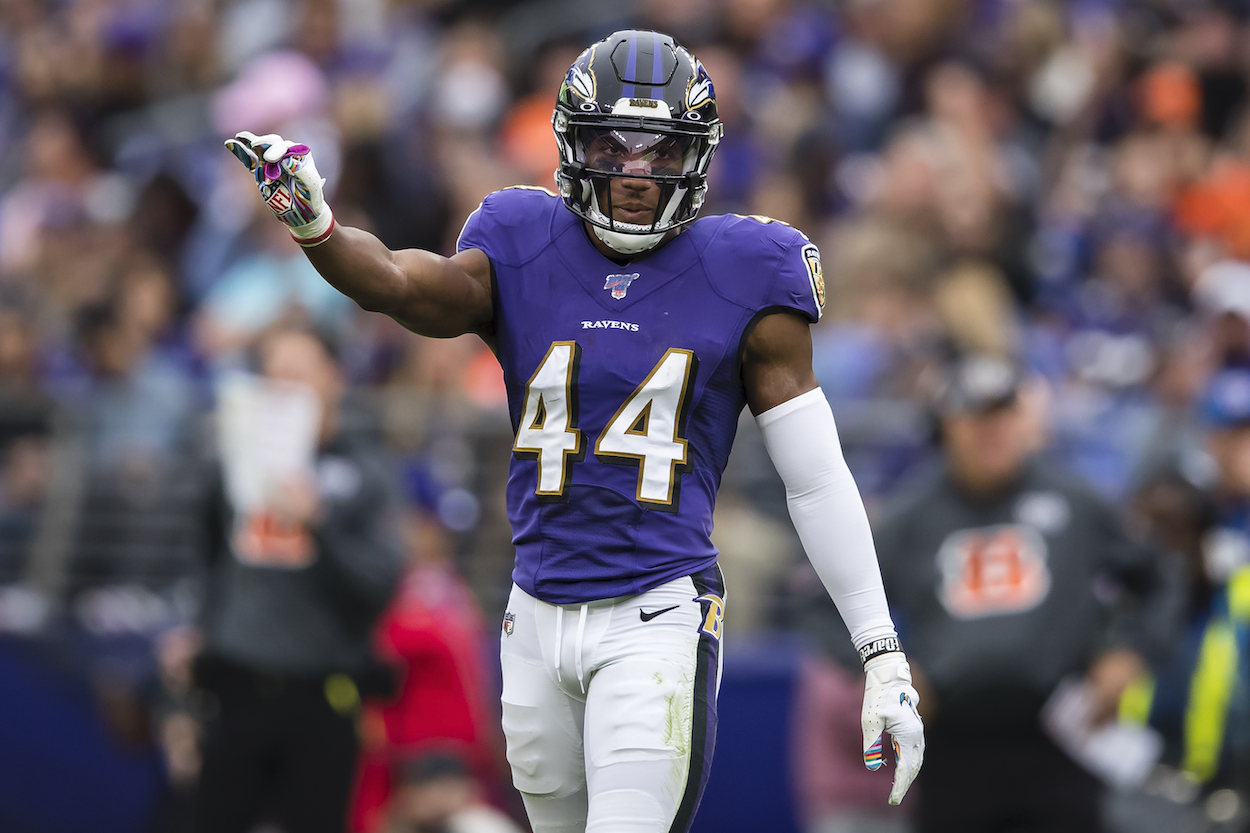 Baltimore Ravens Two-Time Pro Bowler Marlon Humphrey Signed a $98 Million Contract in 2020 But Still Lives in a Camper
Marlon Humphrey signed a $98 million contract extension with the Baltimore Ravens in 2020. Even with all that money, the two-time Pro Bowler chooses to live in a camper.
There's a plentiful supply of stories on the Internet detailing how numerous professional athletes made millions during their careers, lived a lavish lifestyle, and then watched their fortunes seemingly disappear overnight. For Marlon Humphrey, a two-time Pro Bowl cornerback with the Baltimore Ravens, he doesn't want to become another statistic. After signing a $98 million contract extension in 2020, the 24-year-old humbly calls a camper home. At least for now.
Marlon Humphrey becomes two-time Pro Bowler with Ravens
After playing a couple of seasons for Nick Saban and Alabama, which included winning a national title in 2015, the Baltimore Ravens selected Marlon Humphrey with the No. 16 overall pick in the 2017 NFL draft.  
In Humphrey's first season with the Ravens, he saw action in every game, including five starts. He finished that rookie year with 34 tackles and a couple of interceptions. He put up comparable numbers during his sophomore campaign, finishing with 37 tackles and two more picks.
Humphrey had his breakout season in 2019. In 15 starts, he recorded 65 tackles, and more impressively, grabbed three interceptions and three fumble recoveries, returning two of them for touchdowns. He was rewarded for his efforts, receiving both Pro Bowl and All-Pro honors.
In 2020, Humphrey continued where he left off from the year before, once again making the Pro Bowl after a season in which he registered 82 tackles, 2.5 sacks, one interception, and a league-leading eight forced fumbles. 
Why is Humphrey living in a camper?
After a very successful 2019 campaign, the Ravens rewarded their lock-down corner by signing him to a five-year extension worth $98.75 million, and an average salary of $19.5 million per year. He received $66 million in total guaranteed money. 
Interestingly, even with all that money, Humphrey currently lives in a camper located on a 200-acre piece of property he calls the Marquee Oasis. The now 24-year-old planned on moving into a new house at the conclusion of the 2020 NFL season, but COVID delayed construction. 
Humphrey said because he enjoyed being out on the property, which includes a lake for fishing and kayaking, he decided to buy a camper at the suggestion of his father. 
"I just love being out here. I've really become more nature-filled," he told Whistle in its "Days Off" feature. Humphrey said while others question his desire to live in a camper, being out on the property allows him to work on the various projects he has going on while the house is under construction, including his garden, which includes broccoli and green onions. 
Future home will have pool, gym, and shooting range
While Humphrey now calls the camper home, he said the finished home and property will provide him and his family with years of enjoyment in the future. Among the various amenities, it will include a pool, a gym, and not something you see everyday, a shooting range.
"When you got a lot of land like this, the really cool thing that's really special for me and other people, you don't have to go to a shooting range," he said while walking through the unfinished structure with just the framing in place. "You can just come out here. That was kind of the vision behind this."
Humphrey knows something about vision. He reads and predicts the moves of quarterbacks and receivers for a living. When he bought the land, he envisioned a home where he could go swimming, work out, and shoot guns. A camper was never part of that original plan. But it's provided him with shelter, allowed him to connect with nature, and most importantly, given him a chance to regularly work on the property. In the end, it's allowed him do something he never dreamed of doing and saved him a few bucks in the process.
Like Sportscasting on Facebook. Follow us on Twitter @sportscasting19.