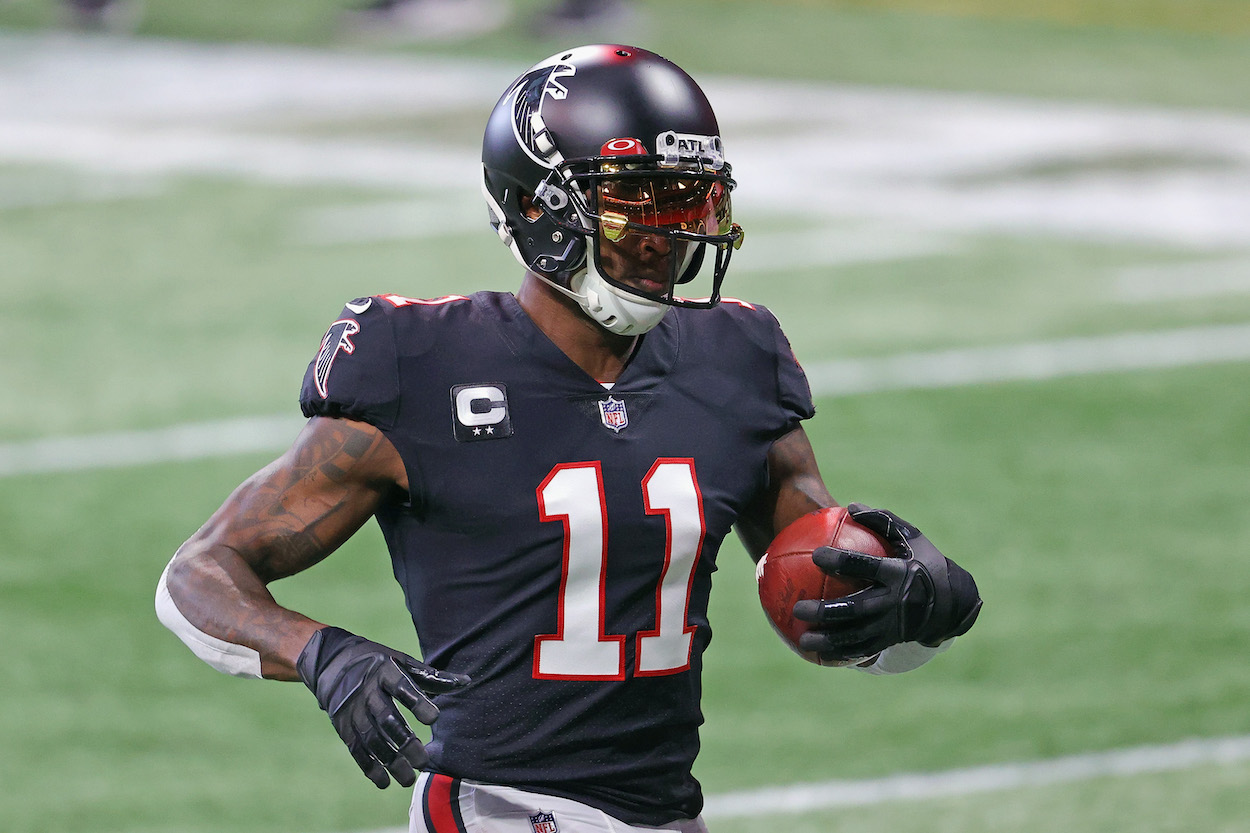 Julio Jones Takes Shot at the Dallas Cowboys After Admitting He's Done in Atlanta
Julio Jones took a shot at the Dallas Cowboys on Monday during an interview with Shannon Sharpe.
The days of Julio Jones donning the No. 11 jersey for the Atlanta Falcons appear to be numbered. The seven-time Pro Bowler, who has played his entire career in Atlanta, said as much during an interview with Shannon Sharpe on Monday's episode of the FS1 talk show Undisputed. While Jones didn't indicate where he would like to play, the two-time NFL receiving yards leader took a shot at the Dallas Cowboys when he candidly admitted he didn't want to play for them.
Julio Jones becomes a superstar in Atlanta
Julio Jones is synonymous with the Atlanta Falcons. Since the organization selected him with the sixth overall pick in the 2011 NFL draft, he's been a superstar. After Jones impressed during his rookie season, hauling in 54 catches for 959 yards and an incredible 17.8 yards per catch, he earned his first of seven Pro Bowl nods during his sophomore campaign when he topped the 1,000-yard mark for the first time.
Since 2014, the receiver has received Pro Bowl honors in six of the last seven seasons. In 2015, Jones was undeniably the best receiver in the game, leading the NFL in catches (136) and yards (1,871). 
With the exception of an injury-plagued 2020 season, during which he still managed to gain 771 receiving yards, Jones has been a model of consistency and has led the league in average yards per game on two other occasions in 2016 and 2018. He also led the NFL in total receiving with 1,677 yards in 2018. 
Jones on the trading block 
When Atlanta selected Florida tight end Kyle Pitts with the No. 4 overall pick in the 2021 NFL draft, it added to an already impressive receiving corps for quarterback Matt Ryan with Jones and Calvin Ridley. However, in recent weeks, any thought that those three targets would ever take the field together has quickly faded.
Rumors have swirled about Jones' future in Atlanta since last month when general manager Terry Fontenot acknowledged the team was fielding offers for the star wide receiver.
According to multiple reports, Jones requested a trade from the Falcons months ago. ESPN's Adam Schefter reported the organization wanted to work behind the scenes, and the Falcons have asked for a first-round draft pick in return.
Jones puts end to speculation and takes shot at Dallas in process
While Jones has remained quiet about the situation, he didn't hold back during an interview with Shannon Sharpe on Monday's episode of Undisputed on FS1. 
Sharpe talked about a photo that went viral over the weekend with the Falcons receiver wearing a Dallas sweatshirt. The host then called Jones on his phone and point-blank asked if he wanted to stay in Atlanta or go to Dallas.
"I'm out of there, man," Jones said about his time in Atlanta. "I want to win."
When Sharpe joked Dallas wouldn't be the place to achieve that, Jones offered a candid response.
"Come on, man, you already know I know," he replied. "I ain't going to Dallas, man. I never thought about going to Dallas." 
While Dallas isn't in need of a receiver, it's never a good look when one of the top players in the league calls out your team for its inability to win. Perception is reality, and that reality is the Silver and Blue just doesn't hold the sway it once did.
Like Sportscasting on Facebook. Follow us on Twitter @sportscasting19.