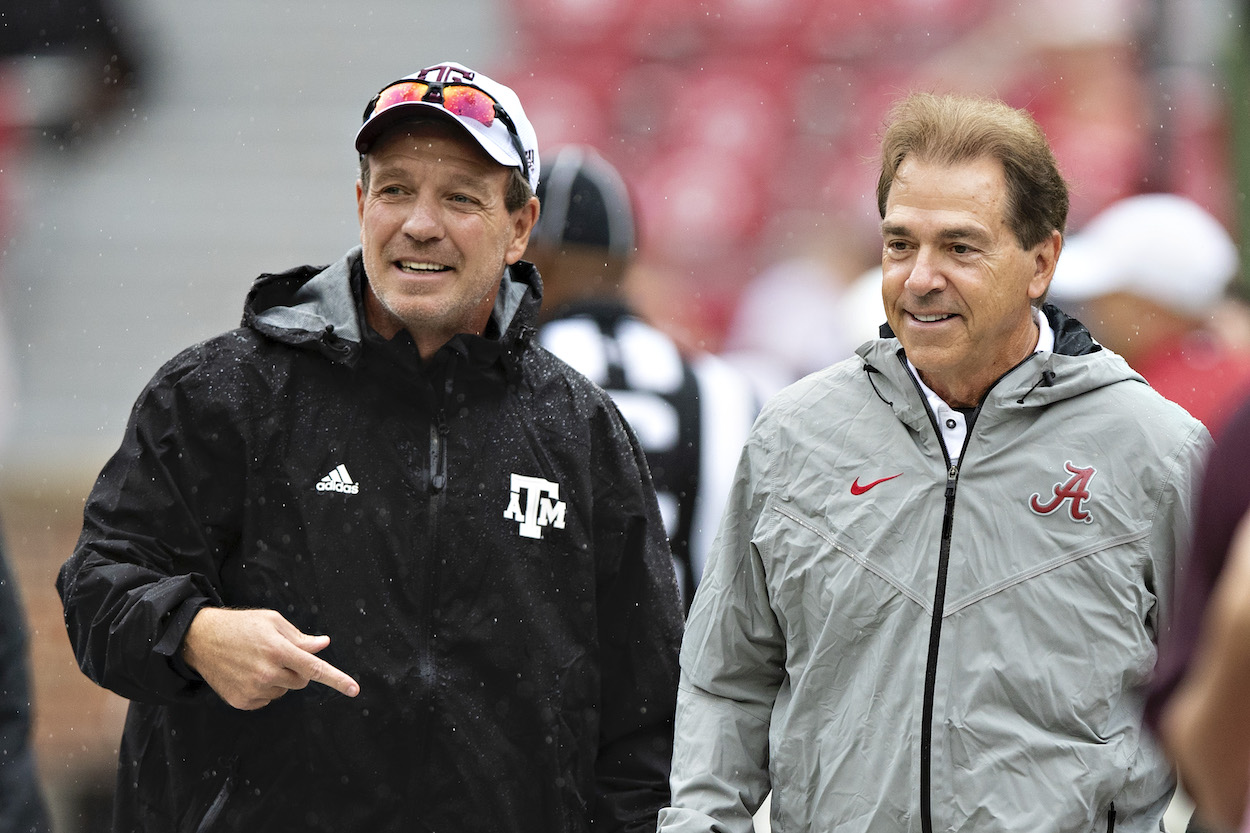 Jimbo Fisher Makes Bold Statement and Trash-Talks Alabama's Nick Saban: 'We're Going to Beat His Ass'
Texas A&M head coach Jimbo Fisher made a bold statement this week, suggesting his team was going to kick Alabama head coach Nick Saban's ass.
Nick Saban hasn't needed bulletin board material to become arguably the greatest coach in college football history. But make no mistake about it, the head coach of the Alabama Crimson Tide is more than happy to use that type of motivation when served on a silver platter. Texas A&M head coach Jimbo Fisher did just that this week when speaking to a crowd of Aggie faithful, and you can be sure Saban will gladly use it against his former assistant when the two teams meet Oct. 9 in College Station. 
Alabama has dominated Texas A&M
After Texas A&M completed its first SEC season in 2012, the team and its fans couldn't help but question the mystique surrounding the Alabama football program and head coach Nick Saban. 
After all, the No. 15-ranked Aggies and redshirt freshman quarterback Johnny Manziel rolled into Bryant Denny Stadium for a mid-November matchup, didn't blink, and rolled out with a 29-24 win over the top-ranked Tide. Alabama didn't lose another game the rest of the season en route to winning the national title. 
Alabama hasn't lost to Texas A&M since. In fact, the Aggies have only kept it close (within two TDs) on two occasions in 2013 and 2017. Alabama has been dominant throughout that stretch with wins of 59-0 in 2014 (first trip back to Alabama after A&M's lone win) and 52-24 last season. 
Jimbo Fisher says Texas A&M going to beat Nick Saban's ass
After losing eight in a row, many of those same Aggie fans who questioned Alabama's superiority after Texas A&M won the first-ever SEC head-to-head matchup in 2012 have pivoted and started to question whether the Ags will knock off Saban and the Crimson Tide ever again. 
In a meeting at the Houston Touchdown Club this week, one fan posed the question to head coach Jimbo Fisher and suggested it might take Saban's retirement for it to happen. 
"We're going to beat his ass even when he's there, don't worry," Fisher responded, according to the Houston Chronicle. "I don't want him to retire. They've got a great team, and I respect him. We've known each other forever …"
Nick Saban has perfect record against his former assistants
Fisher and Saban have a long history together. Fisher served as the offensive coordinator at LSU in 2003 when Saban won his first of seven national titles. The two split up when Saban left for the Miami Dolphins but have since renewed their professional relationship, standing opposite one another on the sidelines since Fisher took over the Aggies in 2018.
Fisher, who won a national title of his own in 2013 with Florida State, isn't alone in his inability to take down his former boss. Saban holds a perfect 23-0 record against his former assistants. More impressively, Saban's Alabama teams have only lost 23 times during his 14 seasons in Tuscaloosa. 
The two will meet again on Oct. 9 when the Crimson Tide travel to College Station to take on the Aggies. Alabama, as is the case most years against every team, will likely be the favorite. No matter the final result, you can certainly expect reporters will look back and ask both coaches in the postgame interviews about Fisher's quote made in early May and if it had any impact on the game. You can also expect vastly different answers based on the final score.