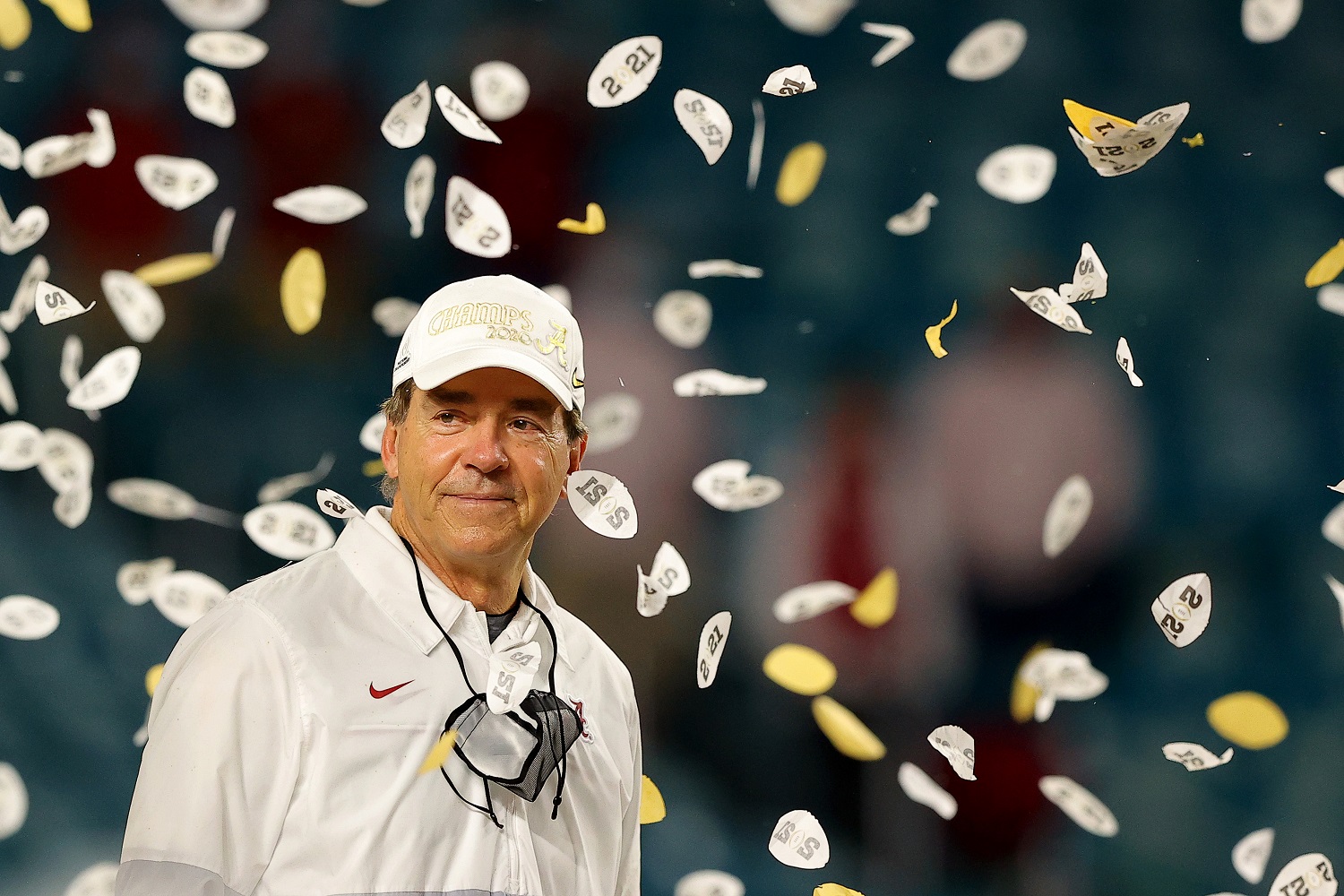 Nick Saban Reveals How To Destroy an NFL Draft Prospect's Career in 1 Word
Alabama coach Nick Saban says evaluations of NFL draft prospects go beyond on-field skills, so scouts listen for what gets said after the words "and" or "but."
Nick Saban has been on both sides of the crucial conversations leading up to an NFL draft. The Alabama Crimson Tide head coach has touted his athletes to pro scouts for most of his career, but he has also been a coach asking tough questions to gauge the worthiness of a potential NFL draft pick.
In Saban's mind, there are two words worth listening for during those conversations, and one of them is a potential career-killer for a player before he even reaches the NFL.
Nick Saban's Alabama program is an NFL training ground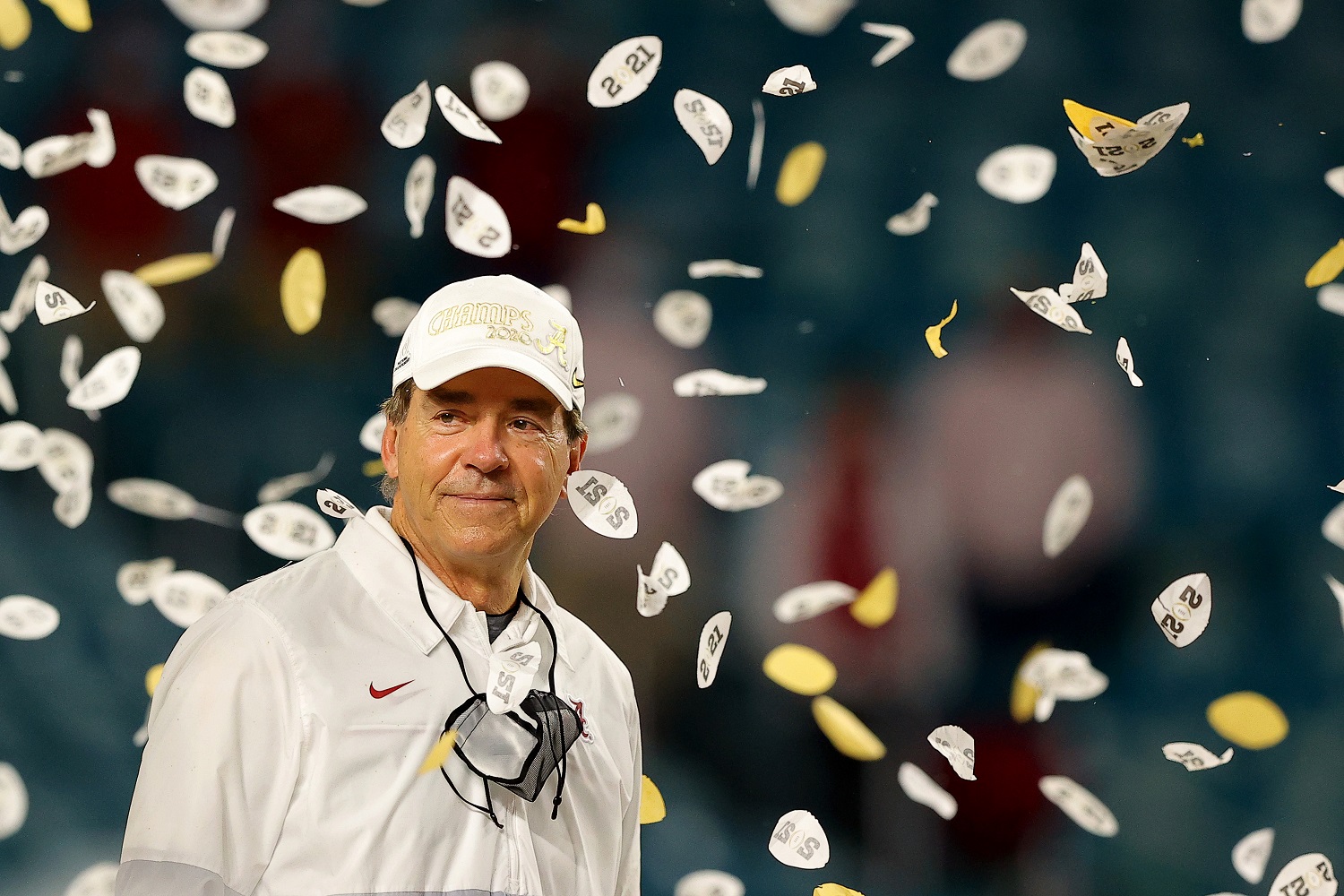 When the 2021 NFL draft kicks off April 29 in Cleveland, five Alabama players will be among the 13 college players in attendance, all with a legitimate chance of hearing their name called in the first round. Quarterback Mac Jones, receivers DeVonta Smith and Jaylen Waddle, defensive lineman Christian Barmore, and cornerback Patrick Surtain all contributed to the Crimson Tide's latest national championship team under Saban.
Alabama has won 10 or more games for 13 consecutive seasons by recruiting highly regarded prospects and then turning them into NFL-worthy players at a prolific clip. In the past four years alone, NFL teams have drafted 41 Alabama players. The total for the past decade of drafts has been a staggering 85 players.
From 2011-20, 30 have flown off the board in the first round. Last year's first-rounders were Jerry Jeudy (Denver Broncos), Henry Ruggs (Las Vegas Raiders), Tua Tagovailoa (Miami Dolphins), and Jedrick Wills (Cleveland Browns).
Saban knows how to sell a player's worth to the NFL
Even before landing at Alabama as the head football coach in 2007, Saban had more than three decades in the sport, including a stint at LSU that delivered the first of his seven national championships and two seasons in charge of the Miami Dolphins.
He recently sat for an online interview shared on social media by James Light, a high school coach in Warren, Michigan, and transcribed by BroBible.com. Saban dropped some insight into the evaluation process between NFL scouts and college coaches. His thoughts are also applicable to dealings between college and high school coaches.
Saban, deservedly one of the highest paid coaches in college football, said the word "and" is a compelling one when it comes to selling a player's positives to the person asking the questions.
"He's got quick feet, change of direction, good long speed, can play man-to-man, he's got toughness, got really good ball judgment and really good ball skills and he's a good person, he was a leader on the team, graduated from school, and the coaches loved him," Saban rattled off by way of a sample scouting report.
Each time he said "and," Saban was maintaining control of the conversation and adding another positive quality – stuff not directly related to the football field — to the player's resume.
Saying 'but' can destroy an NFL prospect's career
After demonstrating how to build up a player, Saban then turned the tables by continuing his evaluation with the word "but" rather than "and."
"But he had a positive drug test, he had a domestic violence incident with his girlfriend, got in a fight in a bar when he was a freshman, and the strength coach said he wouldn't p**s on him if he was on fire," he said.
"Who do you want on your team."
Watch the draft beginning Thursday. When a player unexpectedly slips from the bottom of the first round in the many mock drafts to the top of the third round in real life, you now have potential insight as to why.
Like Sportscasting on Facebook. Follow us on Twitter @sportscasting19.