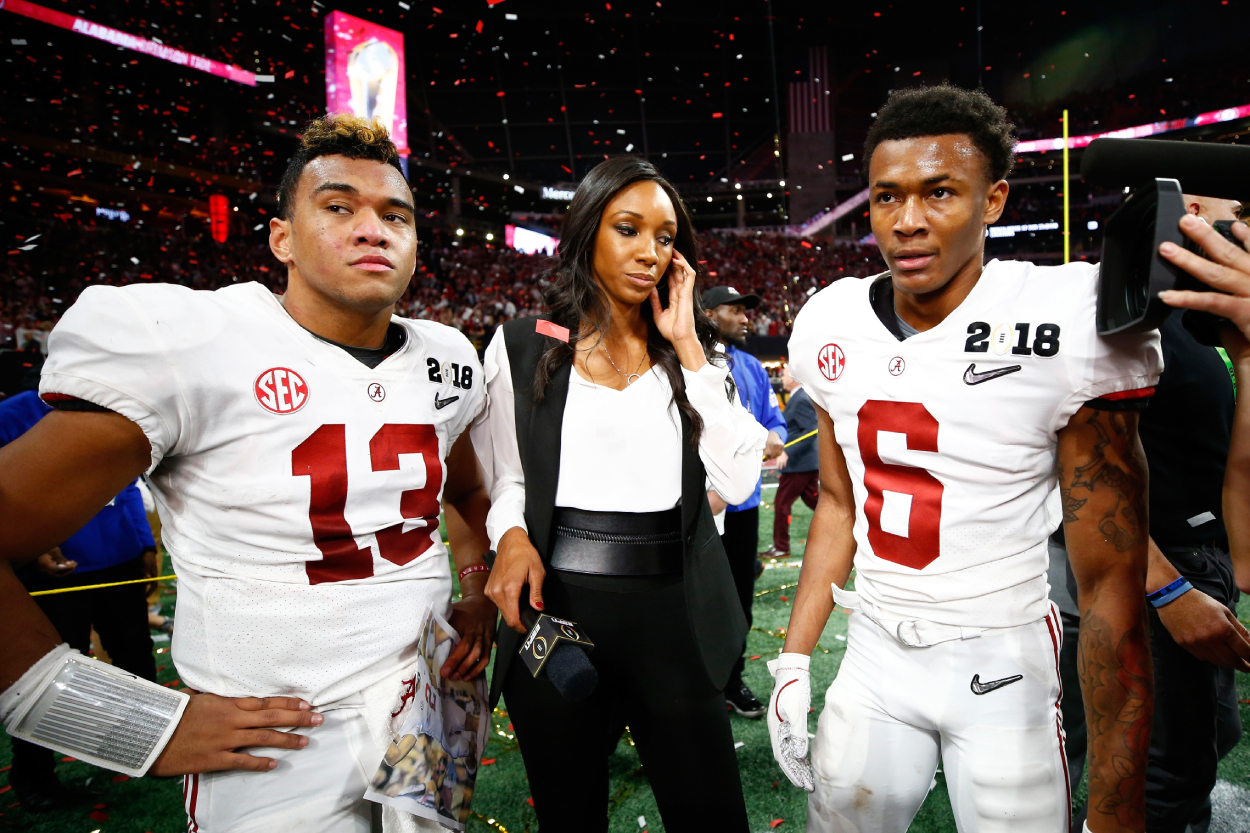 Heisman Winner DeVonta Smith Reportedly Used 2 Words to Betray His Former and Potential Future QB Tua Tagovailoa
DeVonta Smith may team up with former Alabama and current Dolphins QB Tua Tagovailoa in the NFL. However, he has already betrayed him.
The 2020 college football season was potentially the strangest season of all-time due to COVID-19. One constant throughout the entire year, though, was the stellar play of Alabama wide receiver DeVonta Smith, who ended up winning the Heisman Trophy. Smith is now preparing for the 2021 NFL draft, and he may team up with an old friend, as some people think that the Miami Dolphins could select him. This would ultimately pair him with former Alabama quarterback Tua Tagovailoa.
However, before the draft, despite Smith saying how nice it would be to "run it back" with his former QB, he has also already reportedly betrayed him. No one can really blame him for it, though.
Alabama WR DeVonta Smith is one of the top prospects in the 2021 NFL draft
DeVonta Smith helped his draft stock tremendously during the 2020 college football season with Alabama. He had a great year in 2019, as he caught 68 passes for 1,256 yards and 14 touchdowns, but he was just on another level in 2020.
Smith caught 117 passes for the Crimson Tide this past season to go with 1,856 yards and 23 touchdown catches. He also had a rushing touchdown and a punt return touchdown. All of this led to him winning the Heisman Trophy and becoming one of the top prospects in the 2021 NFL draft.
This year's draft could ultimately help him team back up with his former QB, Tua Tagovailoa, too, as the Dolphins need a wide receiver. They also have the third overall pick, thanks to a past trade with the Houston Texans.
However, Smith has already reportedly betrayed Tagovailoa.
The former Bama star has reportedly betrayed Tua Tagovailoa
According to ProFootballTalk, Smith did say that he and Tagovailoa "have talked about how it would be nice to run it back again" in an interview on NFL Network.
Smith, though, reportedly betrayed his former quarterback at the Senior Bowl by using two words: Mac Jones.
"Maybe the most interesting anecdote I could possibly give you on [Mac Jones] from that week in Mobile comes from his Heisman Trophy winning receiver DeVonta Smith," Albert Breer wrote in Sports Illustrated. "One team asked Smith, point blank: Tua Tagovailoa or Jones? The question was barely finished before Smith answered: Mac Jones. He was bold and definitive about it, as I heard it."
If this is true, it certainly could be viewed as a diss toward Tagovailoa, as he started at Bama in 2018 and most of 2019. Jones, on the other hand, was really only QB1 in 2020, other than the games he filled in for Tagovailoa.
No one can really blame Smith for his answer, though. He had a Heisman-winning season with Jones as his QB. Additionally, Jones put up better numbers in 2020 than Tagovailoa ever did at Bama. He threw for 4,500 yards, 41 touchdowns, and only four interceptions. Tagovailoa's best season statistically came in 2018 when he had 3,966 yards, 43 touchdowns, and six interceptions.
So, while this could be viewed as a betrayal, Tagovailoa shouldn't blame Smith, and no one else should either.
Tua Tagovailoa and DeVonta Smith can have success on the Dolphins
If the Dolphins draft DeVonta Smith to pair him with his former Alabama QB, Tua Tagovailoa, Miami fans should be thrilled. The Dolphins barely missed the playoffs in 2020 after going 10-6. Tagovailoa played well at times throughout his rookie season, too. He threw for 1,814 yards, 11 touchdowns, and five interceptions.
Another year of experience and the addition an explosive receiver in Smith should help him drastically, too, as the Dolphins only had one receiver gain over 375 receiving yards in 2020. Smith could help take that offense to the next level and potentially get the Dolphins to the playoffs.
Sure, DeVonta Smith would maybe rather play with Mac Jones, but teaming up with his other former Alabama QB could ultimately help him play in meaningful NFL games almost immediately. The Dolphins would become a fun team to watch, too.
Stats courtesy of Sports Reference and Pro Football Reference