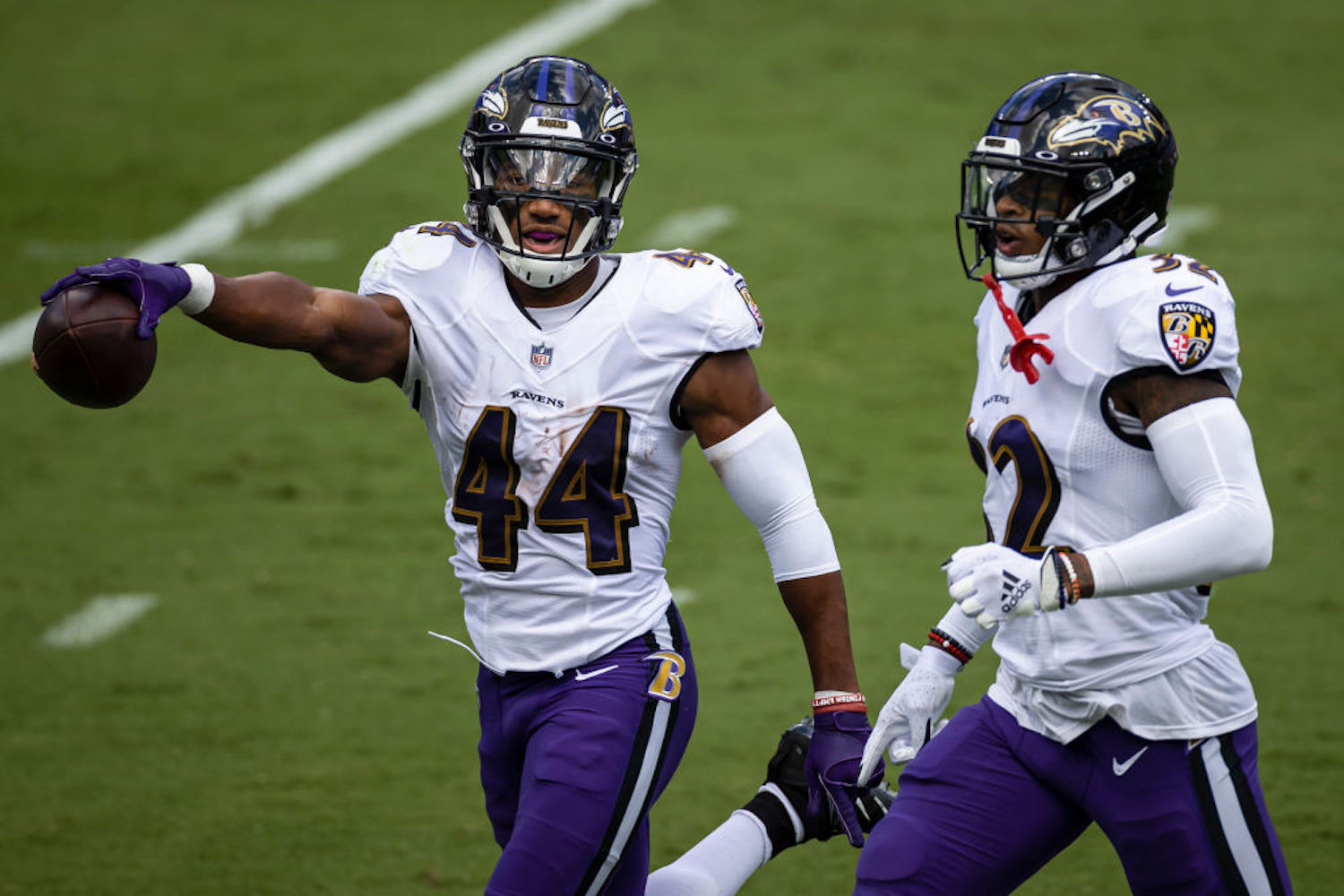 The Ravens Just Locked Down Their All-Pro Defensive Star for $98 Million
The Baltimore Ravens are shifting their focus to defense after their first loss of 2020, signing Marlon Humphrey to a $98 million extension.
After giving up 34 points to Patrick Mahomes and the Kansas City Chiefs Monday night, the Baltimore Ravens are buckling down on defense.
The Ravens are signing All-Pro cornerback Marlon Humphrey to a five-year, $98.75 million contract extension that will keep him in Baltimore through 2026. Humphrey has been arguably the Ravens' best defensive player for the last three seasons, and now he'll be in black and purple for the foreseeable future.
Marlon Humphrey is already a superstar at 24 years old
When you think of the greatest Ravens teams in franchise history, you think tough-nosed, aggressive defenses. Sure, Lamar Jackson is a generational talent and could lead Baltimore to its next Super Bowl, but the defense has always been the focal point of the organization.
Humphrey exemplifies everything head coach John Harbaugh and GM Eric DeCosta look for in a football player. He's tough, instinctive, and has no ego that could be a detriment to the team as a whole.
Through three seasons in the NFL, Humphrey has already established himself as one of the premier corners in the league. He has eight interceptions through his first 49 games played, and he's even scored two defensive touchdowns already.
Humphrey was a First-Team All-Pro selection last year as a 23-year-old. He had three picks, two forced fumbles, and three fumble recoveries last season alone. Humphrey is a turnover nightmare for opposing quarterbacks, and the Ravens just locked him down for the next six years.
Humphrey and the Ravens agree to a $98.75 million extension
The Ravens have seen how special Humphrey can be in this league for years to come, and they didn't want to risk losing him to free agency soon. So, Baltimore brought Humphrey to the negotiating table midseason, and the two sides agreed to a lucrative deal.
The Ravens and Humphrey agreed to a five-year extension worth $98.75 million on Thursday morning, according to Adam Schefter of ESPN. Humphrey will earn $19.75 million per season and $66 million guaranteed.
The deal will keep Humphrey in Baltimore through 2026. It also makes him one of the highest-paid defensive players in the league at 24 years old. There's only one cornerback in the NFL who will earn more per year than Humphrey over the next few seasons.
Humphrey is now the second-highest-paid CB in the NFL
With the massive deal, Humphrey becomes the second-highest-paid cornerback in the NFL in terms of annual salary. Only the Rams' Jalen Ramsay, who makes $20 million per season, is above Humphrey.
The Ravens have found their explosive offense to keep up with the high-paced NFL today, but they still make defense the priority. It might be cliché, but Baltimore truly believes defense wins championships. Extending Humphrey was the first step toward their return to the Super Bowl.
All stats courtesy of Pro Football Reference. All contract figures courtesy of Spotrac.