Michael Strahan Points to 1 Victory That Changed His Entire Career
Michael Strahan had come close to reaching the top once before, only to see the New York Giants fall to the Baltimore Ravens in Super Bowl 35. He came back the following season to set an NFL record by registering 22.5 sacks.
Shocking the unbeaten New England Patriots in Super Bowl 42 led Strahan to follow up in a much different manner. He retired after a 15-season NFL career and maximized the attention garnered in that game by sliding into a multi-faceted broadcast career.
It's fair to say that beating Tom Brady's Patriots that day in Phoenix changed his entire career.
Michael Strahan is a 'Fox NFL Sunday' fixture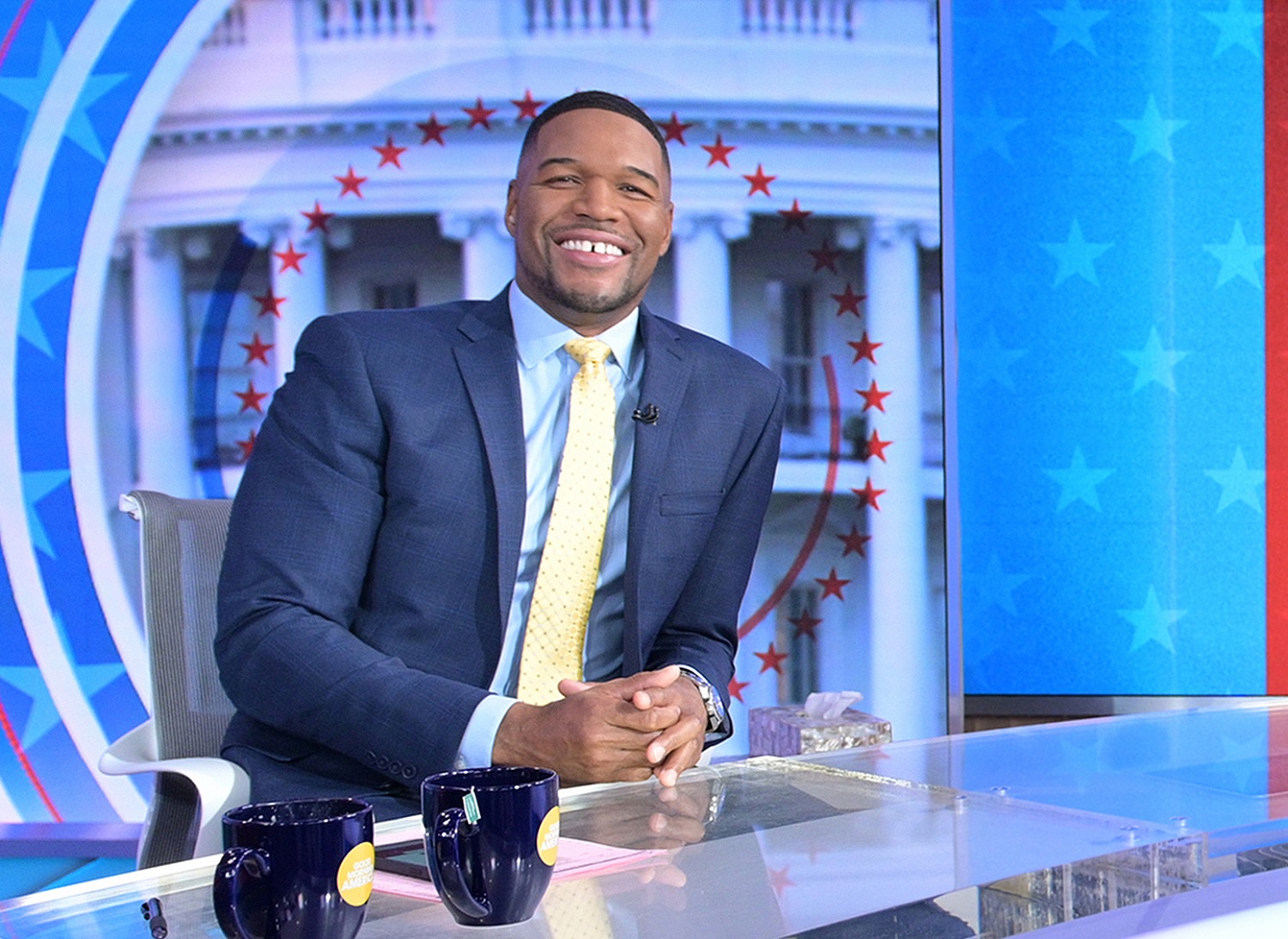 Younger football fans may think of Strahan more as part of Fox Sports' studio lineup for NFL Sundays than as the Hall of Fame defensive end who spent his entire career with the Giants. Strahan slid into that job right after retirement and banters all season long with host Curt Menefee and fellow analysts Howie Long, Jimmy Johnson, and Terry Bradshaw.
However, that gig was just the start of Strahan's TV career. Just over two seasons into his Fox Sports duties, he started filling in as a guest host on the Live! With Regis and Kelly show when Regis Philbin was unavailable. Strahan showed up more frequently after Philbin left in the fall of 2011, and he became the permanent co-host in September 2012.
As plum as that weekday job was, Strahan outgrew the role. He moved to Good Morning America in 2016 and began a GMA spinoff. At about the same time, ABC revived The $100,000 Pyramid and installed Strahan as the host.
The COVID-19 pandemic sent both shows into hiatus (the spinoff was later canceled), but Strahan enjoyed largely favorable reviews and returned to the Good Morning America fold. At just 49 years old, he can count on a steady stream of offers in the coming years if he wants to explore something different.
Strahan's victory in Super Bowl 42 victory opened the door
Strahan appeared on the 10 Questions with Kyle Brandt podcast in April, speaking about his two distinctly different but very successful careers. He all but admitted that the daytime television career wouldn't have been possible — at least not so quickly — had the Giants not foiled Bill Belichick's Patriots in the Super Bowl. And playing for a franchise in the media capital of the world certainly helped.
"Winning in NYC magnifies you 100 times … having a ring puts you in the national spotlight," Strahan said, as transcribed by PopCulture.com. "Winning a (Super Bowl) was the first and only time that I was ever a guest on Live! With Regis and Kelly.
"Regis asked what I'd do next, and I said, 'If you retire maybe I'll take your job,' not knowing that years later that's exactly what would happen."
His current jobs require different approaches
Working on Good Morning America sometimes has Strahan sitting across from major figures in the entertainment industry or standing alongside the red carpet at the Academy Awards. He may have questions prepared, but the interviews don't always go in the expected direction.
"When you comment on a football game, I'm commentating on a static thing," he said. "So, I see a stat, I see players, I'm talking about things that I'm actively seeing in that moment, in real time, giving an honest opinion about something that I've competitively done myself."
Strahan has launched a production company, though he admits that doesn't make him an expert on TV and movies.
"Doing the Oscars, it's me, it's a guest, it's sometimes about a movie I haven't seen, it's about a business that I am not particularly in," he said. "It's about a process that I haven't participated in, and it's with somebody I'm probably not as comfortable around because I haven't spent time with them."
Like Sportscasting on Facebook. Follow us on Twitter @sportscasting19.