Bubba Wallace Moving Down to the Xfinity Series This Weekend Could Provide a Preview of His 2022 Schedule
Bubba Wallace is running both the Xfinity and Cup Series races this weekend in Michigan. Could it be a preview of 2022?
Bubba Wallace is in his fourth year running full-time with the NASCAR Cup Series. This weekend Wallace will take a trip back in time, returning to race with the Xfinity Series, where he competed from 2015-17. 
While most assume the 23XI Racing driver subbing for Austin Hill at the Michigan race is a one-off, could this actually be a glimpse into the future? Would Wallace consider driving the maximum number of Xfinity Series races in 2022 to get more seat time and improve his craft? His success in this weekend's races just might determine what happens next season.   
Bubba Wallace racing Xfinity Series at Michigan 
Bubba Wallace announced this week that he would be driving the Hattori Racing Enterprises No. 61 Toyota this weekend with the Xfinity Series at Michigan International Speedway. He is subbing for Austin Hill, who was scheduled to drive the car but instead wants to focus on the first round of the Truck Series playoffs at World Wide Technology Raceway in St. Louis.
"I'm excited to race again in the Xfinity Series," Wallace said. "Michigan is a track where I've run well in the past and even won in the Truck Series. Anytime we can get extra track time, it helps. Just to get extra laps before the Cup race on Sunday will be good with no practice or qualifying. Thanks to everyone at HRE and Toyota for the opportunity to run the AISIN Supra this weekend. Hopefully, we can go out and have a strong race and put ourselves in contention at the end of the day."
If Wallace should feel confident about any track on the NASCAR schedule, it's Michigan. That's where he won his last NASCAR race of any kind with the Truck Series in 2017. 
Bubba Wallace has struggled in 2021
Cup Series wins have been a far-fetched dream for Wallace and the No. 23 car in the first season of 23XI Racing. Quite frankly, top-10s have been tough. Through 24 races this season, Wallace has managed a single top-10, an impressive fifth-place finish during the Sunday race at Pocono. In that same time, he's earned 13 top-20 finishes. 
It's a far cry from team co-owner Michael Jordan's prediction before the season that Wallace might have a win or two in this first season. Fellow co-owner Denny Hamlin has always been more conservative in his expectations, suggesting he wasn't concerned with winning as much as he was with the team making consistent progress throughout the year.
Wallace currently sits 21st in the regular-season standings and is in a must-win situation in order to make the playoffs.    
Could this weekend's races be a preview of 2022?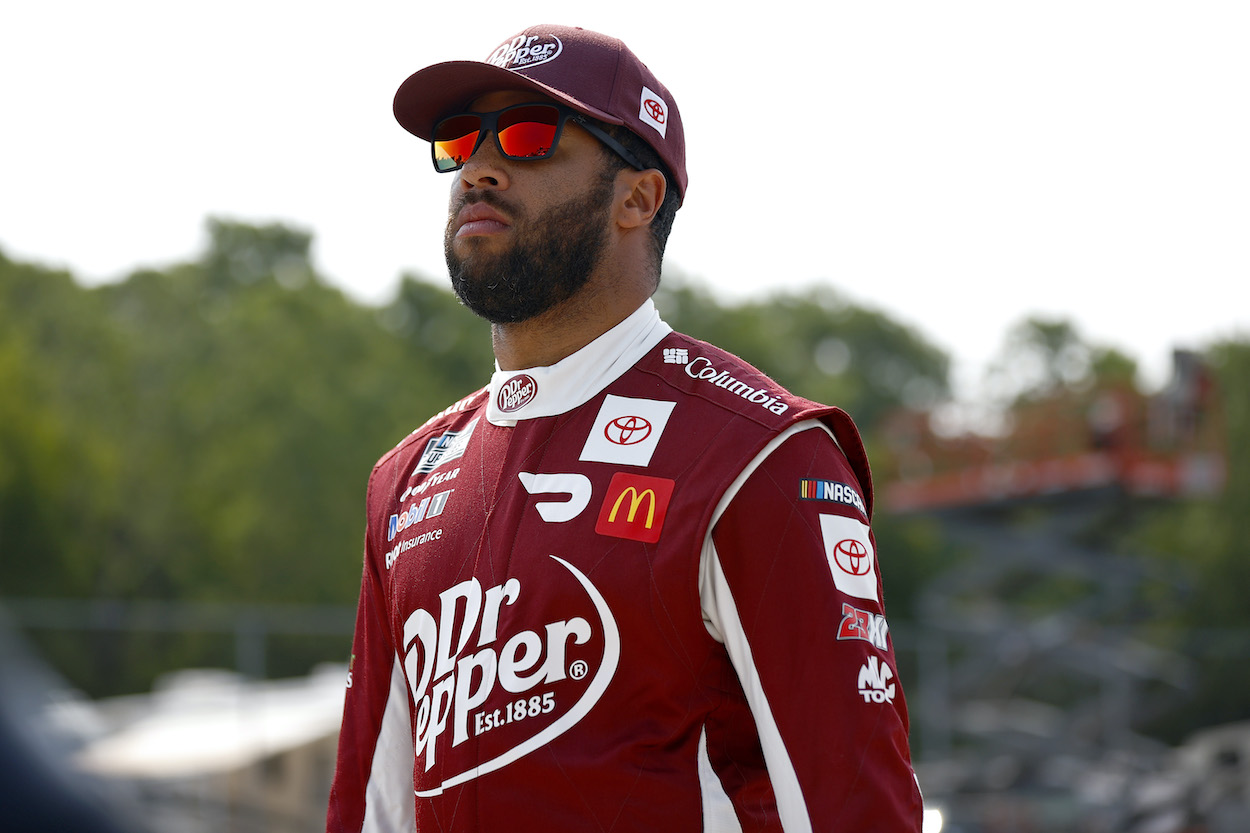 While no one from Wallace's camp has suggested this weekend at Michigan is anything more than a single opportunity that came along last minute, it could potentially serve as a trial run ahead of next season.
As Wallace suggested earlier this week, with no practice and qualifying this season on most tracks, including Michigan, his Xfinity run on Saturday will allow him to get a good feel for the track where he's had success in the past. 
If that then translates into a successful run in Sunday's Cup Series race, Wallace and Co. might consider exploring similar options in 2022. With Kyle Busch retired from Xfinity competition, it's not far-fetched to envision Wallace getting behind the wheel of the No. 54 car with Joe Gibbs Racing — also in partnership with 23XI Racing — for the maximum five races next season. 
Drivers all admit any seat time is valuable. After Wallace's first-season struggles with 23XI Racing, any additional seat time couldn't hurt. And he's already got the direct connection with JGR.
It could be an interesting weekend in Michigan.
Like Sportscasting on Facebook. Follow us on Twitter @sportscasting19.