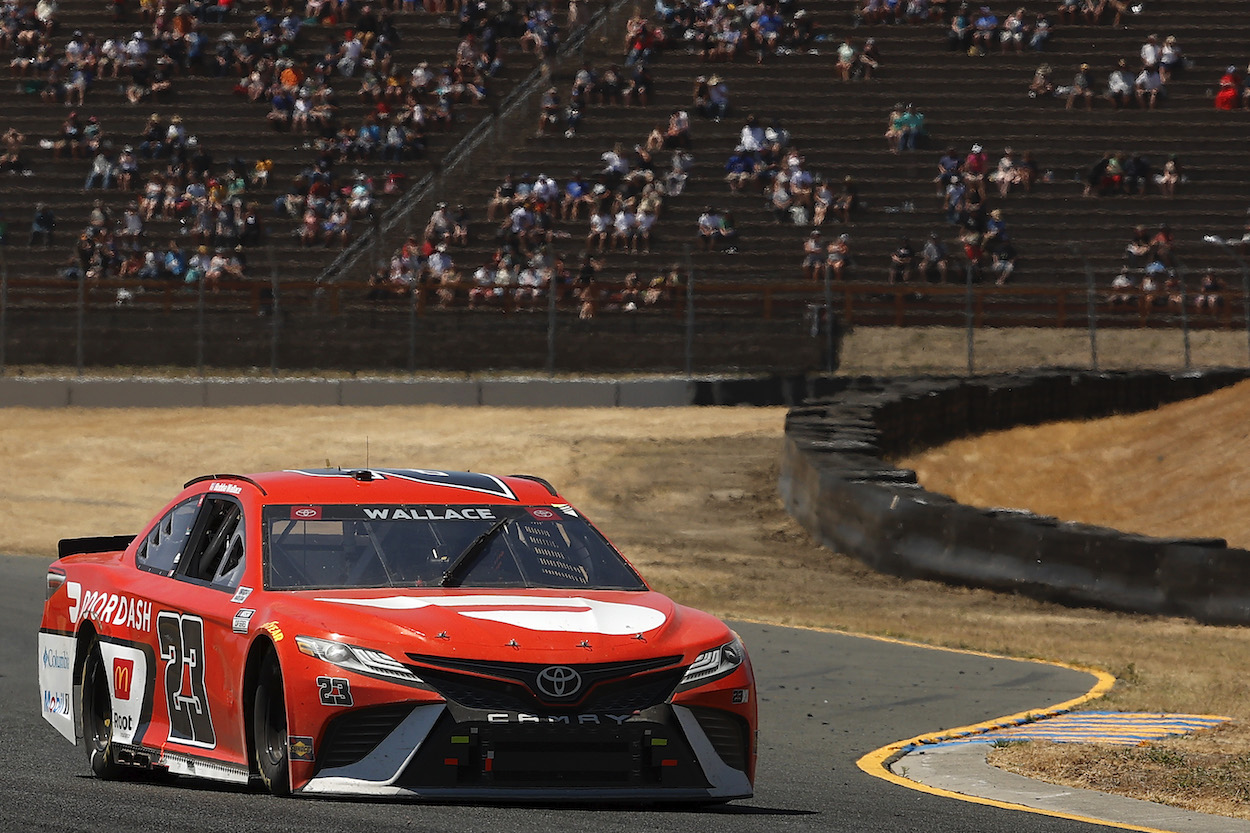 Michael Jordan Watches Bubba Wallace at Sonoma in Midseason Performance Review and Realizes His Lofty Preseason Prediction for 23XI Racing Was Completely Wrong
Michael Jordan watched Bubba Wallace race at Sonoma in a midseason performance review and realized his preseason prediction of a pair of wins for the No. 23 car was way off the mark.
Michael Jordan said before the start of the 2021 NASCAR Cup Series season how he wouldn't be surprised to see Bubba Wallace make it to victory lane a couple of times. Through 15 races, the No. 23 car hasn't had a sniff at winning, much less even finishing in the top 10. 
On Sunday, Jordan showed up at Sonoma and watched the 23XI Racing Team in a midseason performance review of sorts. Based on what he saw on the track, the NBA Hall of Famer now knows his early-season expectations were wildly exaggerated. Multiple mistakes, which have dogged the team for much of the season, revealed there remains a lot of work to do, but Jordan also witnessed several positive signs, indicating that the team is headed in the right direction.  
Michael Jordan admits high expectations for Bubba Wallace in first season
Bubba Wallace and Michael Jordan met for the first time before the Daytona 500 in an interview on Fox. During that conversation, Jordan bluntly admitted he had high expectations for Wallace in the No. 23 car for the 2021 Cup Series season.
"I feel like he's going to learn how to win," Jordan said. "He's got the talent. We would have not invested in him and picked him if he didn't have the talent to win. By the end of the year, I think he's going to have an opportunity and probably will win at least a couple of races. If it's more, I'll be elated."
Jordan watched trackside as Wallace finished 17th at the Daytona 500. Prior to Sonoma, the No. 23 car had only managed a pair of top-15s this season, both of which came within the last month. His best finish was a 10th at Dover. 
Jordan watches Wallace make mistakes but scramble for solid finish at Sonoma
Jordan hasn't attended a race since that season opener at Daytona. On Sunday, His Airness showed up in Sonoma to watch Bubba Wallace and the 23XI Racing Team in action. What he saw was a rookie team perform like a rookie team at times and make multiple mistakes. He also witnessed a group that worked together and showed a spirit of perseverance in overcoming those challenges.
The first mistake happened in stage 1 when Wallace pitted late in the stage and exited pit road too fast. With the penalty, he dropped to the back of the field. And things were about to get worse. 
In stage 2, Wallace looked impressive and rebounded, making his way into the top 10. However, late in the stage, he suffered a flat left rear tire and was forced to pit under green, which dropped him a lap behind. To add insult to injury, Wallace pitted with pit road closed, and NASCAR denied him the free pass, so he remained a lap down. 
Despite those obstacles, Wallace drove his way back up through the field and avoided several late-race accidents to finish 14th, his third top-15 finish in four weeks and his best-ever finish on a road course. 
Deja vu with NASCAR 
While Wallace had to scramble hard in the final stage to finish in the top 15, the stage 2 incident and denial of the free pass was a case of deja vu for the No. 23 team. In stage 2 of the Darlington race, Wallace and Kurt Busch battled for position and the free pass. The two made contact, and Busch spun out and crashed into the inside wall, bringing out the caution.
"I'm not going to put that on Bubba, though," Clint Bowyer said up in the Fox broadcast booth. "That's good hard racing for that position. He got sideways, and Bubba just barely clipped the right rear corner." 
With the caution, most believed Wallace should be the recipient of the free pass. NASCAR thought otherwise and ruled Wallace was involved in the incident and not eligible for the free pass. He finished 21st at Darlington. 
It's undeniable the first Cup Series season for 23XI Racing has featured its share of challenges, including some self-induced ones, which is not surprising for a new team. Despite that, the No. 23 car has shown considerable progress in the last month. And on a day when the team co-owner showed up to see the car in action, Wallace put on what was arguably his best performance of the year. And he showed, even at his best, the team is nowhere close to winning and achieving Jordan's preseason prediction.
Like Sportscasting on Facebook. Follow us on Twitter @sportscasting19.