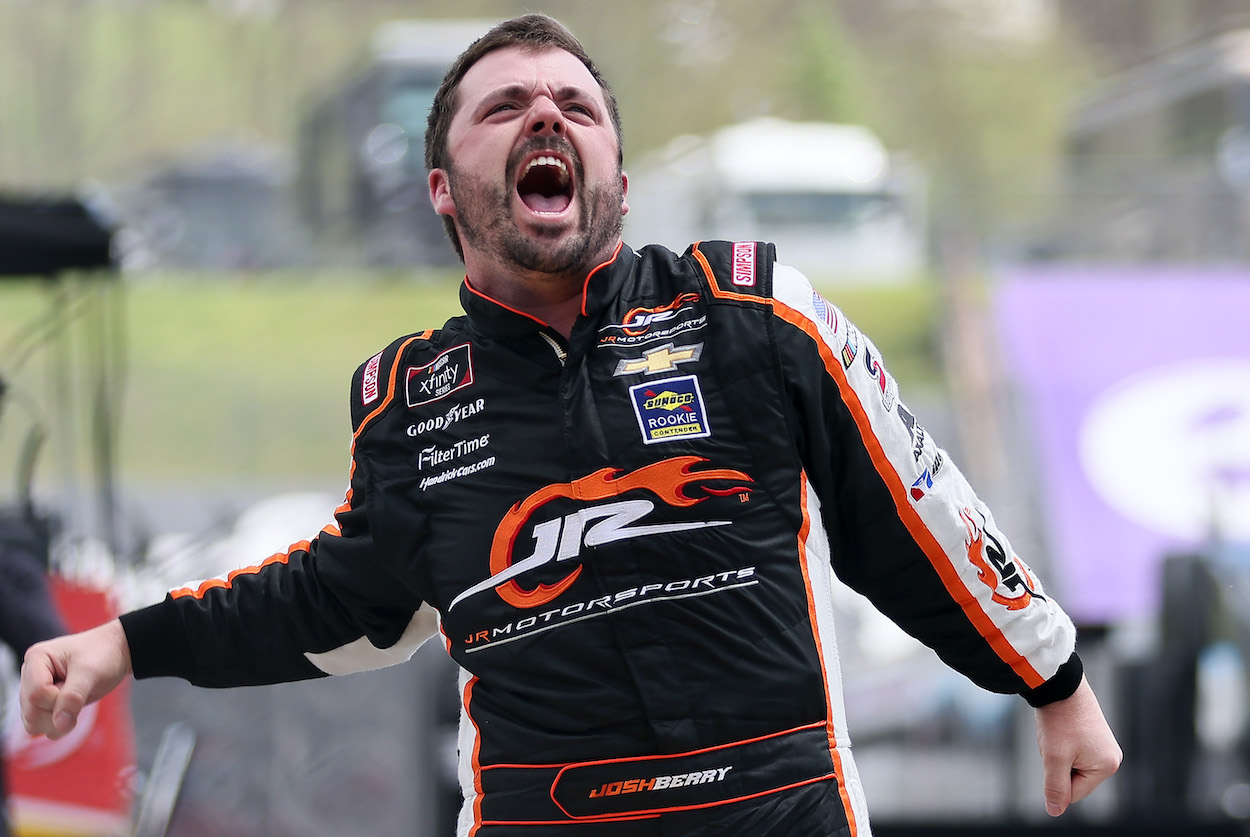 Dale Earnhardt Jr. and JR Motorsports Make Major Announcement for Driver in 2022 Xfinity Series, and It's a Familiar Face
Dale Earnhardt Jr. and JR Motorsports made a major announcement that there will be a familiar face behind the wheel for one of the organization's Xfinity Series teams in 2022.
Dale Earnhardt Jr. has experienced a range of emotions this year with JR Motorsports driver Josh Berry. At one point, Earnhardt was not happy with the veteran short track racer for his behavior following the Xfinity Series race at Phoenix. A couple of weeks later, Earnhardt admitted crying tears of joy when the 30-year-old won at Martinsville.
On Monday, Earnhardt and his company showed just how much Berry meant to the organization, announcing that he would race a full-time schedule in the 2022 Xfinity Series. 
Dale Earnhardt Jr. watches Josh Berry earn first Xfinity Series win
Josh Berry understood when he strapped into the No. 8 car for Dale Earnhardt Jr. and JR Motorsports at the start of the 2021 Xfinity Series season that he had a small window to prove himself. The plan was for him to run almost half the season until Sam Mayer turned 18 and was eligible to take over the ride. 
Berry started the season on a rocky note, finishing 27th at Daytona. A couple of weeks later, he rebounded impressively, finishing 10th at Homestead and seventh at Las Vegas. 
However, his performance over the next six races sent mixed signals to Earnhardt. Berry, who made his Xfinity debut with the organization at Iowa back in 2014 and had raced sporadically since, finished 36th and 38th before winning his first Xfinity race at Martinsville.
That winning performance was then followed by a 31st-place finish at Talladega and a pair of runner-ups at Darlington and Dover. The 2020 NASCAR Advance Auto Parts Weekly Series national champion has raced seven more times this season — three with Earnhardt's team — and earned four top-10s. For the year, he has a total of nine top-10s in 16 races.
Dale Earnhardt Jr. experiences range of emotion with driver
Dale Earnhardt Jr. and Josh Berry go back. Before racing in Xfinity, Berry raced for the JR Motorsports late model program dating back to 2010. In other words, with so much time and money spent on Berry's early career, Earnhardt was truly invested in seeing him succeed. 
That's why Earnhardt openly expressed his disappointment in Berry following the Phoenix race after the driver flipped a double-bird at Santino Ferrucci for an incident during the race. 
"I told Josh, I said, 'Man, you've been wrecked before. You know how to act. And this ain't it,'" Earnhardt said on his podcast, the Dale Jr. Download. "I know a lot of people are like — you love the passion, get 'em, Team Josh, right? I get that, too. But here's the thing: Josh is trying to become imprinted in people's mind, and he ran a great race. … Now, all they remember is the double-bird and nothing at all really about the performance on the track."
That close relationship is also why Earnhardt was overcome by emotion watching Berry capture his first win.  
"I've never cried like I cried today over racing," Earnhardt admitted. "I just wanted it so bad for Josh."
Berry to drive for JR Motorsports in 2022
Throughout the first half of the season, Earnhardt was Berry's biggest cheerleader, regularly suggesting that he deserved a full-time ride. Those comments always begged the question — why not with JR Motorsports?
On Monday, Earnhardt's organization finally answered the question, announcing that Berry would have a full-time ride with the team in 2022. Berry was understandably excited about the opportunity.
"It's hard to put into words what this means," Berry said. "I'm just a local short track racer, so saying this is a dream come true seems like an understatement. I'm so grateful to Dale, Kelley, L.W. (Miller), and everyone at JR Motorsports. They have always believed in me. This is the opportunity of a lifetime, and I'm ready and focused on 2022."
It's truly one of the NASCAR feel-good stories of the year. Next year Berry can drive without worrying about his future. Earnhardt's only worry is whether he'll be crying happy tears or chastising his driver for throwing another driver the bird. 
Like Sportscasting on Facebook. Follow us on Twitter @sportscasting19.