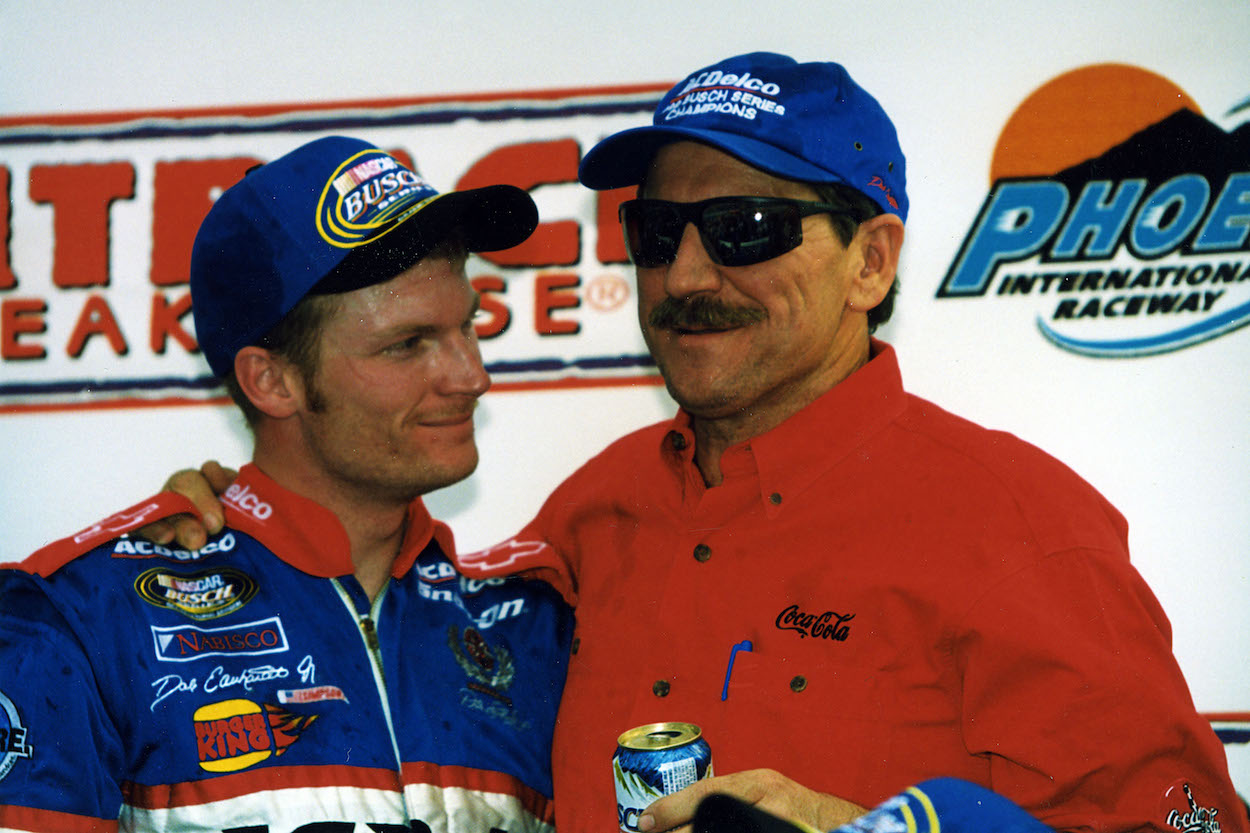 Dale Earnhardt Jr. Shares Personal Story About a Time He Cussed, How His Father Planned to Use a Belt, and the Unbelievably Daring Way He Escaped Punishment
Dale Earnhardt Jr. revealed a personal story about his father getting so angry after he cussed that he pulled off his belt and prepared to whip him. Junior was having none of it and made a daring escape.
Dale Earnhardt Jr. is a great storyteller. Naturally, as the son of a legendary NASCAR driver, he enjoys sharing stories about his father on the track. However, Junior doesn't shy away from retelling more personal stories, including some of the harsh interactions he had with his father growing up.
In a new interview on the Bussin' With the Boys podcast, Earnhardt recalled a story about a time when his father learned he had used a cuss word, how his father was pulling off his belt to punish him for it, and the split-second decision he made to pull off a daring escape and avoid punishment. 
Dale Earnhardt Jr. angered his father the first time they raced 
Dale Earnhardt Jr. had waited his entire life for this moment. He was racing for the first time against his father in a special invitational event in Japan. He soon discovered like so many others had learned before, when Senior strapped in behind the wheel, all relationships off the track ceased to exist. 
During the race, Earnhardt didn't exactly endear himself to his father, when with a few laps to go, he ran his dad into the wall. After the race, Dale Sr., who finished behind his son, made it abundantly clear he wasn't happy with his son's decision or where he finished in the race.
"I go in there, and I'm changing clothes," Earnhardt recalled on an episode of the Dale Jr. Download. "It's been a long trip, a long way over here, but I'm happy. And Dad comes in, and I just saw the look on his face, and he don't want to talk. I'm changing. He's taking his shoes off, and I bent over to tie my shoe or something, and a freaking driving shoe went right over the top of my head…And it was coming hard. This wasn't no toss and then it smacked the wall behind. I was like, 'Man, he is pissed.'" 
A reporter saved Junior moments later when he came in and asked him for an interview. 
Dale Earnhardt Jr. recalls time he pulled off daring escape to avoid punishment from his dad
For Dale Earnhardt Jr., the episode in Japan wasn't anything new. He found out about his dad's temper early in life. During a recent appearance on the Bussin' With the Boys podcast, Earnhardt recalled one particular story when he cussed, and his dad found out about it.
"I was playing this little football game, and something happened," Earnhardt recounted. "I said s— or an f-bomb, and my friend's dad happened to be walking in the front door, and he looked at me and he goes, 'You need to get home.' I was like, 'Yes sir.' And so I went home."
A couple of hours later, Dale Sr. got home and immediately made it clear he had spoken with the friend's father about the language. 
"He comes walking into the bedroom, already pulling the belt off. And I'm looking at the door," Earnhardt said. "The way the room is laid out, there's a point to where on his way to me, I can get to the door. I got to the door, down the hall, and out the front door, across the front yard, across the street, and out into this hayfield and over this erosion ditch. And dove into the ditch and just laid there for like six hours."
Earnhardt said he peered over the ditch and watched his father come outside and look for him.
"He goes back inside, and I'm like, 'Man, I ain't getting no whooping today. Not happening. Not today,'" he remembered.
Interestingly, when he did return home, he didn't receive any punishment. His father had cooled off. Earnhardt said he didn't recall getting a whipping after that.  
His father broke hand on employee's face
Dale Earnhardt didn't just get upset with his son. In another episode of his podcast, Junior recalled an incident that his father got angry when someone tried to shoot and poach one of the deer on his property. 
"A guy was working on a big tractor during the day on Dad's property. He saw some deer. He went to a bar later that afternoon, happy hour drinking with a buddy of his telling his buddy about the deer," Earnhardt said. "The more they drank, the braver they got. They decided they were going to come back to Dad's property around dark, jump the fence, and shoot one of the deer."
Earnhardt said his father and the farm manager were walking the property later that evening when a gunshot rang out. Moments later, both men saw the deer running before it dropped to the ground. They decided to wait for the unsuspecting poacher. 
"They hid in the tree-line and waited for those guys to come up to the deer, and when they got to the deer, Dad just ran after the one with the gun, and he tackled the guy," Junior recalled. "And he broke his hand on his face. The only reason why he stopped punching the guy was he recognized the guy's voice once he started saying stop. Dad held him there until the cops got there."
Dale Earnhardt Jr. experienced his dad's anger on more than a few occasions. The two also made many great memories together on the track. However, one of his most memorable moments ironically happened off the track that one time he outraced his father into a hayfield and escaped punishment.
Like Sportscasting on Facebook. Follow us on Twitter @sportscasting19.