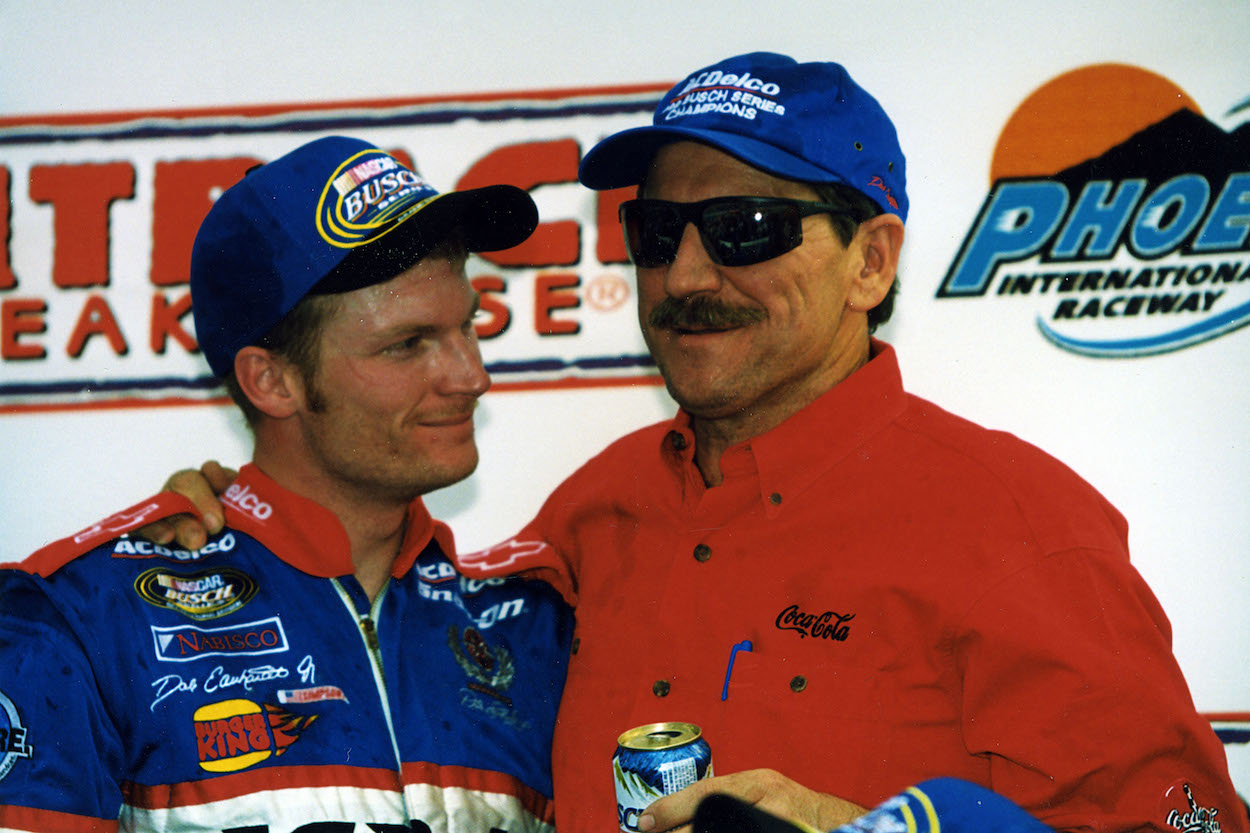 Dale Earnhardt Jr. Reveals on Podcast the Shocking Confrontation That Forever Changed the Relationship With His Father: 'I Ain't Been a Pimple on Your Ass for 10 Years'
Dale Earnhardt Jr. revealed on his podcast the confrontational conversation he had with his father that forever changed their relationship.
To say Dale Earnhardt and his son, Dale Jr., had a complicated relationship is a major understatement. Since his father's death at the 2001 Daytona 500, Junior has candidly revealed in various conversations through the years the details of their dynamic relationship and how much of the time Senior was more concerned about his career than parenting. 
In the latest episode of the Dale Jr. Download, Earnhardt discussed a variety of topics with former executive vice president of Dale Earnhardt Inc., Ty Norris, including the unfortunate collapse of the company and a confrontational conversation Norris witnessed between Junior and his father during which the youngster stood up to his father for the first time and changed their relationship forever.
Dale Earnhardt Jr. feared his career ended before it started
Before Dale Earnhardt Jr. ever raced to a distinguished NASCAR Cup Series career, which included a pair of Daytona 500 wins, there was a moment in time that he thought his career was over before it ever got started. During an episode of the Dale Jr. Download, Earnhardt said it happened in 1997 when he was driving the Wrangler car at Charlotte making a mock run in practice and crashed into the wall.
"I think my career is over," Earnhardt admitted.
Immediately after, he and a couple of friends drove to his double-wide trailer, where they sat on the couch and started drinking vodka and smoking cigarettes. 
"I don't know what I'm going to do," Earnhardt said, recalling the conversation. "This sucks. I can't believe it. I'm not going to run the race. I wrecked the only car I got."
He didn't realize the team had retrieved the wrecked car and was working on it in the shop across the street, but he was about to find out. The door of his double-wide flew open and slammed against the washer and dryer. All he could hear were the sounds of his father's boots taking one step after another, coming closer to where he and his friends were sitting.
"Dad comes in and says, 'Get your f***ing shoes on and get off my property,'" Junior recalled. His friends promptly grabbed their shoes and took off out the front door. 
The confrontational conversation that changed their relationship forever    
Earnhardt told Norris, who had ridden with his father to visit him at the trailer, what happened next forever changed the course of the relationship with his father. 
"Dad looks down at me and says, 'What in the hell are you doing? They're over there working on your car right now and fixing it, cutting the frame,'" Earnhardt recalled. 
Moments later on the front porch, the intensity of the conversation rapidly escalated. Norris, who stood nearby, recounted what he remembered from that day. 
"Earnhardt starts yelling at Junior about getting his s*** together; figure out what you're going to do. I'm trying to do all this stuff for you," Norris said Earnhardt yelled at his son. Norris then dropped a bombshell and revealed what Junior said in response.
"I ain't been a pimple on your ass for the last 10 years, and all of a sudden, you come over here and start telling me all this stuff. All of a sudden, like it meant something," Norris said. Podcast co-host Mike Davis' mouth opened in shock. Earnhardt listened and looked on intently.
Norris said on that day after Junior's remarks, Dale Sr.'s face noticeably changed. Norris said he recognized it was a father-son moment, excused himself, and walked away. 
"It was the greatest conversation we ever had," Junior honestly admitted. "It was the first real talk we had, and he went from 'you're f***ing up and you gotta get your ass in gear' to like explaining to me. It was the first time he really let me understand like this is for you. All of this is happening for you. We had a breakthrough. But I'm glad I said that."
Earnhardt talks about his father being human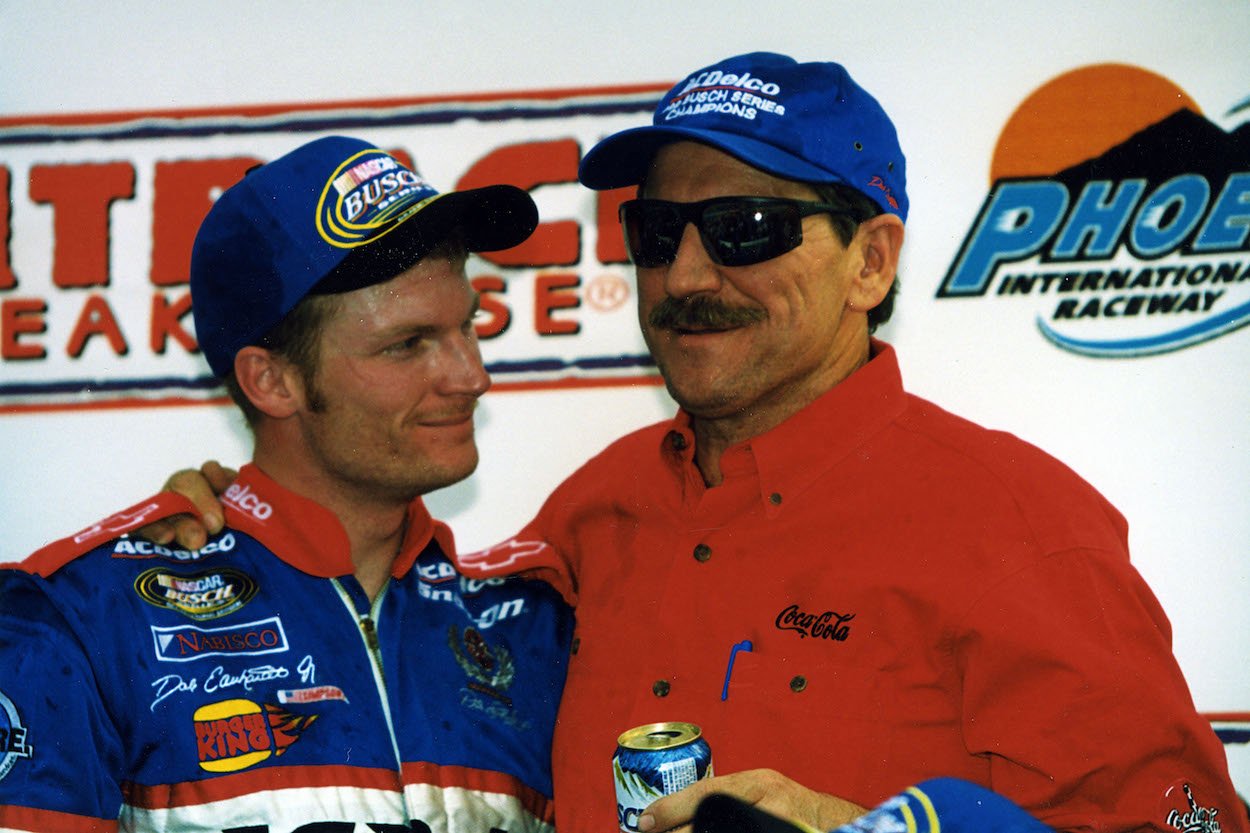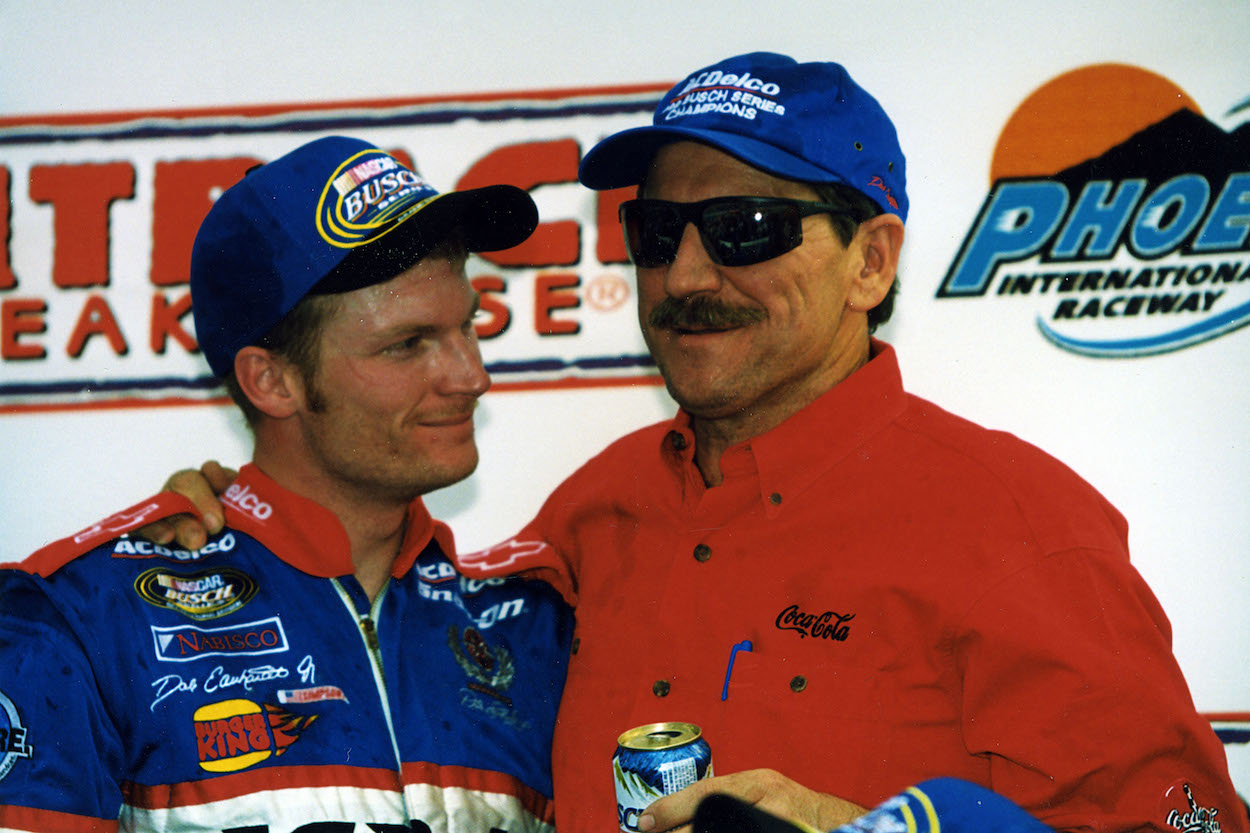 After discussing the breakthrough conversation, Earnhardt admitted it's refreshing to show the human side of his father and let people know that he might have been the greatest driver in NASCAR history, but, like everyone else, he was far from a perfect person. 
"I love being able to talk about dad and share the true stories about him. We both loved him and we both think the world of him, but damn, he was a human," he told Norris. "And he failed. He made mistakes. And he wasn't perfect."
Listening to Earnhardt reflect back on his father and those personal moments is clearly therapeutic for Earnhardt, and captivating for those in the studio and those listening/watching on the Internet. And it's also quite evident Earnhardt's authenticity is why he was voted NASCAR's Most Popular Driver 15 straight years and why he's still adored by so many racing fans.
Like Sportscasting on Facebook. Follow us on Twitter @sportscasting19.