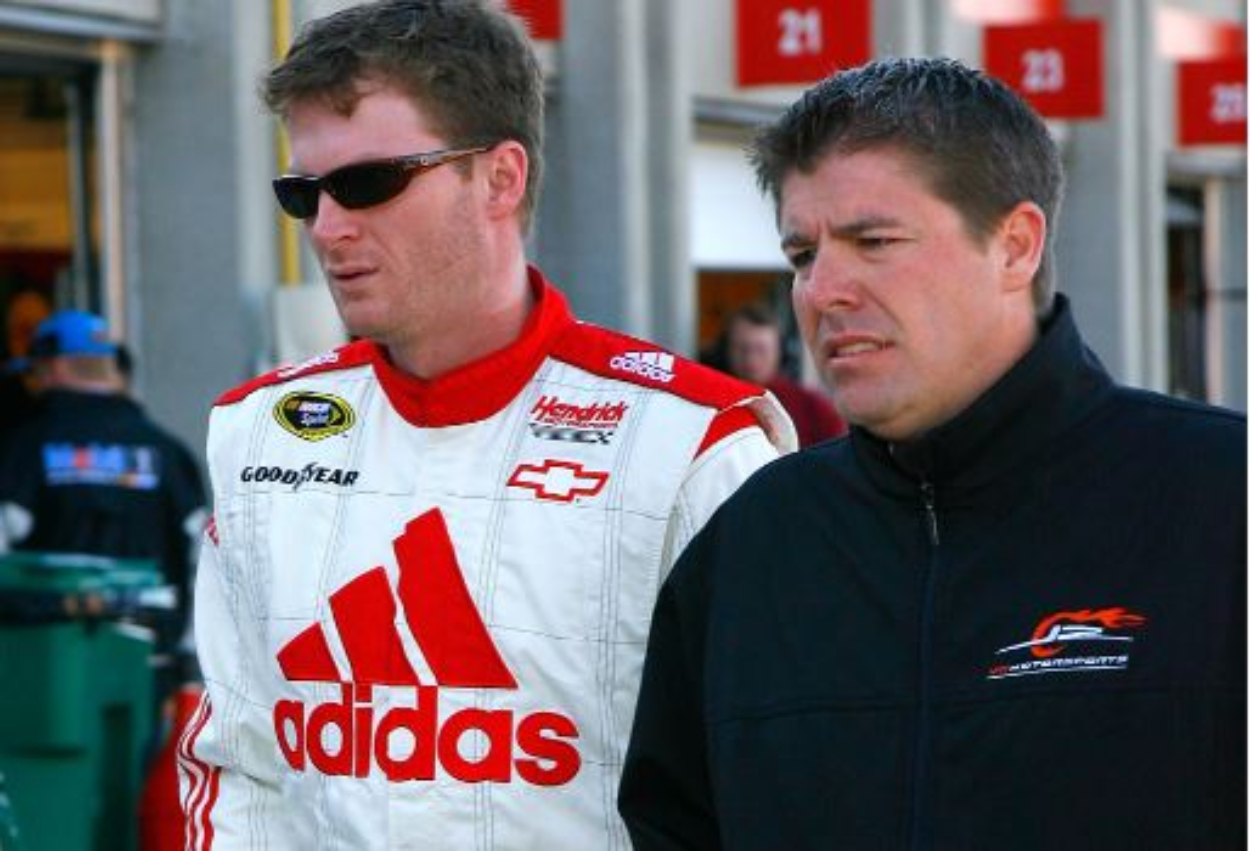 Who Is Dale Earnhardt Jr.'s Right-Hand Man, Mike Davis?
Mike Davis is the right-hand man of Dale Earnhardt Jr. and the guy responsible for building up his brand.
Dale Earnhardt Jr. gets all the ink. But what about the guy who helped Junior get all that press coverage? Mike Davis has been with the motorsports star since 2004 and he's gone on to become his right-hand man and help build the Dale Jr. brand. This ink is for the guy who always helped the other guy get all the ink.
Mike Davis joined forces with Dale Earnhardt Jr. in 2004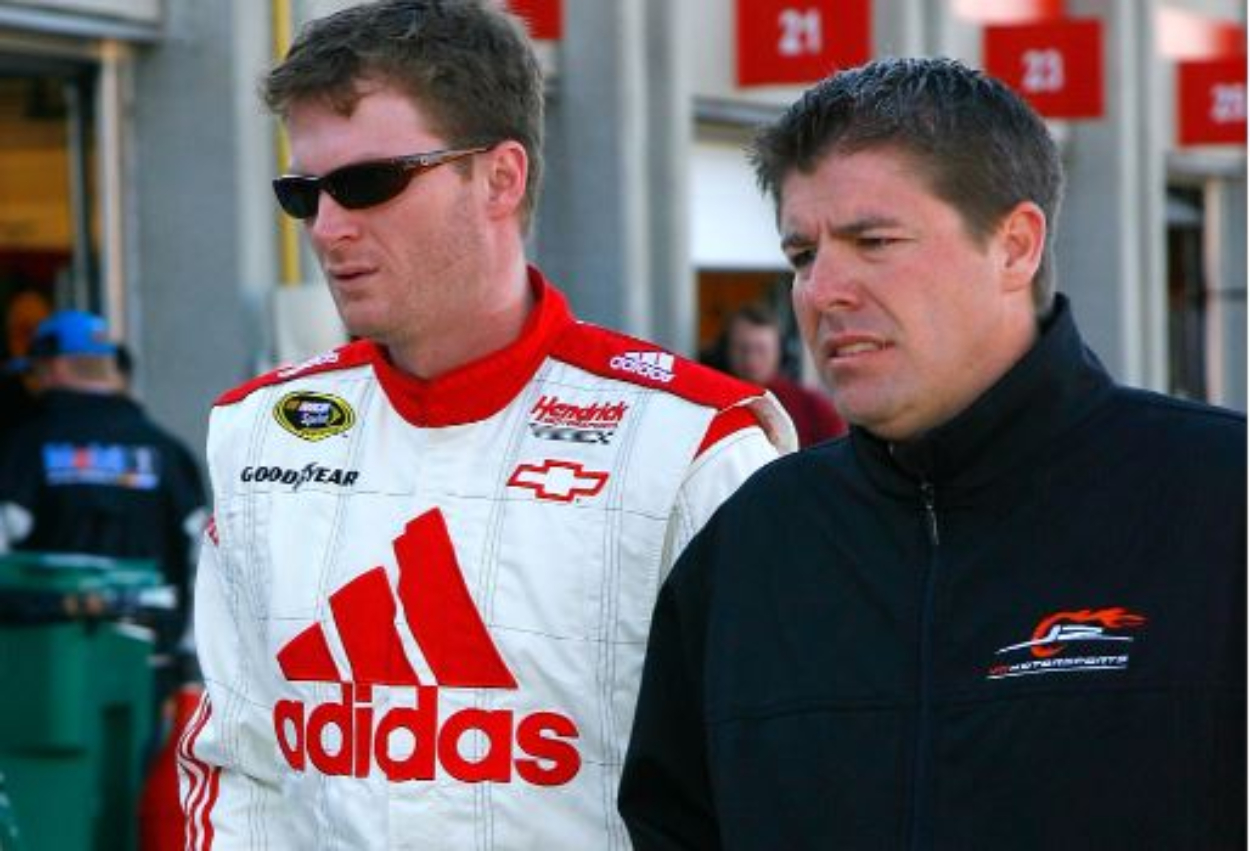 Mike Davis never wanted to have a public relations career. He did graduate from Georgia Southern University in 2001 and enjoyed the PR field at the college level, but went on to write for a newspaper after graduating. According to The Statesboro (Georgia) Herald, Davis, a NASCAR fan, had sent out numerous resumes for NASCAR jobs during the early part of his journalism career.
Out of nowhere, Davis received a call from The Motorsports Decisions Group, a public relations firm in North Carolina. He accepted a job in 2002 and began working for a NASCAR Busch series team with Cup driver, Jimmy Spencer. "It's a hard industry to get into, and I knew if I could just get my foot in the door I would be able to make an impression and try to make a career out of it," Davis said to the Statesboro Herald back in 2007. "It was just getting in the door."
Davis began working for Dale Earnhardt Jr. in 2004. In fact, their first race together, Junior won the first of his two Daytona 500 races. "That whole experience was unbelievable, to be at the Daytona 500 in Victory Lane," Davis said. "It took his dad 18 or 19 years to be able to win that race. He tried and tried and never could win it, and his dad was the man. It's hard to beat that."
How Davis hooked up with Earnhardt Jr.
Mike Davis was nice enough to sit down with Judson O'Neil. a 13-year-old reporter and creator of Judson's Racing Network back in October. The always-articulate O'Neil peppered Davis with some questions, and Davis told his story for nearly an hour. He began by explaining how he and Earnhardt Jr. began their relationship.
"(Earnhardt Jr.) had a PR guy by the name of Jade Gurss," Davis told O'Neil. "We all hit this moment in our lives where travel starts to wear and tear on us. Every single week you're living out of a suitcase. We all reach that point where maybe I can call on some help. Jade was looking to call on some help and that was me. I got that job. I had the chance of being in the third year in the sport to go and work for Dale Earnhardt Jr."
Davis took the opportunity and ran with it. He's been with Earnhardt Jr. ever since. "It's one of those opportunities that you just dream about. Jade was one of my heroes, and he's such a great publicity mind. How do you get your driver or your brand out there for the public to not just have access to but to want to report on it all the time? Jade did that better than anybody."
What's Mike Davis' role?
Mike Davis has gone from doing some PR work for Dale Earnhardt Jr. to becoming his right-hand man. He is the head brand guy for Junior, who was named the Monster Energy Cup Series Most Popular Driver for 15 straight years from 2003-2017. Davis is clearly doing his job.
Davis has also helped turn Earnhardt Jr., who was admittedly shy and awkward growing up, into a social media machine. He's the founder of Dirty Mo Media, a podcast that features Davis and Earnhardt Jr., and he's the Director of Communications for JR Motorsports, which is co-owned by Junior and his sister Kelley Earnhardt Miller.
Earnhardt Jr. retired from full-time racing after the 2017 season. Although he's no longer behind the wheel, he's still as popular as ever. That's a tribute to Mike Davis.