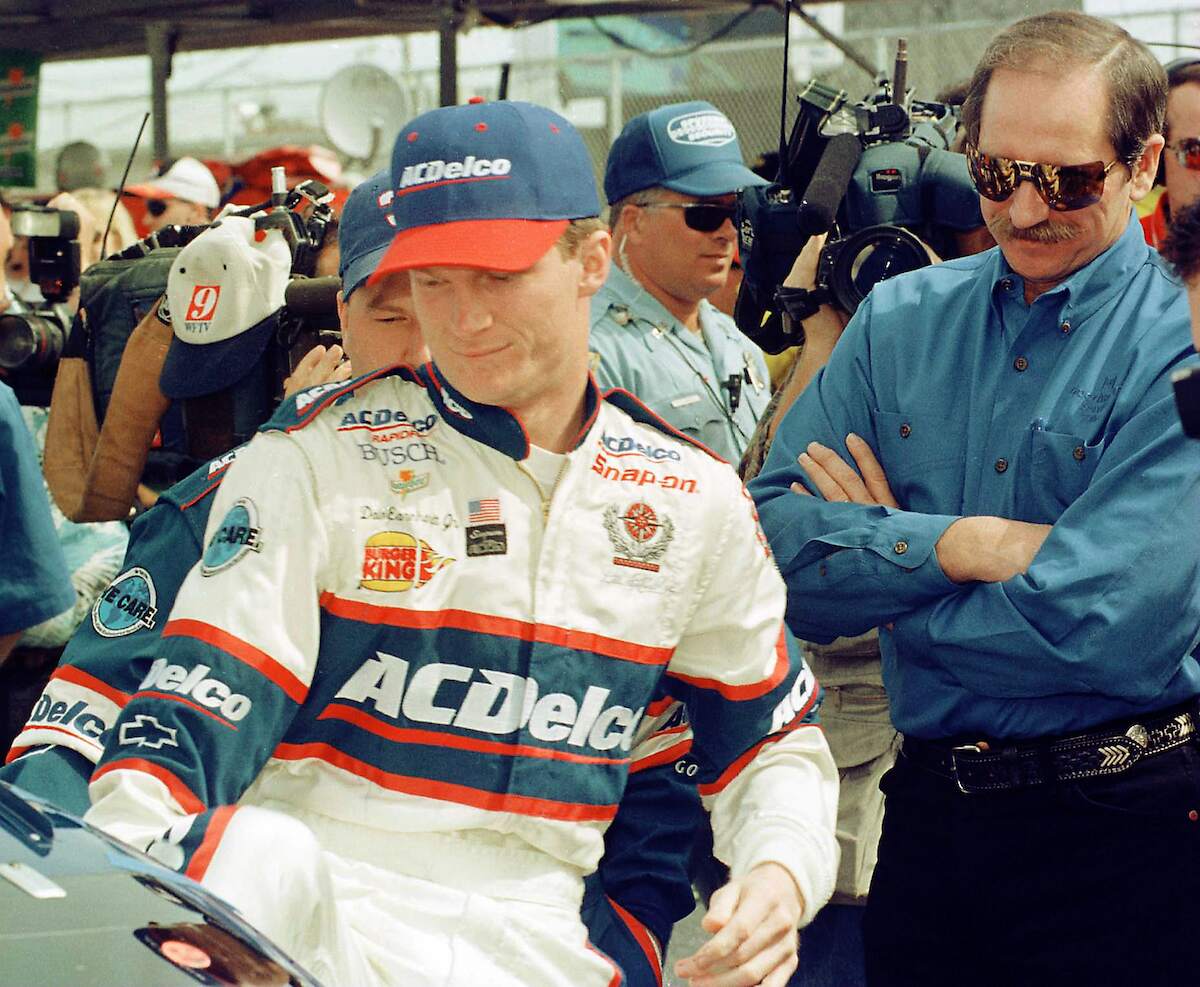 Dale Earnhardt Jr.: Kids at School Didn't Think It Was Cool Dale Earnhardt Was My Dad
Dale Earnhardt Jr. said he hoped being the son of a famous NASCAR driver would help him make friends. He was wrong.
When you're the son or daughter of a celebrity, it certainly can have its privileges. For Dale Earnhardt Jr., that really wasn't the case. When Junior, the son of the late Hall-of-Fame NASCAR driver Dale Earnhardt Sr., was bouncing around from school to school as a youngster, he thought being the son of a famous driver would help get him some extra friends. He was wrong.
Dale Earnhardt Jr. followed his dad's footsteps in NASCAR
Dale Earnhardt Sr. is one of the most dominant NASCAR drivers of all time. A seven-time Winston Cup Series champ, Earnhardt was a member of the inaugural class to be inducted into the NASCAR Hall of Fame in 2010. In his 676 Cup Series races, Earnhardt finished in the top 10 428 times. He finished with 76 victories.
Dale Earnhardt Jr. didn't have nearly the numbers his father did, but his resume is far from shabby. Although he didn't capture nearly the amount of victories his father did, he was certainly the most popular driver of his generation. Earnhardt won the Monster Energy Cup Series Most Popular Driver for 15 consecutive years from 2003-2017.
Junior also won a pair of Daytona 500 races, claiming victory in 2004 and 2014. He finished his career with 26 Cup Series wins. He was inducted into the Texas Motorsports Hall of Fame in 2017. Earnhardt Jr. also is one of three members who will be inducted into the NASCAR Hall of Fame as a member of the 2021 class.
Earnhardt Jr. didn't have the greatest relationship with his dad
It's not that Dale Earnhardt Jr. and his father didn't get along. It's more like Dale Earnhardt Sr. wasn't always around when Junior was a child. "My parents got divorced in 1978 and I lived with my mom," Earnhardt Jr. said during an interview on Danica Patrick's Pretty Intense podcast. "I never saw Dad. I've got like one or two memories of Dad before I was probably six or so.
"I don't really know how much he was around or how often we were sent to be with him. If he got visitation, I don't know when he got them or how often he took his opportunity to do that. I don't have a lot of memory of that."
One morning, Earnhardt Jr. woke up and the house was on fire. He was sent to go live with his father. "I didn't know Dad," he told Patrick. "I didn't know Teresa (Dale Sr.'s wife). That was a hard thing. Me and Teresa, when I was a kid, we'd butt heads hard. We were sprung into her life."
Classmates weren't impressed Dale Earnhardt was Jr.'s father
RELATED: Dale Earnhardt Jr. Went From One Extreme to Another When Treating Concussions
When Dale Earnhardt Jr. was young, he was bouncing around to a few different schools. He admits he wasn't the most outgoing child, so making friends wasn't always that easy for him. He figured being the son of a very famous NASCAR driver would help in that department. It didn't work out the way he planned.
"You would think, man, your dad's Dale Earnhardt and everybody's gonna go, 'Wow, that's cool. You're cool because your dad's cool,'" Earnhardt said on Danica Patrick's Pretty Intense podcast. "But it wasn't like that. Kids I was going to school with didn't think it was cool. That didn't create advantages for me like you might think."